Thank you for joining me here. This is where I hope to do something worthwhile. Something meaningful. A chance to help you have a deeper encounter with the One who gives us hope, makes us whole, and sets us free.
I pray that as you spend time here, you will feel more equipped, encouraged, and loved. Not just loved by me, but loved by the King of Kings! You will find articles to teach and encourage, prayers to help you when you can't find the words yourself, studies and devotions to deepen your knowledge of the Bible, and so much more. I pray that as you dig into the materials here, your hope is renewed and your walk is victorious!
Why I Love This Ministry
My heart aches when I see untapped potential, the kind that is meant to achieve great things but is buried beneath feelings of fear, shame, and insecurity. I, too, lived that way for far too long. I saw myself as the reflection of my mistakes, my brokenness, and the labels of the world. It took a long time before I saw myself in the reflection of my Savior. I second-guessed all my thoughts, abilities, and dreams.
But God …
He did His thing, you know? The kind where He sets the captives free, redeems, and makes everything new. And yes, I use "did" lightly because I'm a work in progress! He pulled me through every bottom-of-the-pit experience and redeemed my life. His love has shaped my heart, my strength, my courage, and my hope. Now, I cannot contain the excitement of sharing the good news of His faithfulness. Something as wonderful as this is meant to be shared.
A Few Things About Me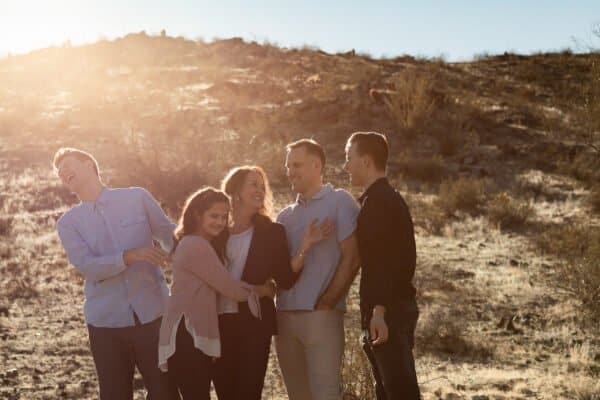 I am not only a wife to Bryan but also a mama to three beautiful children. Our boys are our biological children, and our daughter came home to us through adoption.
My educational background is in Elementary Education with a Master's Degree in Multicultural and Bilingual Education.
Our daughter came home to us from Bulgaria when she was almost five years old, after spending her life in a Bulgarian orphanage. Despite the trauma, neglect, and malnutrition she experienced in the beginning, she has proven herself to be an overcomer. Upon arriving home, we became aware of the complex nature of her physical and emotional challenges, as well as the specialized care she would require. Every day, we strive to bring healing and hope to our Selah. I firmly believe in God's unwavering faithfulness to continue her healing journey, to teach us the power of surrender, and to redefine our understanding of what it means to live victoriously.
After leaving my teaching position to stay home with my children, I began teaching English to second-language students at our local community college. Additionally, I provided English lessons to parents in our community who were second-language learners.
In addition to writing in this space, I am thankful for the opportunity to contribute to various online publications and websites.
Writing my first book, "Surrendered Hearts: An Adoption Story of Love, Loss, and Learning to Trust," is one of the accomplishments I am most proud of.
Creating resources such as ebooks, studies, devotionals, journals, and prayers for my website and shop fills my heart with joy!
I consider it a blessing to have contributed as an author to several books that share the hope and victory we have in Christ.
Speaking and inspiring others is a passion that I hope to pursue more now that my children are older and we have a strong support system for our daughter.
Serving at my home church is an honor and privilege. I have been actively involved in various capacities and ministries throughout the years.
I have a multitude of unique and chronic health conditions, but God always fills the many gaps in my life that are created by these illnesses.
It wasn't until later in life that I realized God had been preparing me all along for a life as a caregiver in various capacities.
A diet cherry Pepsi, the beach, and my loved ones around me feel like a little slice of Heaven of Earth!
---
Are You Ready to Unveil More Hope?
I would be truly honored to have you join me as we delve into the Bible and uncover God's unwavering love for both you and me. Together, we will strive to move forward in life, casting aside insecurity and embracing a future filled with hope and joy. Though we may encounter obstacles along the way, we can find solace in the fact that God is forever faithful and always by our side.
I have a library full of free resources, just like the one below, available to all my subscribers. Additionally, I have a little shop with a growing collection of studies, programs, and books. Signing up is easy! Just fill in the form below, and you will receive a confirmation email with your download, as well as the unique password which will give you access to the Library of Hope.