Need Hope? Grab Your Free Hope Toolkit Today!
Need Hope? Grab Your Free Hope Toolkit Today!
Do you ever feel as though you can't escape depressing news? Whether it's a television news broadcast, the negative nay-sayers on social media, or Aunt Sally who just can't help but live in a world of drama, we hear and see an excessive amount of negative or bad news each day. In fact, the amount of negative information far supersedes the amount of positive.
We wonder why we feel depleted. And we wonder why the hope and joy that once lived in our spirit, slowly begins to fade.
I can't stop what the world throws at you, but I do have a little something to help you put a stop to the fading of your hope and joy. It's a free 5-Day Hope Toolkit that will put your focus back on what's most important. It will give you information that is positive and life-giving. And it will help you implement daily habits that will drown out the negative noise and fill your hope tank back up.
Here's what's included
In the 5-Day Hope Toolkit, I will send you:
A series of Scripture prayers giving you a solid foundation in how to pray God's Will through praying His Word.
A checklist to determine whether you have a hopeful or hopeless attitude.
A beautiful printable image with positive "I am …." statements of truth.
A list of my go-to books, blogs, and websites when I am in need of encouragement.
Here's what these resources will help you learn to do: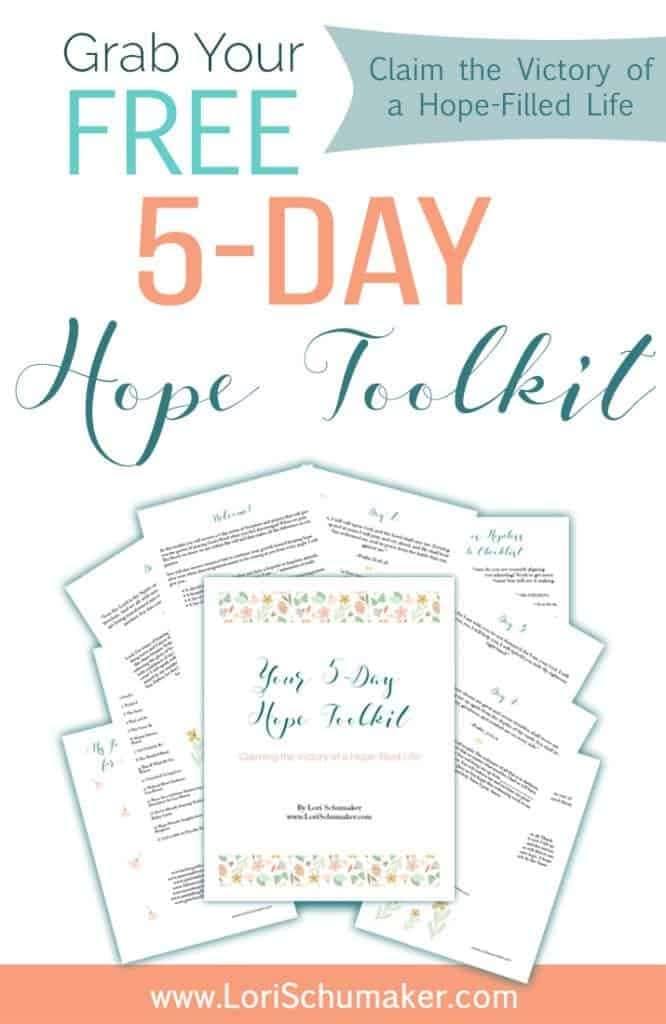 Why wait? Who doesn't need more HOPE?
Friend, I created this toolkit because I've been in that place of fading hope right alongside you. I was desperate for improvement — desperate to drown out the heavy weight of negativity. Jesus has walked those steps with me. It doesn't make me immune by any means. But my daily habits help me get back on track when I start the fade. I pray the resources in this kit help you as they did (and still do!) me.