25 Bible Verses About Confidence That Will Help You Break Free of Insecurity
Confidence is an essential quality for living a fulfilling life. It allows us to believe in ourselves and our abilities, to face challenges with courage, and to overcome obstacles. As Christians, our confidence comes not from ourselves, but from God. The 25 Bible verses about confidence listed below will help you love yourself God's way and break free of insecurity.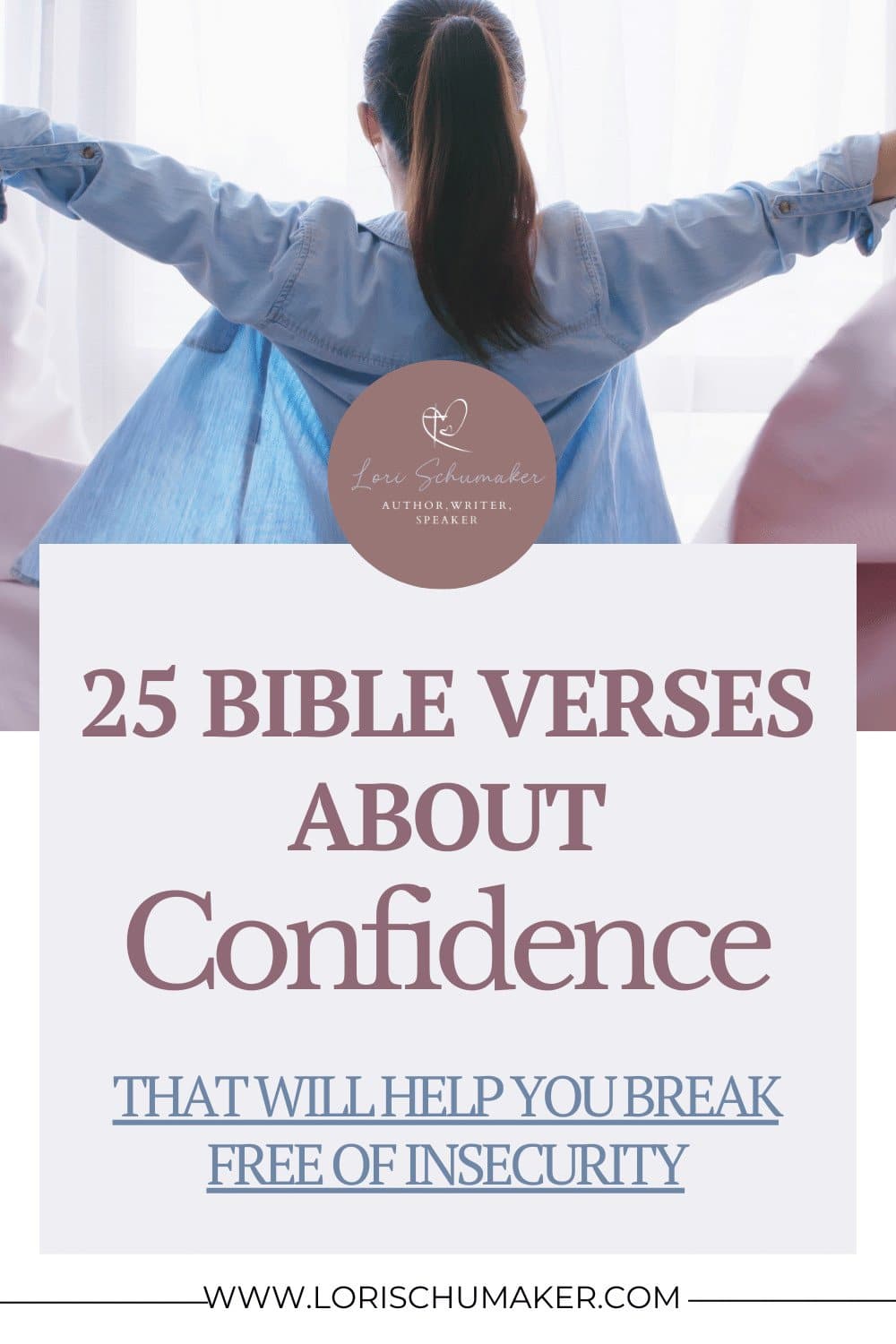 What Does Scripture Tell Us About Confidence?
Scripture tells us that our confidence should not come from ourselves but instead, it should come from Christ. Let's see why.
As humans, we are imperfect and have limitations. We make mistakes, we have weaknesses, and we can't control everything. On the other hand, Christ is perfect and has no limitations. He is all-knowing, all-powerful, and always present. Therefore, our confidence in Christ is more reliable than in ourselves.

"The Rock! His work is perfect,
For all His ways are just;
A God of faithfulness and without injustice,
Righteous and upright is He. -Deuteronomy 32:4
Our circumstances and feelings can change from day to day, and our self-confidence can fluctuate accordingly. However, Christ's nature is unchanging. He is the same yesterday, today, and forever. Therefore, our confidence in Christ is more stable and consistent than in ourselves.
Jesus Christ is the same yesterday and today and forever. -Hebrews 13:8
We were created by God in His image. He equips us for good work and designed us with purpose. He goes before us and follows after us. Once we accept Him into our lives, we are a new creation in Him.
Because of all these truths, we can be confident of our worth and our abilities. God shows us how He equips the called throughout His Word. When we read through the Bible, we find it is often the most unlikely person God chooses to carry out His legacy. Neither their past, their experiences or lack thereof, the opinions of others, nor the wrongs done to them determined what they could accomplish. It certainly didn't define them. Moreover, God used each moment as the training ground for His mission.
25 Bible Verses About Confidence
Before you dive into these powerful verses, know that struggling with confidence is something many people struggle with. Even people who look confident on the outside. That is why this post by Josh Weidmann about his own struggles with confidence resonated with me.
1. Psalm 139:14
"I praise you because I am fearfully and wonderfully made; your works are wonderful, I know that full well."
2. Proverbs 3:26
"For the Lord will be your confidence and will keep your foot from being caught."
3. Psalm 27:3
"Though an army besiege me, my heart will not fear; though war break out against me, even then I will be confident."
4. Isaiah 41:10
"So do not fear, for I am with you; do not be dismayed, for I am your God. I will strengthen you and help you; I will uphold you with my righteous right hand."
5. Philippians 1:6
"Being confident of this, that he who began a good work in you will carry it on to completion until the day of Christ Jesus."
6. 2 Corinthians 3:4-5
"Such confidence we have through Christ before God. Not that we are competent in ourselves to claim anything for ourselves, but our competence comes from God."
7. Romans 8:37
"No, in all these things we are more than conquerors through him who loved us."
8. Isaiah 54:17
"No weapon forged against you will prevail, and you will refute every tongue that accuses you. This is the heritage of the servants of the Lord, and this is their vindication from me," declares the Lord."
9. Psalm 71:5
"For you have been my hope, Sovereign Lord, my confidence since my youth."
10. Romans 8:31
"What, then, shall we say in response to these things? If God is for us, who can be against us?"
11. Psalm 118:8
"It is better to take refuge in the Lord than to trust in humans."
12. 1 John 4:18
"There is no fear in love. But perfect love drives out fear, because fear has to do with punishment. The one who fears is not made perfect in love."
13. Psalm 27:1
"The Lord is my light and my salvation— whom shall I fear? The Lord is the stronghold of my life— of whom shall I be afraid?"
14. 1 Corinthians 15:58
"Therefore, my dear brothers and sisters, stand firm. Let nothing move you. Always give yourselves fully to the work of the Lord, because you know that your labor in the Lord is not in vain."
15. Philippians 4:13
"I can do all this through him who gives me strength."
16. Ephesians 2:10
"For we are God's handiwork, created in Christ Jesus to do good works, which God prepared in advance for us to do."
17. Romans 12:3
"For by the grace given me I say to every one of you: Do not think of yourself more highly than you ought, but rather think of yourself with sober judgment, in accordance with the faith God has distributed to each of you."
18. Galatians 2:20
"I have been crucified with Christ and I no longer live, but Christ lives in me. The life I now live in the body, I live by faith in the Son of God, who loved me and gave himself for me."
19. Galatians 6:9
"And let us not grow weary of doing good, for in due season we will reap, if we do not give up."
20. Psalm 34:4
"I sought the Lord, and he answered me and delivered me from all my fears."
21. Ephesians 3:12
"In whom we have boldness and access with confidence through our faith in him."
22. 2 Corinthians 10:12
"Not that we dare to classify or compare ourselves with some of those who are commending themselves. But when they measure themselves by one another and compare themselves with one another, they are without understanding."
23. Galatians 1:10
"Obviously, I'm not trying to win the approval of people, but of God. If pleasing people were my goal, I would not be Christ's servant."
24. Jeremiah 29:11
"For I know the plans I have for you," declares the LORD, "plans to prosper you and not to harm you, plans to give you hope and a future."
25. Proverbs 19:21
"Many are the plans in a person's heart, but it is the LORD's purpose that prevails."
** While I often use various resources, my favorite online Bible resource is Bible Gateway!
A Prayer for Confidence
Finally, I hope these verses provide you with the confidence and love you need to see yourself the way God sees you. When you are in doubt, remember that you are fearfully and wonderfully made and that your confidence comes from Him alone.
---
Wait! Before You Go, These Confidence Boosters May Be Exactly What You Need Today!
Do you long for something more? A way to break free of insecurity and experience peace, joy, and hope? Are you tired of doing all. the. things. but still coming up empty? If so, God's love can change that. Join me today as we learn both about Christ and how both His love for us makes all the difference in the world!