When You Feel It's Too Late
Too late?
Too Old?
Too broken?
Too much?
I remember looking at the ladies around me. Beautiful. Joyful. They radiated a life lived with Jesus.
They knew Him so well.
And me?
I felt like I missed something
And I was just too late to find it.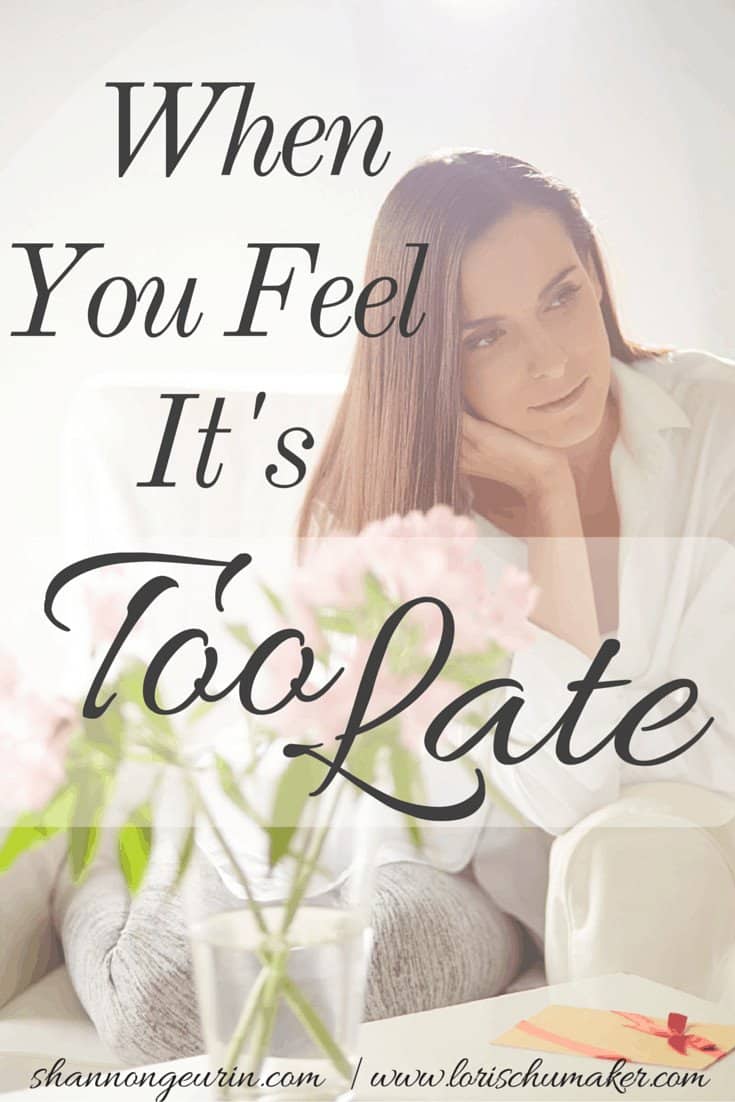 Are you in that place? That place that feels too late?
Too late to put the past behind you and meet Jesus for the first time?
Too late to get your life back on track and embrace Him once again?
Too late to dig deeply into His Word to pursue a deeper relationship with Him?
Too late to ever find true peace?
If you are, will you give me just 5 minutes to share with you why it's not true?
[bctt tweet="When you feel you're just too late. #proof #toolate #thatswhatGodcando #momentsofhope " username="lori_schumaker"]
The Spirit and the bride say, "Come." Let anyone who hears this say, "Come." Let anyone who is thirsty come. Let anyone who desires drink freely from the water of life. – Revelation 22:17 NLT
Anyone.
Did you catch that?
Not, "Those who are in their 20s."
Or even,
"Those with only some sin."
Rather, He said,
Anyone.
_____________
"But if from there you seek the LORD your God, you will find Him if you look for Him with all your heart and with all your soul." –Deuteronomy 4:29 NIV
 And again, in this verse there are no time frames and no parameters. Simply seek the Lord with all your heart and soul
and You will find Him.
_____________
Friends, I've got one more huge piece of proof as to why it's not too late. And I've got the rest of my story, blog to finish reading? I don't want you walking away unconvinced. I don't want you entertaining for even one more moment that it might just be too late. (continue reading)
too. Would you follow me over to my friend, Shannon Geurin's
You will love Shannon's corner of the blog world. I had the honor of meeting Shannon face-to-face at Suzie Eller's #livefree book launch retreat (her book, Come With Me, launches May 3rd!) a couple weeks ago. I had already loved her blog, her story, her ministry. But meeting her was truly a gift. This girl is as authentic in real life as she is on her blog. She has a powerful story to share and she lived out this very truth. She believed it was not too late and she turned to God so He could work His miracles.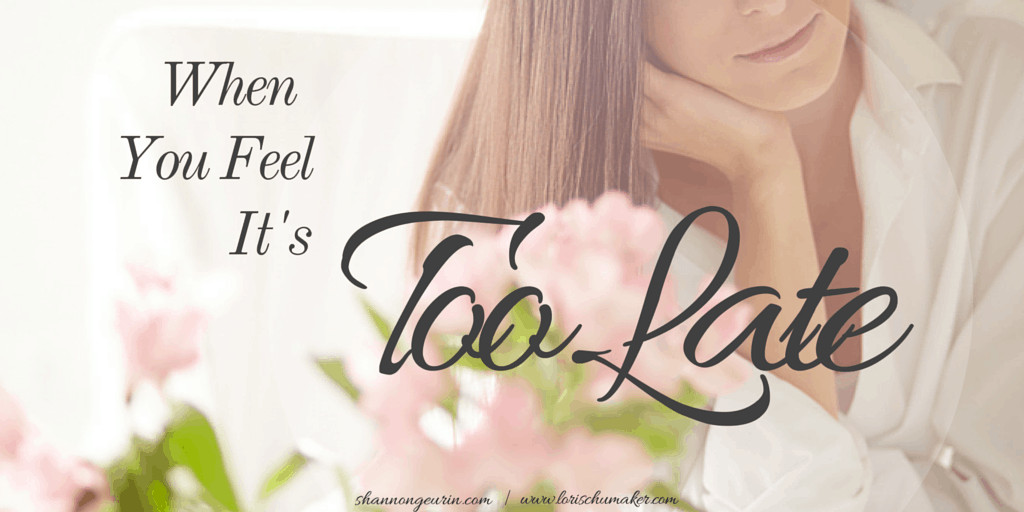 And don't forget! Monday is my launch day for #MomentsofHope! I hope to see you there. And since Mondays will be #MomentsofHope day, I will change my traditional posting day to Thursdays. Would you pray for this new little adventure? I pray God floods this space with His never ending Hope!
I regularly link up with these encouraging bloggers!
If you are new here or just haven't gotten around to subscribing to Searching for Moments, would you consider it? I'd love to get to know you better!!! And when you do, you will receive some free goodies from me!