Hi friends! Last week I presented a 21-Day Challenge to you! A challenge for us to join together and STOP trying to fill the longing in our hearts with people and things. It was a challenge to fill our hearts with God's love – the only love big enough, pure enough, and perfect enough to reflect our tremendous worth. A challenge to unconditionally delight in His love.
Here's how I broke it down:
Week 1 – Fully knowing God. His majesty, His power, His perfection.
Week 2 – Grasping the depth of God's love for us and how His love is a radically different love.
Week 3 – Developing discipline in recognizing lies, praying against them, and replacing them with God's unfailing words of truth and love.
Last week, we dug into God's Word to impress upon our hearts exactly Who this God is. His majesty. His power. His perfection. Together we held close these scriptures that tell us of all these things. My prayer was that His Word would reveal this truth in a powerful way to you. A way that would make your hearts explode with the wonder of a God so great big and marvelous. Maybe you even printed out the scripture cards I provided and put them in places you would see them all week. And maybe you even wrote some of them on your bathroom mirrors!!!
I would absolutely love it if you would take a picture of your verse written on a mirror and send it to me via email or social media! I'll put mine out there on Facebook, Instagram, and Twitter and hashtag it #delightinGodslove. This is a great way to encourage each other!!
Here's my mirror reminder! #delightingodslove #21daychallenge #stopsearching Click To Tweet
So, now, with your heart exploding with wonder, let's dig in deep to understand how much God loves us and how His love is different from all others.
There is no love greater. No love better. No love more fulfilling. Nothing … not one single thing can compare. 
So we have come to know and to believe the love that God has for us. God is love, and whoever abides in love abides in God, and God abides in him. John 4:16 ESV
Read that verse again. Let it sink in. Really sink in.
God is love.
It doesn't just say He has love to give.
But that HE IS LOVE.
I stop and think of last week when my husband surprised me with roses that matched my new little writing space. My heart melted and I was so thankful for his love. And then I think of the sweet cuddles of my sick boys last week who needed me in the midst of their trials. Their love was precious. Or the friend that brought me lunch just because she knew it was a hard week. My heart overflowed.
But here's the thing. Even though those moments are gifts, they are unsustainable. My husband will fail. He will say or do the wrong thing. A thing that will leave me feeling unloved. My kids will roll their eyes, whine, or snap at me leaving my heart feeling a little less than. And friends will forget to call or be too busy to connect.
I think you get my point.
We as humans individually have much love to give, but God is love.
He embodies love. The author of love. And He cannot nor will not ever fail at love.
To which love should we anchor ourselves?
To a love that will fall short?
Or to one that is secured and cannot fall short?
There are many Bible verses that tell us of the great love God has for us. It was a challenge to pick just seven! The ones I chose, though, I prayed about and found as ones that embody the magnitude of His love  and how it differs from any other love. ( You can always find more! I love to use the Bible Gateway website to help me search and compare translations!)
His love is for everyone. One of the most well-known scriptures is John 3:16. In it, He tells us He sent His Son to save the world. Because He so loved everyone! How many of us are capable of loving everyone? That's a tough task.
For God so loved the world, that he gave his only Son, that whoever believes in him should not perish but have eternal life.  For God did not send his Son into the world to condemn the world, but in order that the world might be saved through him" John 3:16-17 ESV
2. And to take that even a step further. He even loves and forgives His enemies. That is a great big love. And it is great big forgiveness. If we are His enemy and know   that despite that, He still loves us, how can we not want to anchor onto that?
"Father, forgive them, for they know not what they do" Luke 23:34 ESV
3.  What He gives is more important to Him than what He gets. His love is sacrificial. It is agape love. (selfless, sacrificial, unconditional love, the highest of the four types of love in the Bible)
We can understand someone dying for a person worth dying for, and we can understand how someone good and noble could inspire us to selfless sacrifice. But God put his love on the line for us by offering his Son in sacrificial death while we were of no use whatever to him. Romans 5:7-8 MSG
4.  His love is immovable. It's not dependent upon how much we love Him or how well we act. He loves us. We cannot benefit from His freedom, peace, and joy until we accept His love and fully give Him our hearts in return, but whether we do or not, He still loves us.
I will never leave you nor forsake you. Hebrews 13:5 ESV
5.  His love digs in. It isn't afraid to confront. Nor is it limited with time. He is there all the time. He's not too busy. There is nothing impersonal about living inside of us.
Then Christ will make his home in your hearts as you trust in him. Your roots will grow down into God's love and keep you strong. Ephesians 3:17 NLT
6.  His love is perfect. Unfailing. It can do all these things without fault.
"Love is patient and kind; love does not envy or boast; it is not arrogant or rude.  It does not insist on its own way; it is not irritable or resentful; it does not rejoice at wrongdoing, but rejoices with the truth.  Love bears all things, believes all things, hopes all things, endures all things" I Corinthians 13:4-7 ESV
7.  His love has no pride.
…Though he was God, he did not think of equality with God as something to cling to. Instead, he gave up his divine privileges; he took the humble position of a slave and was born as a human being. When he appeared in human form, he humbled himself in obedience to God and died a criminal's death on a cross. Philippians 2:5-8 NLT
I pray these Words sink deep into our hearts. We are so loved. Already. We just have to realize it and allow it in.
Perfect love is calling. A love that can fill the deepest darkest holes in our hearts. When we look to those we love to make our hearts full, we will hold them accountable to a level they are not capable of fulfilling. We set our loved ones up for failure and we set our own hearts up for hurt. However, if we anchor ourselves to God's love, our hearts will fill and we can love others with the overflow rather than giving them the meager droplets found in the bottom of a heart whose worth has been swept away.
Loving out of overflow...or leftovers?Take the challenge to accept a radically different love! #onlygodslove Click To Tweet
Friends, I challenge you. Take these verses. You can print them here! Write them on your mirrors! Speak them. Let them soak into your heart.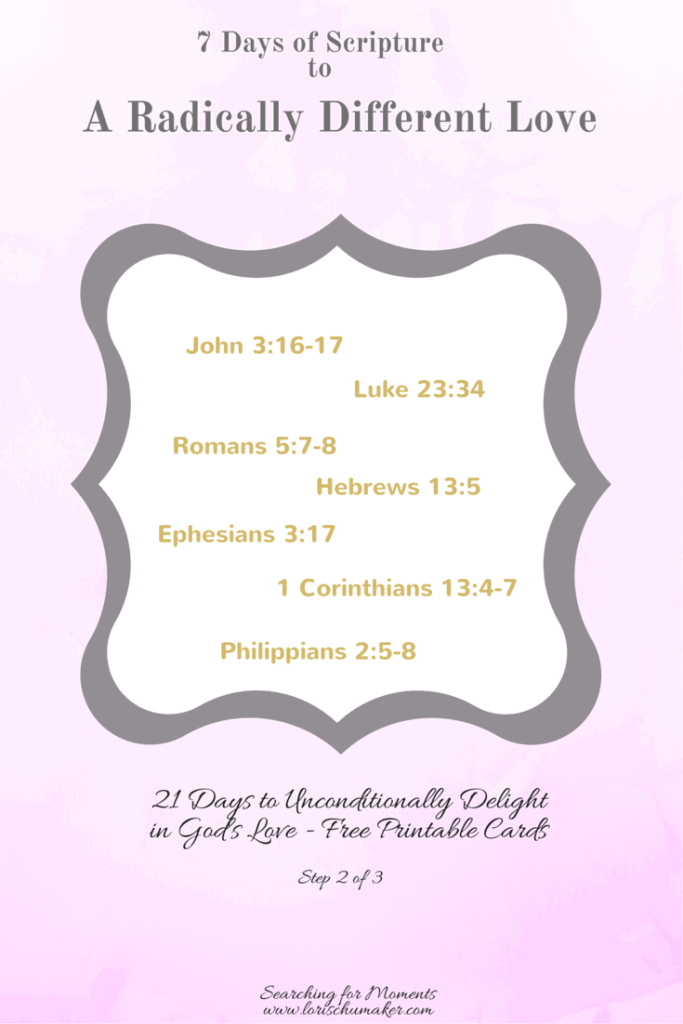 And pray …
Dear Father, I am humbled and amazed at your majesty. Your power. Your perfection. The evidence is all around me. Thank you for giving me Your Word to plant deep within my soul. Your Word is truth in a world that whispers many lies. Thank You for your sacrificial love. Your perfect love. Your radically different love. And thank You for calling me Your child. Lord, I ask You to remove the scales from my eyes so that I can fully see You. And I ask You to fill me with courage to open my heart to Your love. I believe Your love can change everything. I believe it can fill my heart like no other. Lord, please fill my heart giving me Your overflow with which to love others. I want to leave my days of searching behind me. I want to fully know my worth through its reflection of Your love. I want my life to be a living testimony to the power of Your love. In Jesus' Name I pray. Amen
I can't wait to hear your stories. I pray God moves big in your life! I look forward to us joining together again next week developing discipline in recognizing lies, praying against them, and replacing them with God's unfailing words of truth and love!
Want to start from the beginning of this challenge? You can find that post here.
As always, I'd love for you to join me as a subscriber. It is an encouragement to me and allows you to not miss a post or any of the extras. I love knowing who is along with me on this bumpy road of life 🙂
Also, throughout the week, I have the honor of linking up with some other fantastic blogs. They are great places for fun and encouragement! You can find them all by clicking the "Link Party" tab in the menu bar at the top.