Choose Hope this Christmas with these 13 Gift Options!
It is already November and Christmas is well on its way! I know that many of us are beginning to let the words "shopping list" swirl in our minds. So, before you ran out to the stores or online for simply the next cutest thing, I wanted to share with you some really awesome gift options that give hope to the least of these when you purchase their products. These are not just companies that I happened upon on the internet. These are products I have actually tried and own so I can testify to their quality and absolute cuteness!
It's an opportunity to give gifts this Christmas that share your faith, open eyes to the needs within our world, and support those giving their lives to work that makes a difference! So, who doesn't want gift options like that?
[bctt tweet="#FairTrade #GiveBack gift options for #Christmas? I'm all in! Look at these 13 options! #hope" username="lori_schumaker"]
And just so you know, these are not affiliate promotions at all. They are simply companies I respect and know you would LOVE, too!
"Fashion & Compassion is a non-profit, jewelry & accessories brand seeking to fulfill our mission by connecting caring consumers with vulnerable artisans to bring dignity through economic empowerment.
We strive to provide dignified jobs to women (and some men!) in vulnerable communities around the world. We're also super passionate about educating our consumers & giving back. That's why we donate ALL net proceeds to our Ministry Partners, to further meet the needs of our artisans & the communities we serve.
At the end of the day, we're just a team of Jesus-loving women who are doing our best to change the world & empower others, because we believe that small acts of kindness & obedience can do just that."
"Offering HOPE, healthier lives, and freedom from foot-related diseases through education, jobs, and medical relief.
We believe actions based on love and hope can change a nation. Our model for love and ultimate hope is that of the greatest Servant, Jesus.
We often get asked if this is a 'Christian Organization'.  If you are asking whether we are registered with the US Government as a Religious Organization, or if we hand out tracts to the people of Uganda, the answer is no. But, if you're asking whether the heart behind Sole Hope is a heart given by God, if we love Jesus and try to serve every day as He did, and if every decision Sole Hope makes is backed in prayer, then the answer is absolutely!"
"Our Social Enterprise Initiative exists to train, equip, and provide artisan jobs to young adults in rural communities. All of our leather products are handmade by students or graduates of our initiatives in Honduras and Haiti.
Your purchases directly support the continued growth of our sustainable initiatives. When you buy coffee from our coffee farm, San Lazaro Estate Coffee, not only are you impacting the employees of the farm by funding their sustainable living, but the profits also fund the Mission Lazarus Refuge, children's home."  
"My family has been in the tee-shirt business for 40 years, and I found there was a lack of stylish and comfortable products in the market place . Apparel that speaks life and truth and playfully reflects life as a mom. The lack of humorous, Spirit-filled apparel led me to realize I could help fill the void.  To create everyday wear which would reflect the value, power, and love promised to my children and myself, by Our Loving God.  My desire is to create and produce quality clothing which remind them they are precious and made for more.
 Where every shirt  has a "Back Story"…
My hope is that YOU, my dear friends, will enjoy wearing these creations and, in turn, these creations will leave a positive imprint on a dark world; a "T-shirt Revival"
* Truth Ink takes pride in GIVING BACK to those in need.  To  bring hope to the hopeless, strength to the weak, and comfort to those in pain.  Giving back and focusing on others gives hope, strength, and love- something we all need. With each clothing release, 10% of the profits will be given to an organization of choice.
"We comb through an ever-growing list of brand partners (the do-gooders) to find products that will bring joy to your ethical lifestyle. What you'll discover: fashion, beauty, and living items that are made with purpose and goodness for the artisan, consumer, and our earth (that's what we call #beyondfairtrade). Your purchase means support for fair trade and small brands who are committed to making a positive impact for trafficked, at-risk, and exploited women around the world."
"Across the developing world, millions of people work as Artisans, using traditional skills to create handcrafted products. But without access to a global market, these Artisans often struggle to earn a sustainable income.
We collaborate with 29 Artisan Businesses in 12 countries to design a collection of handcrafted jewelry and accessories. We develop these Artisan Businesses through fair trade, connecting them to a global market and empowering them to grow sustainably."
"We have a heart for spreading God's word and helping people in their personal walks with Christ. In the beginning of 2016, Rick was inspired to begin creating what we now call our Surrender™ Crosses. They are a way to release our burdens to God and rely on Him more.  We had been praying that God would open doors very widely or shut them very loudly.  On Tuesday, May 3rd, God answered our prayer in an unexpected way – Rick lost his job. 
We know that God wanted us to take a leap of faith and make this our full-time business and ministry.  This is not really how we like to work. We are perfectionists, "plan everything" kind of people, but when God says go, we go. So, here we are…clinging to Him as we begin this adventure together.  We know not what our future holds, but we take great comfort in WHO is holding it!"
***I was blessed to meet Jackie this summer at the Declare Conference. She is a doll! And a powerful prayer warrior to boot! When they say they pray over every cross before sending it, you can rest assured of that truth!
"We pack each box with our daily devotional, Everyday Faith, to help keep your faith relevant throughout the month. Look for inspirational scriptures, challenges, and seasonal prayers – all centered on a faith-based theme.
We hand-pick items from companies and organizations who respect God's people and His creation. That's why everything is made ethically, is eco-friendly, and has a positive impact on the world.
Every box that you purchase provides three meals to hungry kids via our Rice Bowls partnership! Plus, many of our products are from companies who match our purchases with an equivalent donation to a worthy cause."
"The mission of the company is based on Proverbs 31:25. "She is clothed in strength and dignity…"  We want every woman to feel this way; empowered by the Holy Spirit to live this out in their lives.  This boutique is more than just clothes to us.  It's about sharing the message that women are beautiful, women are worthy and women are so loved by God.  That modesty is desirable, and it's God's plan for women.  
Because of your support, we have been blessed to be able to donate to some amazing organizations. These organizations are part of the End it Movement, and work to help deliver millions of women both locally and across the world from the bondage of slavery. We want every woman to have the freedom to live out the life God designed for them."
"Mercy House exists to engage, empower and disciple women around the globe in Jesus' name. Engage those with resources to say yes to the plight of women in poverty. Empower women and teenage mothers around the world through partnerships and sustainable fair trade product development. Disciple women to be lifelong followers of Jesus Christ."
"Fair Trade Friday is a monthly membership club that delivers high quality fair traded items to your door. The items in the box are fairly traded and provide employment to women all over the world. Plus, they are really cute! We currently have multiple monthly options: our original (and very popular) Fair Trade Friday box—this include 3-4 surprise items (think stylish accessories, organic soap, coffee, etc); our next option is a one-time box to try out as a trial or give as a gift; and finally, our brand new option: Earring of the Month and Bracelet of the Month. 100% of the proceeds from each product go toward the empowerment of impoverished women as an avenue to introduce them to the Gospel."
"Whether you're raising money for a worthy cause or shopping responsibly to support one of our awesome fundraisers, what you're doing is great and we want to help you do more of it. "Changing the world, One Mission at a time," as we like to say.
One Mission's fundraising system is unique and designed to help causes raise, and keep, as much money as possible.
Inspired by the simple goal of helping more people do more good, One Mission exists ultimately for missionaries, non-profits, and many other important groups and individuals that entrust us with their fundraising needs. To learn more, check out How It Works, or simply browse around the site a bit."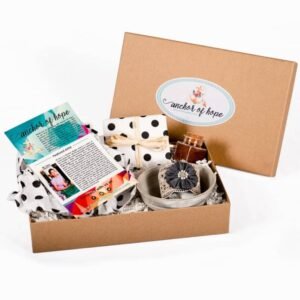 "The Anchor of Hope Box is filled with items lovingly handmade by refugees, survivors of human trafficking and others in vulnerable situations, most living right here in the United States.
Our partnership with World Relief High Point connects Anchor of Hope to some these beautiful souls that have left devastating circumstances and war-torn countries for a chance of freedom in a foreign and strange land. They could use our support to help provide for their families as they heal from the poverty and injustices that afflicted their lives before now. Join with us in this exciting adventure as we empower these artisans and give them the opportunity to overcome."
Enjoy! I hope this list of my favorite Fair Trade and Giving Back gift options not only help you complete your Christmas Shopping List, but create an ever-expanding awareness about how we can make a difference this year!
[bctt tweet="Check out these 13 #ChristmasShopping #GiftOptions! #FairTrade #GiveBack Giving hope at Christmas time! #hope" username="lori_schumaker"]
Next week, Marva of Sun Sparkle Shine and I are teaming up to bring you the #GratefulHeart Series! She is an island girl and I'm a desert girl. She encourages women to live life to the full and I encourage you to hold onto hope. Together we are going to encourage and equip you to activate the weapon of gratitude so that you live a brilliantly full and hope-filled life!
Finally, friends, this time of year is beautiful, but also difficult. Not only are our to-do lists a  mile long, but our emotions run deeper and we are more often reminded of the aches within our hearts. It is a time when we need extra hope. I'd love for you to be a part of the Searching for Moments Community. Both through email and free access to the Library of Hope, you will receive consistent doses of hope. Consistent reminders of the hope always available in Christ. All you need to do is sign up below! It's easy!