What Emotional Baggage Are You Bringing Up the Mountain?
Commitment is brutally difficult, but the end result is definitely worthwhile.  After writing about that last week, I had the opportunity to have some pretty awesome conversations with some pretty amazing women. We talked about the climb up Camelback Mountain and how it compared to each of our journeys up our own individual mountains.  Those conversations made me want to dig in deeper and talk about the struggles. To bring conversation around the difficulty.
Climbing any mountain is tough work.
Each of us have our own unique mountains. I don't know what your particular mountain is, sweet friend. However, I do know, in the depths of my soul that it isn't an easy one.
I see your tears along the road. The pain. The anger. And I see you grimacing as you push forward with all your might to reach that mountaintop.
It is definitely a struggle. It is brutally difficult.
But, let's be honest with each other.
We are guilty in making it more difficult for ourselves by dragging along too much emotional baggage.The enemy is adept at using our baggage as powerful ammunition as he whispers lies of defeat into our hearts and minds. (I wrote about that in depth here!) And we give him full reign as we insist upon dragging it along.
Here is the climb. The picture I used from last week. These folks are working hard to reach the top.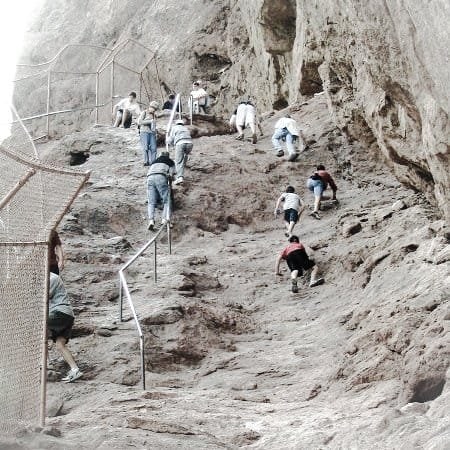 Now envision all those people trying to climb Camelback Mountain with all this in tow.
Can you imagine it?
Doable? Maybe for those of herculean strength. However, most probably not.
But surely not optimal for anyone.
Surely reason for many to falter.
To maybe even give up and abandon the commitment.
Abandon their goal.
Their dream.
So, what does that look like in our lives? As we walk through our commitments in life, what do we have hanging onto us that is slowing us down and causing us to give up?
What is your yuck?
Is it a negative environment? Negative people? Your past – what was done against you, or what you have done? Over commitment? Unrealistically high expectations? Bad habits? Addictions?
Friends, our climb is tough!  Our yuck makes it tougher. It's time to ditch it, leaving us free to climb without all the dead weight.
All these many people who have had faith in God are around us like a cloud. Let us put everything out of our lives that keeps us from doing what we should. Let us keep running in the race that God has planned for us.
For me, my yuck symbolizes time, focus, energy, and effort. None of which is plentiful around here. So I get caught up in all my yuck. I lose myself in the midst of the demands of a hectic life and I function on autopilot, neglecting to even examine what I may even be carrying with me. Sometimes I feel so busy, the thought of facing or eliminating my emotional baggage feels beyond overwhelming. So I trudge ahead thinking I can carry the baggage along with me up the mountain. I'm pretty strong, for sure, but I'm no Hercules.
So, I stop.
I set it all down.
I look at it and determine what needs to go.
God reaches down and holds my hand as He assures me that I don't need any of it.
I can lay it down and turn to Him.
His Word speaks truth.
Then Jesus said, "Come to me, all of you who are weary and carry heavy burdens, and I will give you rest. Take my yoke upon you. Let me teach you, because I am humble and gentle at heart, and you will find rest for your souls. For my yoke is easy to bear, and the burden I give you is light."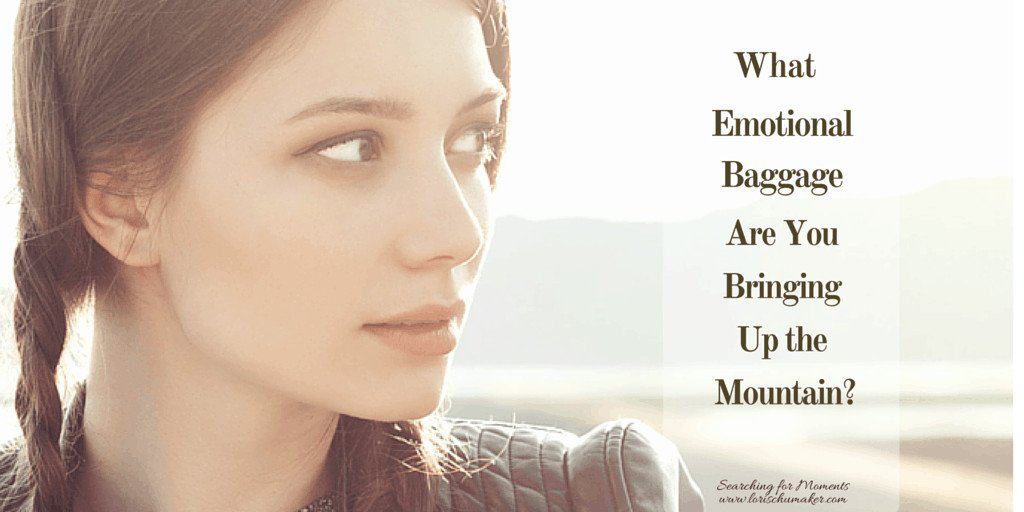 And, friends, guess what? I turn and I don't trudge up that mountain anymore. Nope. Instead? I run! Because the weight is gone! 
He's taken it all from me …
So very long ago.
With all His love
At the cross.
So that I would not have these heavy burdens to bear as I lived out the life He called me to.
Or a life weighted down that fell short of the hopes and dreams He sealed in my heart.
I want to humbly ask you to join me in this discussion by posting below or messaging me.  What are you needing to lay down? What weight are you needing to be free of to make the climb to the top of the hope-and-dream-filled life He sealed in your heart? I would be honored to intercede on your behalf so that you can stop, set down the emotional baggage, and turn to the God Who is waiting to take it all for you. I want you to know that you are not alone. We are all on a big ole' climb together.
We have held onto the baggage for far too long.
Will you set it down with me?
---
---
In case you missed part of the series, you can find all the Overcoming Emotional Baggage Posts

HERE

!
And, friends, if you are ready to commit to filling your mind with positive and encouraging content that will equip you to lead a stronger and more hope-filled life, subscribe below! You also get full access to the resource filled Library of Hope when you subscribe!
I sometimes link-up with
these
awesome blogs! Come stop by!