Maybe it is the challenges of the last year… or maybe it is the miracles of the last year. But, probably, it is a lot of both.
This Easter was different. A new layer to the depth of my understanding had been peeled away. The emotions more poignant.
Easter and new beginnings.
Whether you are a believer in Christ or not, His story is one filled with deep emotion and pain. His pain and the pain of those who loved and knew Him. The darkness of the hours surrounding His capture, torture, and death cannot leave even the hardest of hearts untouched.
As a woman, the compassion with which I have been uniquely wired is stirred at the pain inflicted upon an innocent man.
As a friend, my heart winces with pain for those who had been in His inner circle. I cannot fathom seeing a dear friend suffer so terribly.
As a Mother, I have been known to break into the ugly cry when watching these scenes in any of the movies depicting His crucifixion. I see His mother, Mary, and my stomach and heart lurch. I don't think I could live through witnessing these brutal attacks upon my sons. I cannot believe I could find the breath to make it into the next moment. My heart would simply stop. It would shatter.
As a Christian, simultaneously my heart breaks…and my heart fills. The tears fall for a multitude of reasons, all of which are diametrically opposed to one another. It's truly a roller coaster of emotions!
It is a heart breaking for all the injustice put upon my Jesus. The very Jesus Who has redeemed and renewed so much in my life. Who has healed, loved, forgiven, and treasured me despite all I have managed to blotch and blunder.  The suffering upon the One Who did all this for me causes me to grieve.
And it causes me to stand in awe encompassed by a heart filled with inexpressible gratitude for the very same reasons. He took my thorns of sin and redeemed them. He took the thorns of the sin the enemy wanted to use to bind me in chains of bitterness, anger, fear, and death… and He defeated them. He put the old behind and gave me a new beginning. He gave me hope. Hope for new beginnings. Hope for new tomorrows.
When my heart aches in the midst of the most difficult of times…
          I know that it will be redeemed. Just as those living during His time on earth probably didn't see the big picture behind His suffering, I, too, may never know the big picture behind my own personal story. Those witnessing his crucifixion may have felt human compassion and even grasped the injustice as they watched an innocent man be convicted and tortured, but I doubt they could grasp the depth of the change it would make upon millions of lives over the next thousands of years. And just like them, I may never grasp the magnitude of what God will do with each bit of hurt in my life. But because in my life, I have been given the gift of experiencing the miracle of His grace and His work…with all of me,
I will believe.
I will believe and I will cling to the hope that He offers. I will hold on tight to each new tomorrow He has promised to give. I will wait with great expectations for His wonderful works to come.
And I will stand in awe of a Savior Who died for me.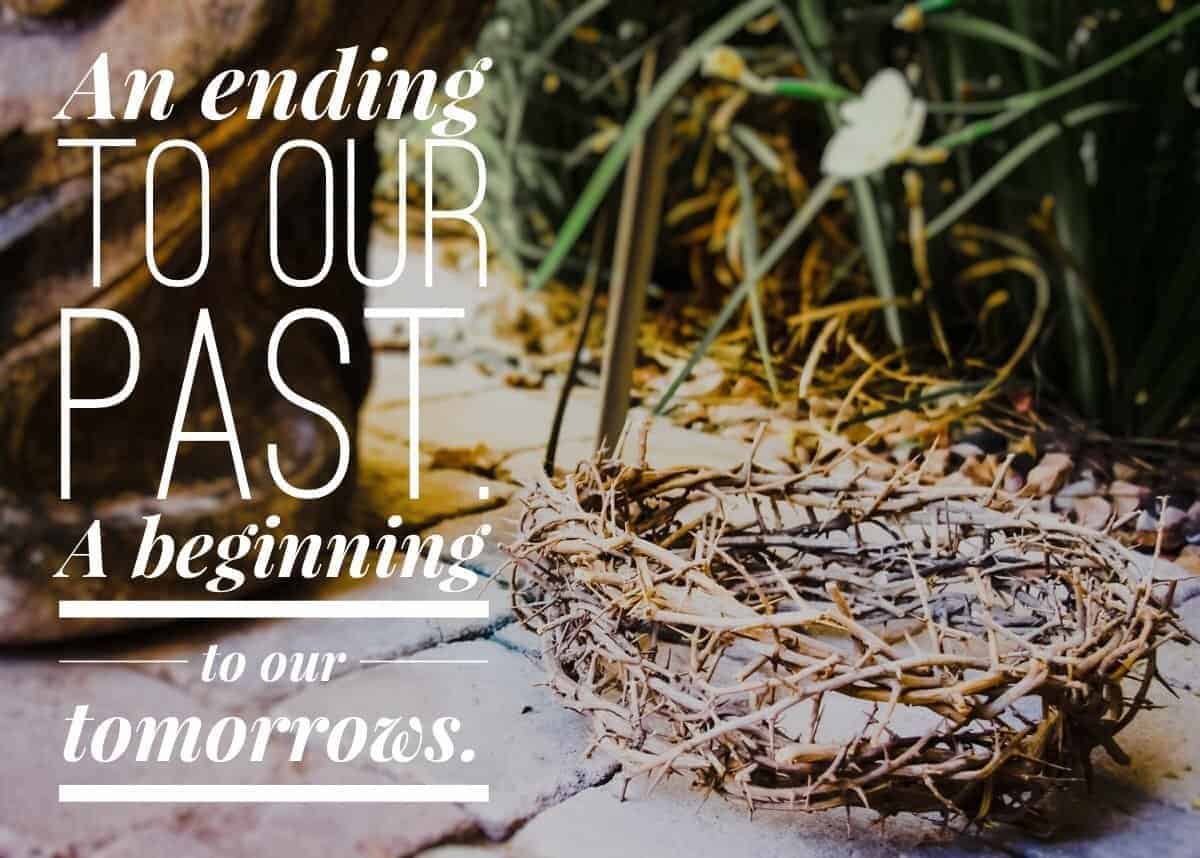 Dear Jesus,
Thank You for Your unfailing love. As deep as my love is for my children, I can still only grasp the surface of the depth of your love for us. I thank you for defeating sin…defeating death and giving us hope for all that is to come! Lord, I thank You for the vision of the crown of thorns that I can refer back to over and over again in the midst of trials. I pray that in their seasons of darkness, all will cling to that hope and when they are filled with Your hope, they will, in turn,  share that light with those in need. I pray that we all see, believe, and hold onto the fact that we have been redeemed from the thorns of sin. That the darkness is over. And that the Light is here. The past is over and new beginnings are offered every day.  In Your precious and holy name I pray. Amen.  
Blessings and smiles,
Lori