"They know it's not their fault and that they should "move on." They've tried to live forgiven and free, yet they can't shake the shame."
That's the sentence that grabbed hold of my heart.
It's the way in which I lived for far too long. A way that kept the best of me hidden. And as a matter of fact, if I'm not careful, it's a way that could once again slink its way back into my daily life.
shame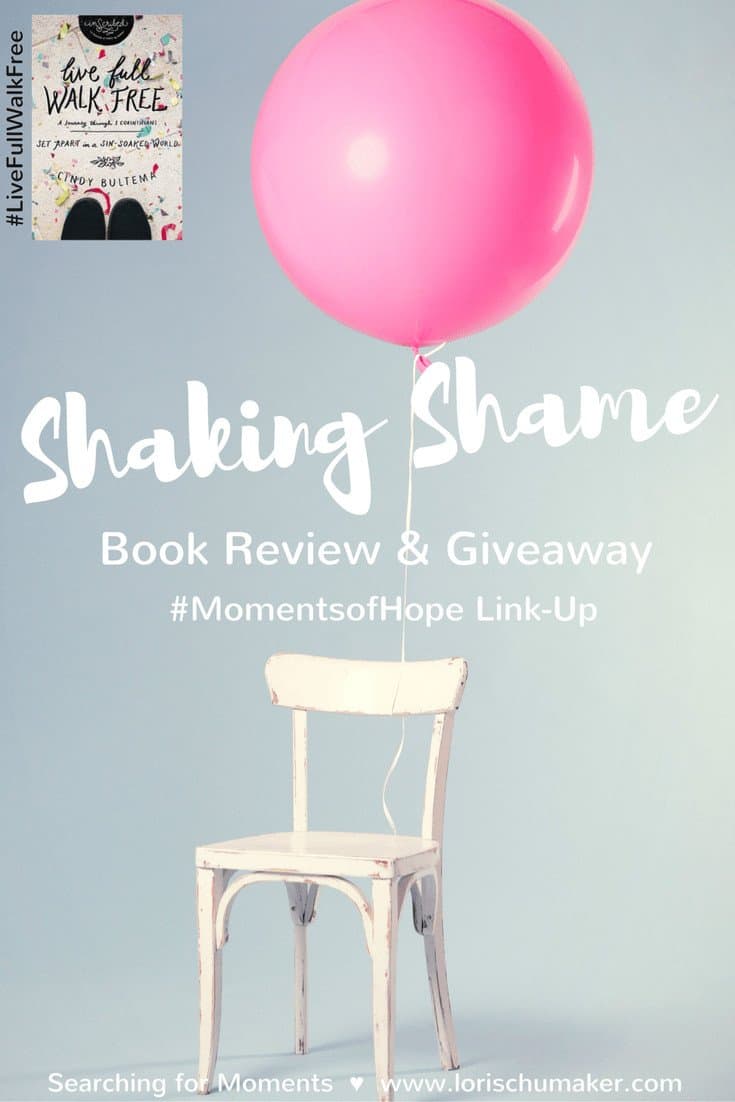 How about you? Is it a place within you where the enemy loves to prod? The subtle whispers? For the everyday wrongs that occur, you hear,
"You'll always be a mess."
"You'll always fall short."
"You'll never be good enough."
Friends, if that's you, I get it. I'm there with you and I'm here to tell you there is a way. A way to live free of shame.
A way to live where the best of you rises up and out of the ashes.
There is a way to live where the best of you rises up and out of the ashes #LiveFullWalkFree @CindyBultema #bookreview #bookgiveaway
Click To Tweet
You intended to harm me, but God intended it for good to accomplish what is now being done, the saving of many lives. –Genesis 50:20 NIV
For this reason, when I had the opportunity to be a part of Cindy Bultema's launch team for her new book and Bible Study, Live Full Walk Free: a Journey through 1 Corinithians, I jumped at it.
Cindy Bultema is a woman who has walked through the deepest trenches of shame. The enemy surely meant it for harm.
But God.
She grabbed onto Him. Then she held on with all she had as he pulled her through those trenches until she was safely on the other side.
Healthy.
Made whole.
Living full and walking free.
"If you're ready to experience a life of fullness and freedom through the power of Jesus Christ, join me as we study the book of 1 Corinthians. As we study God's Word together, I promise you'll live a different way of life. This is a life that doesn't just avoid the world and its troubles but overflows with the abundance of all that Jesus has to offer. Together, let's learn to live full and walk free!" –Cindy Bultema
There is so much good I can say about this study and about Cindy. Just like her, it's authentic, humorous, and filled with deep redemptive Truths and practices. Her website has all kinds of goodies to go with it and if you subscribe to her blog, you will get the matching A-Z Prayer Cards!
The Giveaway!
But you don't have to take my word for it. As always, I am giving one copy away with this post! How can I read a great book and then not offer a copy to you? All you have to do is put #LiveFullWalkFree along with a comment below and I will enter you to win! The contest will close Sunday, January 15th at 11:59 pm.
#MomentsofHope
It was so wonderful to get to read through your posts from last week! I can't quite get to all of them, but I sure do try! Each one encourages me and gives me hope. I pray this space does the same for you!
This post by Christin at Garments of Splendor became more than reading. It became a time of worship for a Father who loves us so dearly He died so that we could live separate from shame. So we could live victoriously free. Therefore, with my hand raised in the air, I whispered, "Amen" again and again.
"So release yourself from the sins of your past. Christ's work is enough!
There is healing power in his words.
When Jesus speaks, mountains move. Demons flee; and diseases are destroyed.
When he says it is finished—it is done.
So put on your clean garments of his hope, healing, and holiness, and live your life in true victory.
Be clean. Be healed—and be free." -Christin
When you stop by to visit Christin, don't miss the beautiful prayer image she created to go with this post!
Shake shame this year with #LiveFullWalkFree!Join us for #MomentsofHope w/a new #giveaway #linkup #hope @CindyBultema Click To Tweet
In case this is the kind of hope you want to build this year, sign up to join us here in the Searching for Moments Community. You will receive content updates, behind the scenes information, and access to the resource filled Library of Hope.

Now to Link Up
What I ask of you:
1. Share up to 2 URLs  (to a blog post, not the actual blog) that resonates with the topic of HOPE. Anything that gives us hope for tomorrow. Hope for victory. The little things and the big. Anything that inspires us to lean into Jesus and let Him carry us through.
2. Important: If you don't have a blog post or podcast that resonates with HOPE, join in other ways as you pray and encourage others with a comment or a prayer.
3. Please leave a comment on the link just before each of your links. Would you love on them well? Encourage them in their efforts to share the hope of Jesus. If you have time, stop by more than one sweet writer's little corner of the blog world!
4. Of course, I would love it if you would follow me via my blog and/or social media channels! Signing up to join the Searching for Moments Community gets you access to the Library of Hope along with post updates and freebies!
5. If this gives you hope, would you consider sharing it with others to give them hope, too?
6. Please either grab the #MomentsofHope button found here or link back to me to encourage new linkers.
[inlinkz_linkup id=689588 mode=1]