11 Matters of the Heart That Simplify Motherhood
Motherhood. Like the wires and cables found behind most electronic devices, it can feel sprawling, confusing, and tangled.
Our world throws information at us moment by moment.
As mothers, we are inundated with parenting wisdom, advice, ideas, and sadly, comparisons. We feel overwhelmed and exhausted.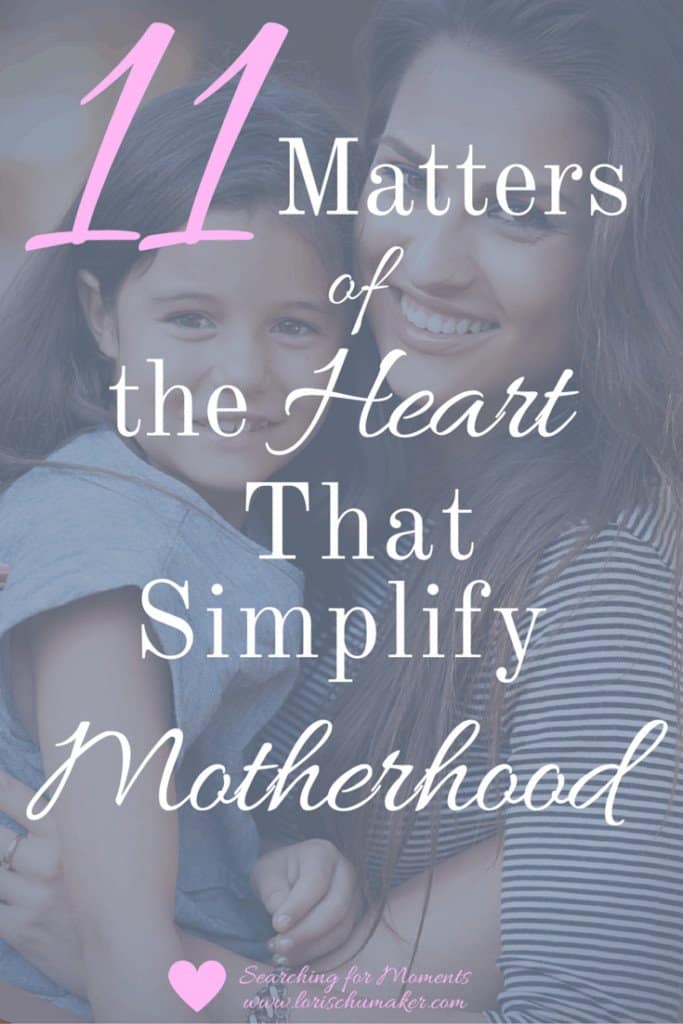 But does it have to be this way? I don't believe so.
Not if we keep our focus on the heart of the matter.
Twice in the book of Luke, the heart of Mary is mentioned.
"But Mary treasured up all these things and pondered them in her heart." – Luke 2:19
"…and his mother treasured all these things in her heart." –Luke 2:51
Friends, every time I put myself in the shoes of Mary, my heart aches. I look at my children and I think,
"How on Earth?"
How did this woman find the strength to withstand all that she did? How did she relinquish her grip on her baby boy as he began to grow? How did she watch him walk away to follow the path his Father planned?
How did she watch him suffer without dying herself?
That strength. That courage. That mother's love.
Her heart was fully God's. She surrendered her life to Him and filled her heart with Him. That strength? That love? It had to be the power of God enabling her to walk that journey.
My flesh and my heart may fail, but God is the strength of my heart and my portion forever. –Psalm 73:26
When she fully surrendered her heart to God, He became her strength. It was in that action of surrender, her strength was born.
And thus the perfect image of a Mother's love was birthed. An icon of beauty to this very day.
God created mothers with uniquely designed hearts. Hearts that have the power to project an incomparable beauty. The strength He incites from within the depths of a woman's heart is the very strength that was found in Mary at the foot of the cross as she bore the reality that was imposed upon her son.
It is strength beyond words.
It is beauty without boundaries.
It makes us women.
It makes us wives.
It makes us mothers.
As we embrace our unique beauty and strength of heart as mothers, I believe we can minimize the chaos of Motherhood. We can minimize it by focusing on what is important. Focusing on matters of the heart.
[bctt tweet="Embrace the heart of #Motherhood. 11 #MattersoftheHeart
That Simplify Motherhood #hope " username="lori_schumaker"]
Here are 11 Matters of the Heart I like to focus on when parenting my children. This list may not be complete. There may be matters of the heart you would like to add. However, if you are in a place where Motherhood feels tangled, sprawling, and confusing, I believe these matters will bring calm to your chaos.
11 Matters of the Heart to Focus on In Motherhood
Prayer  A relationship with the Lord keeps our hearts on course.
Love  A safe and unconditional place to rest.
Compassion  A catalyst to empathetic service and care of others.
Forgiveness  A necessity in living a life free of bitterness and pride.
Gratitude  A generator of "noticers" who become aware of even the smallest of blessings.
Joy  A dose of laughter and humor to handle life independent of our circumstances.
Integrity  A foundation of accountability and self-worth.
Value  An infrastructure to learning the intentional investments of time, money, emotion, and effort.
Relationship  A demonstration of connecting with others.
Resiliency  A strength to learn from failures and disappointments.
Tradition  A mainspring to building identity, connections, and belonging.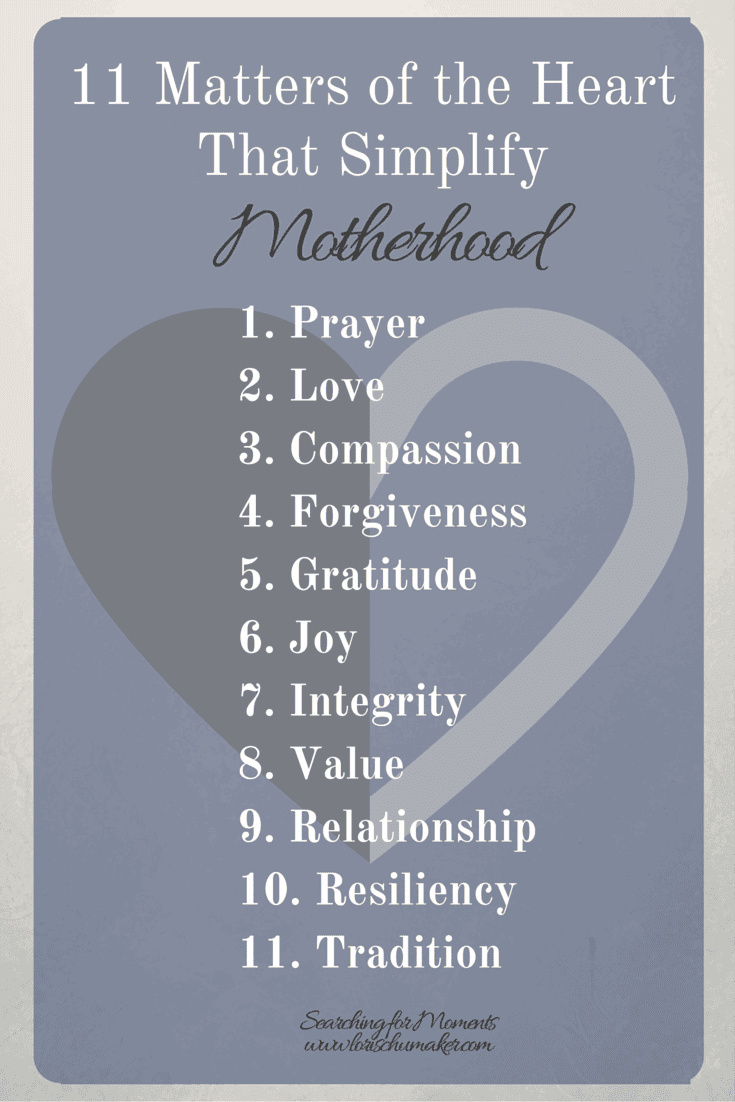 As mothers, our hearts were designed as powerful tools in the raising of our children. We can leave the mess of tangled sprawling wires behind embracing instead that which God has given us. The gift of a uniquely designed heart. One of beauty and strength.
Today you may have arrived here overwhelmed and exhausted. I pray that as you rested here and heard the hope that comes from a heart surrendered fully to God, you too, embrace that hope. I pray that as you leave here, your shoulders feel lighter and your peace fuller.
I would love it so much if you would join me in my dream to share hope with others. When you join me here at Searching for Moments, you get the latest updates and all the freebies I have to offer! Things like scriptures cards to give you hope in the tough times, a companion journal for my Betrayal Series, and even some printable Thank You cards that I designed! Just join below and I promise to honor your inboxes!
Looking for more encouragement? I regularly link up with these fabulous bloggers!