Why Is Laughter So Good for Your Soul?
Then our mouth was filled with laughter, and our tongue with shouts of joy; then they said among the nations, "The Lord has done great things for them." The Lord has done great things for us; we are glad. -Psalm 126:2-3 ESV
Laughter Is Good for the Soul
I'm guilty of getting too serious. I let things like to-do lists and day-to-day struggles find their place to the forefront of my mind far too often. It's one of the reasons I fell in love with my husband. His sense of humor and ability to laugh no matter our situation drew me in and I knew if there were someone with whom I wanted to face the hard times, it was with him and his laughter!
Years of Laughter
It was in the first few months of dating when I visited him in his hometown. Since it was a long-distance relationship before the conveniences of technology, we really hadn't spent all that much time together yet. Much to my dismay, during that first evening of my visit, my kidney disease struck.
Hours later in the emergency room hooked up to an IV and pain medications, this new man in my life sat next to my bed making me laugh. With his corny jokes, I weathered waves of nausea and pain. It would be days before the kidney stone passed, but in those moments, I knew his style of laughter in the hard times turned my pain into something far more tolerable. I knew this guy was a keeper.
How About You?
Does life lead you down the far-too-serious-road at times? Whether it is family, work, or one of the many other responsibilities we face in our lives, it's not always easy to make space for the laughter. It's not always our natural tendency to notice the good shimmering out from the dark rocky places, much less shout our praises to God for them. Seeing the good – the sparkly, funny, yet simple moments in our days – takes intentional and cultivated effort.
[bctt tweet="Seeing the good – the sparkly, funny, yet simple moments in our days – takes intentional and cultivated effort. #laughter #hope #devotional" username="lori_schumaker"]
However, when we begin to notice, another amazing thing happens. We begin seeing God in a new way. We see our blessings front and center and our hearts can't help but overflow with gratitude and remembrance. And we remember all He has done for us. Then remembrance leads us to praise. We find ourselves praising Him even in the darkest and rockiest of places. We find ourselves confident in Him, in his love, and in the fact that He will do His mighty God thing once again.
And friends, we find that we can laugh and we can hold onto our joy.
It is said that laughter is the best medicine. There is much truth to that, but it's more than that. Laughter is a mighty weapon against the negativity that desires to trap us within its ugly claws. It is a weapon against sorrow and the things that threaten to steal our joy.  Laughter is a weapon against hopelessness.
[bctt tweet="Laughter is a mighty weapon against the negativity that desires to trap us within its ugly claws. It's a weapon agains sorrow and the things that steal our hope. #laughter #devotional" username="lori_schumaker"]
Today, let's laugh. Without reserve – or guilt. Let's purposefully find the humor in the stressful moments. Then, let's watch as our thoughts begin to shift, our eyes begin to open, and we begin to see Jesus in brand new powerful ways.
Prayer
Dear Jesus, I know You are there in the sparkling eyes of my loved one, yet I look past that miracle to set my eyes upon the hard stuff in my life. But today I am making a change, Lord. Today I thank You! I thank You for the gift of laughter and the little moments that matter. For all You have already done in my life and the blessings You have so richly poured upon me.
I surrender myself to you, along with my to-do lists and difficult spaces. Open my eyes, dear Lord, to the simple moments of joy – simple yet miraculous. Open my heart to laughter, Lord, and place in me the desire and the commitment to seek out laughter with those I love. I want to see You in new ways – to see You in the everyday moments. And to laugh with joy because of who You are and who You will continue to be forever.
I know You have gone before me many times before. I want to live richly with that remembrance, praise You for the gift of moments, and laugh with joy.
In Your precious name I pray. Amen
---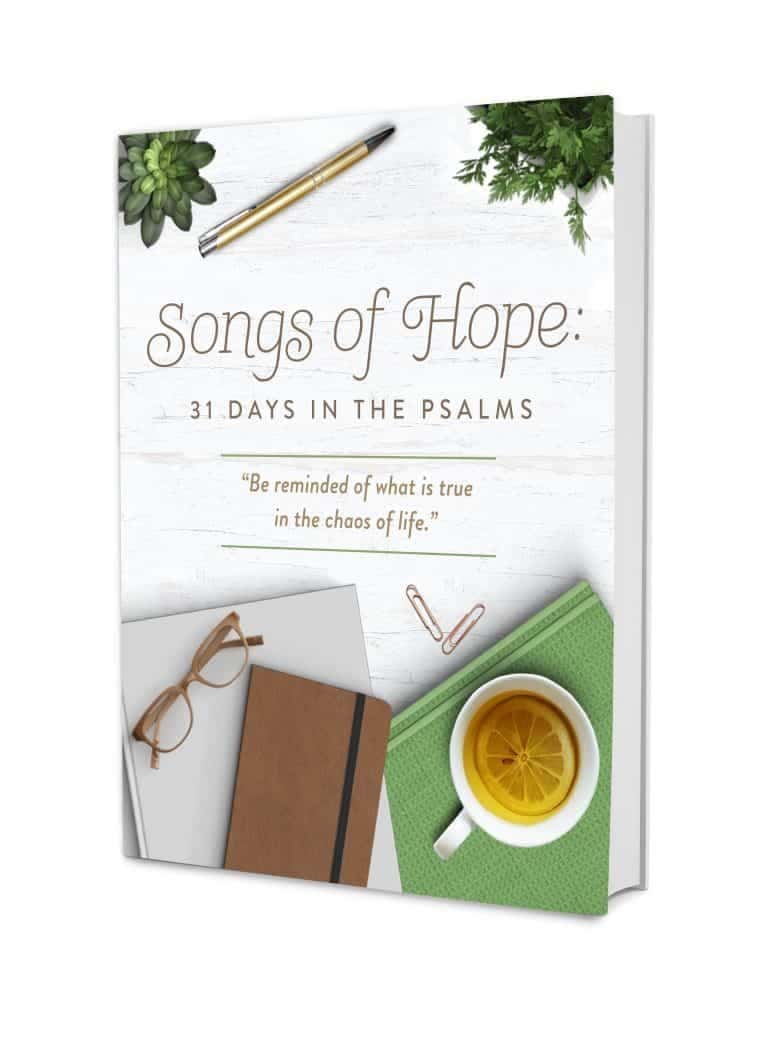 This post is one day out of the 31 Days in the Psalms you will find in a beautiful devotional titled, Songs of Hope. It is a compilation of devotions written by many of your favorite authors and bloggers. I am honored to be amongst these women in sharing the life-giving hope we find in Christ.
Along with each day's devotion, you will find 3 reflection questions and space to journal your thoughts. It's the perfect way to invigorate your hope each day and because we know you are busy, each day's devotion, prayer, and questions will take no longer than 15 minutes.
Available in both ebook and paperback, Songs of Hope, makes the perfect summertime addition to your day. Find out more or purchase your book right HERE or by clicking the book image to the left!
**This site occasionally contains affiliate links to products. I may receive a commission for purchases made through these links but they are at no cost to you. 
---
Sign Up Here to Get Your Prayer Resource Kit!
My subscribers will receive post updates, occasional newsletters, and full access to the Libary of Hope which not only contains this Lord's Prayer Resource, but many more resources. Each encourage and equip you to grow in your faith and to face the challenges of life with the hope of Christ.