Forgiving Yourself and Finding Freedom From Shame
Forgiving Yourself and Embracing God's Grace Go Hand-In-Hand
From the outside, it all looked quite picture-perfect. Handsome husband. Two beautiful toddlers. Financial stability. Active in church ministry. Always quick with a smile and an encouraging word.
And it wasn't as if my smile was disingenuous. I treasured my husband and children. Gratitude for all of God's blessings filled my heart. The world needs happiness and smiling is one easy way to cheer up another, so to me, wearing a smile was an easy action.
But what most people didn't know was that on the other side of my picture-perfect, lay a curtain of shame. That shame brought tears behind closed doors and a battle with the enemy of my soul. It perpetuated the physical, mental, emotional, and spiritual comparison of myself to everyone and everything around me.
"Comparison is the thief of joy" – Theodore Roosevelt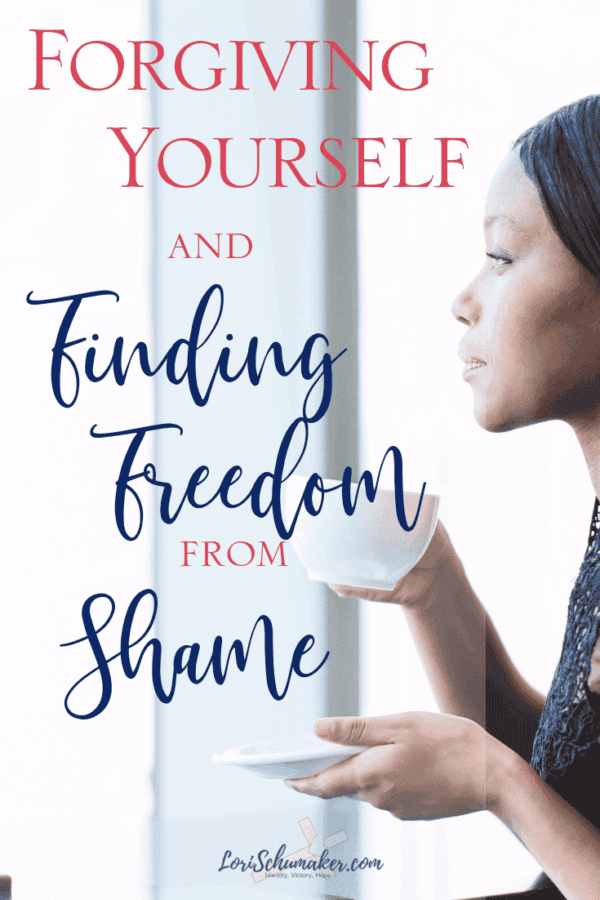 Bearing the load of shame wears us out.
The days become long and the tears many. Depression seeps into the crevices of our soul. It hides from the world but eats away at who God intends for us to be and at the freedom with which He desires us to live.
My past held much that grieved my heart. It was filled with confusion, mistakes and missteps. Then compounded by painful rejections at the hands of those I thought I could love and trust the most.
Somewhere, at some point, I locked eyes with rejection and held onto its gaze. I received it as my truth and my identity. There I remained stuck for far too long.
Watching. Asking.
What is it that I am missing?
Why am I less than everyone else?
What will make me worthy of approval?
I saw the best of everyone else and the worst of myself.
[bctt tweet="Do comparisons leave you seeing the best in others and the worst in yourself? #getunstuck #somethingbetter #hope" username="lori_schumaker"]
When I look back I am amazed at God's hand in my life even when I didn't understand the power of His love. He gave me wisdom, strength, courage, tenacity, discernment.
I was a survivor – surviving abortion, an abusive marriage, and a disease that nearly took my kidneys. Struggling through the financial impact of divorce and medical bills, I still flourished in a teaching career. I was tough.
I knew it wasn't healthy to remain stuck in rejection and shame. So, I did the work by going to counseling, talking with my pastor, and reading the right books.
It helped a little. But not enough to tear away the shame wrapped tightly around me.
You see, I failed to use one of our most powerful weapons in the fight against shame —t

he weapon of

forgiveness.

For me, it wasn't the forgiveness of those who had sinned against me. I had crossed that bridge and felt that layer of pain and bitterness lifted. But instead, it was the forgiveness of myself.

I entertained the idea of Jesus forgiving me, but somehow I couldn't forgive myself. I was in a self-made prison of defeat with the key to unlock the door in my hand. God's love and grace were freely offered to me, only I wouldn't embrace it. Instead of accepting His grace — His key to freedom and victory — I pushed Him aside and punished myself.

[bctt tweet="Can you accept God's grace and forgive yourself? #somethingbetterseries #hope #comparisontrap #forgiveness" username="lori_schuamaker"]
But God.
He gave me one moment where it all became too much. Every failure and rejection flooded my spirit.
But God
He gave me one friend who spoke truth in love and followed it with a plan of action.
But God
He gave me the space of a trusted environment. All the shame and pain that ravished my soul poured out in that space where two or more were present. With His light now illuminating the darkness, the enemy's hiding places were revealed. Prayer moved mountains and victory was claimed.
That evening, the enemy's perpetuated cycle stopped. I began by forgiving myself and His grace and Truth replaced shame. Rejection was given back to its rightful owners. Now, the process of denying its power over my life had begun.
It was a great big step toward my something better with Jesus.
[bctt tweet="Are you ready to begin the process of denying shame its power over your life? #forgivingyourself #hope" username="lori_schumaker"]
Today, I choose to live out my something better in the arms of God's love and grace. I still have that handsome husband. Those toddlers are teenagers and our third treasure is a not far behind them. And I still have my smile — even on the hard days.
The difference is that now the curtain of shame is torn away. Life still gets hard. Hearts break and relationships disappoint. But with the shame erased, comparison doesn't control me.
Satan still attempts to lure me with the familiar habits of my past. He hits where he knows the weakness lay. So, when I step out into the brave, I hear the whispers of comparison in my mind. Sometimes I even entertain them a moment longer than I should.
But God.
He taught me to accept His grace and forgive myself. He taught me to speak His truth because it reigns over all other words ever spoken.
To help you learn to speak God's Word over your life, I wrote the below 5 statements directly from Scripture. I noted the Scripture references within each statement. So, if you are in a place of struggling to forgive yourself — struggling to embrace the love and grace of Christ in your life, will you speak these declarations of Truth over your life? Will you speak it when the enemy prowls and forgiving yourself isn't easy?
I am thankful to be a cracked and broken vessel giving a pathway through which Your power and beauty can shine. (2 Cor 4:7)
My weaknesses are proof of your strength. (2 Cor 12:9)
I do not live to compare myself to another because then I will only be tossed into confusion (2 Cor 10:12) But instead, I strive to be an imitator of You, Lord (1 Cor 11:1, seeking only Your approval (Galatians 1:10)
You call me wonderful and marvelous. (Psalm 139:13-14)
I have no need for fear. (2 Timothy 1:7)
[bctt tweet="Speak these 5 Declarations of Truth over your life and begin to embrace the love and grace of God's forgiveness #forgivingyourself #hope" username="lori_schumaker"]
---
Courageous Women
The Something Better Series brings the stories of strong courageous women who have stepped out of pain and into their something better. Read those stories here.
[bctt tweet="Join us for stories of courageous women who have stepped out of the pain of dysfunction! #somethingbetter #hope #series #gettingunstuck" username="lori_schumaker"]
They are everyday women just like you and me. Somewhere inside they knew there was more to them than the enemy wanted them to believe. So they put one foot in front of the other. Grabbed onto the hand of Jesus, and with Him began walking toward their something better.
I pray their stories encourage and inspire you to believe that you, too, have a something better and it is within your reach. That a something better is possible for every single one of us.
For I can do everything through Christ who gives me strength. -Philippians 4:13 NLT
[bctt tweet="A life of #somethingbetter is possible for every single one of us! #getunstuck #hope #series" username="lori_schumaker"]
---
Want to catch up and read posts you may have missed in this series?
1 – What Does Your Something Better Look Like?
2 – How to Get Unstuck with Grace and Patience
3 – Leaving the Lies of Shame Behind
4 – When Your Something Better Is the Thing You Fear the Most
5 – Choosing Joy When Everything Falls Apart
---
If you are new here or just haven't gotten around to subscribing to LoriSchumaker.com, now may just be the best time!
To make changes in our life, we have to make intentional choices to move from where we are to where we want to be. Consistently filling our lives with positive life-giving content is one such step in the right direction. I'd like to help you with those steps and lead you toward the life you were designed to live! After subscribing, you'll receive an email giving you the password to the resource-filled Library of Hope!
I love connecting with these fabulous bloggers!
---
Have You Read Our Story of Surrender?
Through our adoption journey, God brilliantly showed us the power of living surrendered. We discovered the peace that comes when we walk in God's will and trust wherever He takes us. Finding that doesn't usually come along golden paved roads, though. It comes along the broken ones.
[bctt tweet="Read our story of hope – our story of learning to surrender … because we all need the help in letting go of what isn't ours to hold. #surrenderedheartsbook #hope " username="lori_schumaker"]
Purchase the Surrendered Hearts book on Amazon, Barnes and Noble, ChristianBook.com, and Redemption Press.
---