Thankful for the Miracle of Adoption
This month is National Adoption Month. As many of you know, we are an adoptive family. Our youngest,  Selah, was adopted in April of 2011 when she was just two months short of 5 years old. Adoption is a gift – a miracle of God's unfailing love. A love we are humbled by and thankful for. So, on this day before Thanksgiving, I want to give tribute to God, adoption, and family.
[bctt tweet="Adoption is a gift – a miracle of God's unfailing love. A love we are humbled by and thankful for #nationaladoptionmonth #adoption" username="lori_schumaker"]
If you know our family well or maybe have only recently met us through this blog, you know that our adoption isn't defined by words such as "neat and tidy", nor "wrapped up beautifully with a bow." Not by any means. But it's our story. It's God's story.
I only hope I give His story justice with my life and with these words.
(You can read our whole adoption story over at my old family blog here.)
You are the helper of the fatherless. Lord, You have heard the desire of the humble; You will prepare their heart; You will cause Your ear to hear, to do justice to the fatherless and the oppressed, That the man of the earth may oppress no more. Psalms 10:14,17-18
It began with a seed planted so long ago in a college girl studying the Romanian Orphanage crisis. The images of babies and toddlers lined up in cribs, rocking themselves against cold bars would forever be planted in my mind and in my heart.
Years passed and the seed continued its growth. I married and then prayed for God to impress upon my husband's heart a desire to adopt. And He did! God worked through friends as we watched their story of adoption unfold and I watched my husband's heart changed to one wrecked for the call of adoption.
Adoption is a battlefield of emotions. 
Mind boggling answers to prayers.
Paperwork.
Indescribable love.
Red tape.
Enormous decisions.
Waiting.
Good calls.
Defeating calls.
Successful plans.
Failed plans.
And there was a little one who waited far too long in a cold loveless Bulgarian orphanage, moment by moment losing her ability to attach, to love, and to thrive.
God found our little girl halfway across the world. I knew she was the one, the moment I saw her little curls surrounding a beautiful little face. The almost black eyes caught me and said
"You are my mama."
But we were told no. And we were told she had been adopted by someone else.
My spirit couldn't rest. It wasn't true. Beyond the shadow of a doubt, God wouldn't release her from my heart. I grieved because the feeling of Mama had overtaken my soul. For six months I grieved and I tried to believe.
And then the day arrived. Through a miracle situation of a stranger living thousands of miles away, I was told my little girl had never been adopted.
I called. They searched despite our caseworker's feelings that they were dealing with an emotionally unbalanced woman. But our little girl's file was found.
In a stack of files labeled the "unadoptable".
But God says differently.
He predestined us to be adopted as sons through Jesus Christ, in accordance with his pleasure and will. Ephesians 1:5
And it began. The enemy still battled and wanted us to falter. To fail. To stop. But 9 months later we brought our Selah home.
Do not be afraid, for I am with you; I will bring your children from the east and gather you from the west… Bring my sons from afar and my daughters from the ends of the earth. Isaiah 43:5-6
We had no way of knowing what lie in front of us at that time.
We were unaware of the severity of physical and mental health issues. Although I still ache at the extra time our daughter had to spend declining in health, I am thankful for His affirmations along the way. Our journey left us knowing that without a doubt God unequivocally created, designed, and planned this little girl to be a Schumaker through and through.
Our family has struggled. Individually and as a unit. Our marriage pushed to the brink. This one beautiful, tenacious, strong, mighty, little fighter has more in her than anyone could ever imagine.
There have been days we have wanted to quit. Bottomed out and aching, we prayed for help. And can I tell you that every time we landed there, God climbed into that pit with us, picked up the pieces, and pulled us up? He did and He still does.
No. Our adoption is not a hallmark story. And like I said, there is no way to wrap it into a pretty little bow. But I can tell you this.
My little girl means the world to me.
She means the world to all of us. We love her so much it hurts. Because of her, I understand God's unfailing love so much better. I understand grace, surrendering, and utter dependence on Him.
I see the injustice of the world and I feel it in my heart like never before because we live the injustice out each day in the eyes of our little girl. The injustice scarred her deeply. Her little brain cannot yet fully feel love and trust because of it.
Our boys recognize injustice and will fight on its behalf because they have a little sister they protect day in and out because of it. They are her knights and she their princess.
We all see what love is. Not the preconceived notion of love that many of us grow up believing. Not a love that is easy nor always sweet. But love that digs in and does what it has to in order to make a difference.
We see that …
love doesn't always look the same.
love powered by God can move mountains, even when we as individuals want to hide it away safely because it feels like it hurts too much.
our normal isn't His normal, but that doesn't make it any less valuable. It actually makes it more valuable.
healing happens. This healing may not represent our human-shaped ideals, but it does happen and it's powerful.
It is called
Adoption
It's called a forever family.
It is what God deeply desires for each of us.
Father to the fatherless defender of widows – this is God, whose dwelling is hold. Got sets the lonely in families. Psalms 68:5-6
It's messy, complicated, and grueling. But it's beautiful, life changing and a miracle.
Our difficult days are not over, but what God has done, cannot be denied. The little girl you saw in the video above had a look of grief deep in her eyes. She was almost 5 and wore a size 2T. Her protruding belly and thin hair signified her lack of nutrition. She was fading away in every sense of the word.
But God.
He changed all that. He found her for us. And this is her today. 4 years later. Fading? I don't think so …
For this I am humbled and thankful.
Hope deferred makes the heart sick, but when dreams come true, there is life and joy. Proverbs 13: 12
Our amazing friend, Jennifer, blessed us with this photo session. She is an incredible Godly woman who uses her gift of photography as her ministry. Thank you, Jen!
I pray your heart stirs for the cause of the orphan. Not everyone is called to adopt. However, God calls everyone to care in some way. It may be prayer. Or, it may be the emotional, physical, or financial support of another family. Or maybe it is fostering or adopting. Our agency was All God's Children. They provide several ways to support orphans world-wide. You can connect with them here. If you peruse their site, you might just find some pics of our little treasure, too!
Religion that God our Father accepts as pure and faultless is this: to look after orphans and widows in their distress. 
---
My New Book!
Surrendered Hearts: An Adoption Story of Love, Loss, and Learning to Trust is our family's adoption story. But it's so much more. It's how we've learned to surrender our will for God's and how we've experienced miracles because of it. My prayer is that as each persona steps out into the unknown, they lean into the strength of Christ and discover something far beyond what they have ever imagined.
[bctt tweet="Did you know it's National Adoption Month? Surrendered Hearts: An Adoption Story of Love, Loss, and Learning to Trust just released! @RedemptionPress  #nationaladoptionmonth #adoption" username="lori_schumaker"]
Surrendered Hearts: An Adoption Story of Love, Loss, and Learning to Trust
Want more information? The Surrendered Hearts website is HERE! You'll find the Book Video Trailer and other goodies like shareable images, tweets, and a set of FREE Bonus Resources for the adoptive parent or for anyone needing a little extra encouragement in life!
[bctt tweet="Surrendered Hearts – An Adoption Story of Love, Loss, and Learning to Trust is available NOW on @Amazon @BNBuzz @ChristianBook  @RedemptionPress #SurrenderedHeartsBook #nationaladoptionmonth" username="lori_schumaker"]
Want to go straight to Amazon? Then you can click HERE!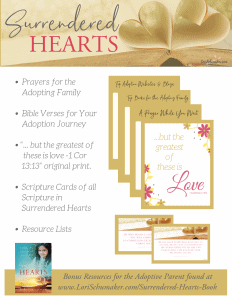 [bctt tweet="Get your absolutely FREE set of Bonus Resources for the adoptive parent or for anyone needing a little extra encouragement in life! #SurrenderedHeartsBook #adoption #NationalAdoptionMonth" username="lori_schumaker"]
The Surrendered Hearts Bracelet
In conjunction with the book, I have partnered with Theresa of  Tees Cherished Finds to create a Surrendered Hearts Bracelet! The message to Live Surrendered means that you are choosing to lay down your fears and live surrendered to the One who makes the impossible possible.  When you choose to Live Surrendered, you are committing to following Jesus where He calls. You are choosing to let go of your way and take hold of His way.  And when you purchase a bracelet for just $15 (look in the right margin), just as when you purchase the book, a portion of the proceeds will go to Lori's chosen adoption ministries. Just click on the image below. It will take you to the Surrendered Hearts page where you can find out more and make your purchase!
[bctt tweet="Check out the Surrendered Hearts Bracelet and make a statement to LIVE SURRENDERED! #SurrenderedHeartsBook #NationalAdoptionMonth " username="lori_schumaker"]
---
Don't Miss Out!
If you haven't signed up yet to receive updates, you can do so right HERE (or fill out the form below).  Subscribing will get you my occasional updates. It also gets you full access to my resource-filled Library of Hope! It has a ton of stuff in it to help you meet life's challenges head on with the best tool we have – the hope of Christ!
I love connecting with these fabulous bloggers!