There is one moment every year when I find myself filled with emotion. It begins as the lights are dimmed and we settle into the darkened shadows. The flame of one small candle pierces the unlit room reminding me of the power light has over darkness.  That single light multiplies slowly throughout the room casting a soft glow as the music begins. Generation to generation, neighbor to neighbor, friend to friend sharing their light each with the other until the whole room is reflecting the Hope that was born on Christmas night.
Silent night, holy night.
Voices rise up and I hear even those who never lift their voices, choosing to sing this treasured Christmas hymn.
All is calm. All is bright.
And the tears fall almost as if on cue.  As the world raged around Mary and Joseph and the baby that was born that night, all was calm and all was bright. Judgement and ridicule, complicated decisions, lengthy travels, and no room, but in the midst the greatest gift to all mankind was born – He was born to give us life.
So hope swells in my heart and pours out in grateful tears.
I sing and the script of my life runs through my mind. The laughter. The love. The chaos. The fears. The good and the bad. I am reminded that He came to make it right. Yes, Hope was born on Christmas night.
I know that the Christmas season is filled with so much. So much that can overwhelm. But so much good. A sweet Mama friend of mine said, "I feel like as Moms, we are in charge of making magical Christmas childhood memories for each of our children. That is a lot of pressure!"
She was right. We have been given the greatest gift of all. The gift of being Mamas to the very unique children God has gifted us. And with a passion to give them all our best, we feel the pressure to create magical childhood memories. It can be so overwhelming.
Unless we bring it back to the heart of the matter.
To the Hope that was born that night.
[bctt tweet="#Christmas is about the night when #Hope was born. #priority #silentnight" via="no"]
The gifts, the decorations, and the celebrations are all filled with hope. In the midst of our trials and in a world that often feels an ugly place, for those who believe and call Him King, hope fuels every present wrapped, tree adorned, and moment celebrated.
As Mama, I take charge of making those magical Christmas memories, but my deepest desire is to fill them with hope. So that, as my babies grow, they have learned about the Hope that was born that night. They know that the moments leading up to Christmas night, are possible because we have Hope – a light the darkness cannot override. Because on that night, the light of Christ was born in a stable in the midst of chaos, but yet all was calm and bright.
For to us a child is born, to us a son is given, and the government will be on his shoulders. And he will be called Wonderful Counselor, Mighty God, Everlasting Father, Prince of Peace. Isaiah 9:6
So, this Christmas, enjoy the memory making, but hold close to your heart the knowledge that Hope long ago released the pressures of getting it just right. When we prioritize, placing Him at the top of our list, His hope will fill our gaps and redeem the moments, making them magical.
[bctt tweet="When we prioritize,placing Jesus at the top of our list, His hope will fill our gaps and redeem our moments #hopewasborn" via="no"]
And He will multiply our hope just as the light of one candle multiplies. Multiplied hope will overflow into a dark and lonely world that needs to be pierced by the light of just one flame.
[bctt tweet="Just one flame of #hope can pierce a dark and lonely world #hopewasborn #christmas" via="no"]
As I began writing this post, a song came to mind. It captivates me with its tenderness and words that so precisely convey my message today. So, stop, take a deep breath, press play, then close your eyes and soak in the Hope that was born on Christmas Day.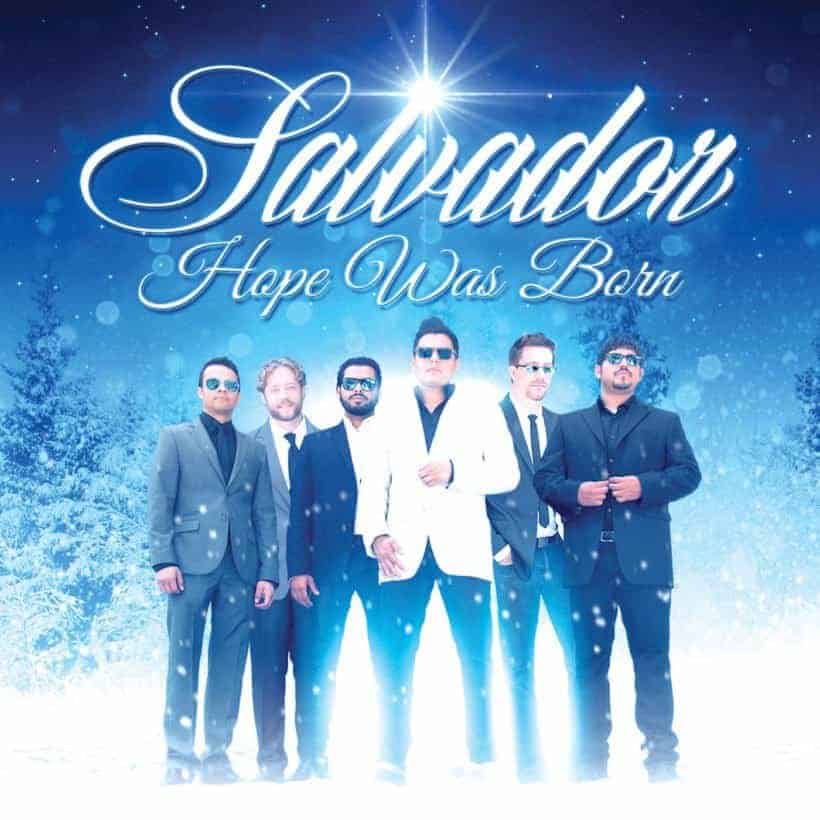 I don't want to leave you without a gift this Christmas season! May each gift tag remind you and those you love that Hope was born that Christmas night!
Click here to sign up and get full access to the Library of Hope where you will find this printable set of 8 gift tags! (Plus all the other fun resources available there, too!)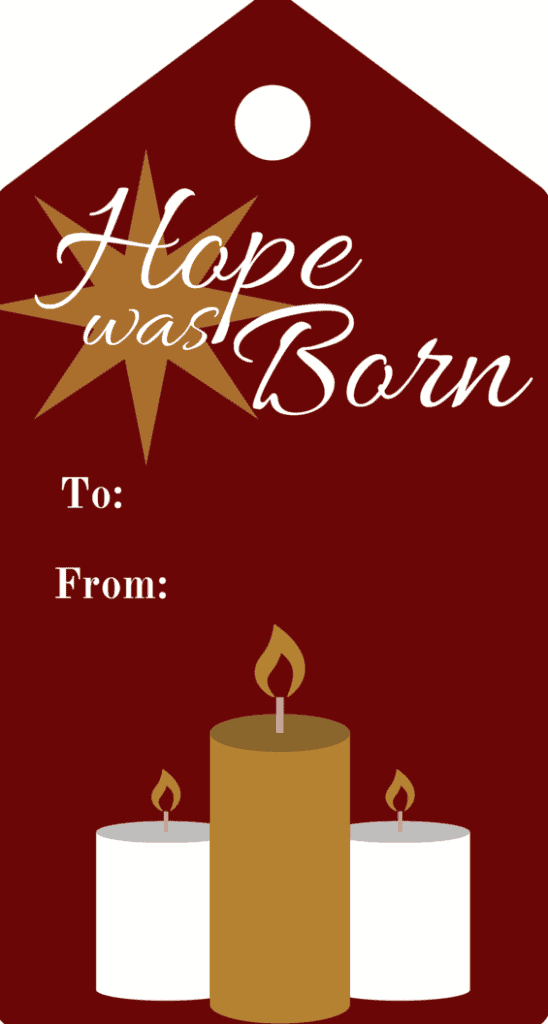 Prayer
Dear Jesus, You are our hope. You alone. And on that night so long ago, You were born in the midst of chaos, but yet all was calm and bright. Because, Lord, there will always be peace and hope with You no matter the size of our chaos or our pain.
Lord, I pray for every sweet Mama loving her children so much, that the weight of magical Christmas memories becomes a heavy load to bear. I ask You to reach into each of our responsibilities and our burdens and show us how to prioritize by keeping You at the top of our list. Convict our hearts of the truth that long ago You freed us from having to get it just right.
May our faith be strong and alive as we surrender to the knowledge that You will fill our gaps. I thank you for your hope. I pray it will swell within each of our hearts and overflow into this dark and aching world.  In Your precious Name I pray. Amen.
I regularly link up with these encouraging sites.