Where Does Rejection Leave You?
Are you holding onto an ideal, while not even noticing the door God has left wide open for you?
Maybe it was the ideal
relationship,
friendship,
ministry position,
home,
or job.
Maybe it was the word "no" from one person that, to you, shut all doors of possibility.
The "no" shut the door to your ideal.
But was your ideal really the best opportunity?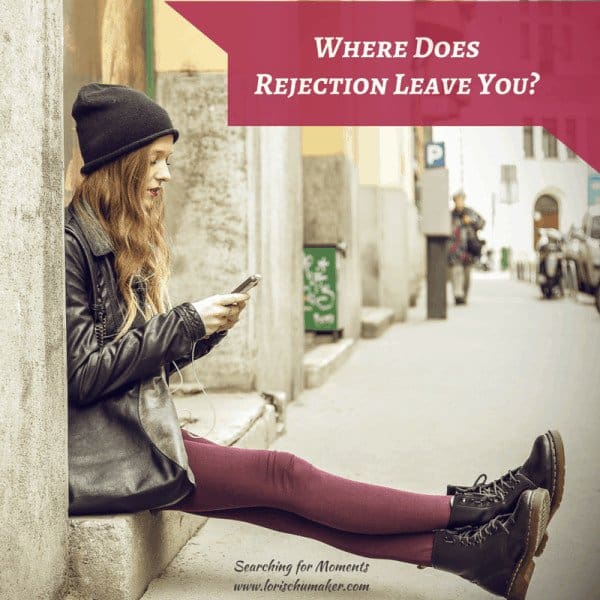 I recently heard a great big "no" and it left me with an equally big place of rejection in my heart.
Imagine a stop sign.
That no?
The enemy rejoiced when, with it, I could clearly envision the stop sign.
I wanted to drop my pursuit and leave the game. I even began to mourn the dream. It was the last "no" and I couldn't see past it to catch a glimpse of something else God may have had for me.
And here's the ironic thing. I'm the kind of person that would sit next to you in conviction knowing that one door is shut only because God has a better door to open.
But even though I know that truth to very core of my soul, when the rejection is fresh, the truth is hidden.
The enemy wants it hidden and our design as emotionally wired human beings, makes rejection sting. We have all heard of the fight or flight response. In the face of rejection, I, personally, take flight. Last week, I was ready to turn off my computer and not write today's post. How about you? Do you take flight when the rejection stings?
But I don't believe that is what God calls us to do. As a matter of fact, I KNOW that He doesn't call us to flight, nor to fight. He calls us simply to listen to Him in the midst of the hurt.
I have told you all this so that you may have peace in me. Here on earth you will have many trials and sorrows. But take heart, because I have overcome the world." John 16:33
He may show us the "no" was actually just a
Wrong Way
Only telling us there is another way.
One that we may not have ever imagined for ourselves.
God is choosing to speak to us, but we must listen to Him rather than ourselves.
Click To Tweet
We cannot choose to speak for God rather than allowing God to speak for himself.
Click To Tweet
The rejection hurt and I was ready to stop pursuing my dream rather than stopping to listen to Him. My ideal rested in one specific opportunity. When my ideal crumbled, I dropped my eyes, looked down, and almost missed the detour.
I can't tell you I know what is at the end of the detour, but I will never know unless I follow it. And for me, following a detour is much better than heading nowhere.
Friends, I know your heart may be broken right now. You may have received a great big ugly "no" recently. But can I tell you that God isn't only saying no? He may be quietly trying to whisper something else.
Listen well.
Believe fiercely.
And hope with all your might.
God is doing big things in your life. Things you wouldn't even believe. You have a dream and you've created an ideal. His "no" to the ideal is merely a step toward the dream He had planned for you all along.
The LORD replied, "Look around at the nations; look and be amazed! For I am doing something in your own day, something you wouldn't believe even if someone told you about it. Habakkuk 1:5
Embrace the detour and discover the opportunities along the way. And, please, whatever you do, don't see the "no's" in life as a stop sign to your dream.
Allow God to pave a new road through His detours.
Allow God to pave a new road through His detours. Click To Tweet
Stop by again on Thursday! I'm honored to be guest posting on Susan Mead's blog! I will be contacting the winner of her autographed book, Dance with Jesus From Grief to Grace, today! I'm so excited for one of you to be blessed by her words of hope!
I regularly link up with these encouraging sites.