Win One of My Top 10 Christmas Joys!
Christmas strikes a chord which inevitably triggers a special kind of joy in our hearts. It seems there are certain moments, things, smells, or events that make my step a little lighter and my smile a little bigger. So, today I am sharing with you my Top 10 Christmas Joys and since gift giving is one of my top 10, I'm hosting another giveaway  in the same fashion as last week.
My Top 10 Christmas Joys
10.  The Salvation Army bell ringing outside department stores.
9.  Seeing Santa at the mall.
8.  The scent of Christmas candles.
7.  Christmas cards.
6.  Christmas movies.
5.  Christmas music.
4.  Gift giving.
3.  The decorated Christmas trees everywhere we look!
2. The sparkle in my children's eyes.
1.  The lights shining brightly that remind me of the greatest joy of all.
The joy Christ brought into the world that first Christmas night. The celebration in the Heavens because God had come down to save the world bringing hope, freedom, and victory in His name.
So, this Christmas, let's slow down and embrace the simple joys. The things we've looked past or to which we have simply become immune.
Let's not miss the sparkles or hear the sounds, but instead let's allow ourselves to be reminded of the miracle of Christmas.
We can put down our lists, snuggle on the sofa with hot cocoa, and watch that favorite Christmas movie. You know the one. A whole lot of corny. Not much depiction of the reality of life. Yet, still sparking a little flicker of what we know to be true.
Hope.
Not hope of life just how we want it, but hope to know that with Christ we will survive whatever storm comes our way.
Let's smile when we hear the bell outside the grocery store and feel in our hearts the love from which the shiny wrapped gift was given. Notice it, embrace it, and give praise for all that He is and has done for us. 
A Giveaway
So in the spirit of Christmas Joy and the Holding onto Joy During the Holidays series, I am giving gifts – to you!
In the spirit of Christmas Joy, I am giving gifts - to YOU! #ChristmasJoy #hope #joy #giveaway #entertowin
Click To Tweet
A few days ago, I hosted a giveaway for the coolest new Christmas family game I know! It's my favorite gift for families with young children this year! The giveaway is still active so jump on over and enter to win The Star from Afar! Don't miss it! ? Update: Cherished reader, Sheryl, won this giveaway! Thanks so much, Sheryl, for being a part of the Searching for Moments community. You are appreciated ? Merry Christmas!
****Click here to access 10 Ways to Bring Hope to Someone Who is Grieving and enter to win Kathe Wunnenberg's hope-filled 3-book gift pack!

Several weeks ago I wrote a post with 13 of my favorite fair trade and give back shopping options. This week I am giving away an item from one of the vendors on that list. It's from Rad Joy. They have the coolest story and it's all about the joy of the Lord. Here's what Rick and Jackie write:
"THE JOY OF THE LORD IS OUR STRENGTH."
This has always been a Bible verse that we like, but now it's what we live for.
Surrender
We often talk about "giving it to God" but so frequently we choose to carry the heavy loads of life.
So, as a gesture of prayer, asking God for release, you write your burdens down…
…and physically nail them to the cross.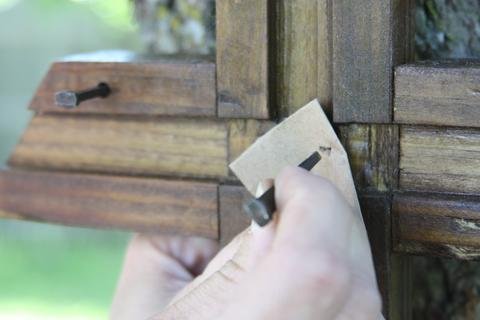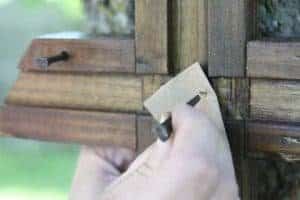 Experience joy each time you pass by this visual reminder of God's love.
HE'S GOT THIS!™
I am so excited to give away one of these crosses! In fact, I'm praying God picks out just the right person for His plan in this one, so make sure to enter to win!
There's More!
I have a special gift with each of the next 3 posts that I want to give you! So, stop by, be encouraged, and enter to win!
Afraid you'll forget? How about a reminder? Just sign up here! Plus you will get special access to the Library of Hope where you will find resources to help you live a more hope-filled life!
This week, as the featured #MomentsofHope post, I want to share with you a sweet friend and brilliant encourager, Julie Lefebure! She is hosting a series on her blog called Rediscovering Christmas. Her heart is passionate about seeing people live life fully and joyfully. Her and I are seeing this Christmas season through the same kind of heart!  Ultimately, I think all of us could use some slowing down, right?
"I invite you back here to join me these next four weeks where we'll slow things down and savor our surroundings. We'll dig a little deeper and linger a little longer. We'll gaze at Jesus and His manger birth. And, we'll even discuss grief during the holidays and address the difficulties that accompany the season.
You'll find we'll be real and open as we anticipate the birth of our Savior. Just as it won't be a perfect season, it won't be perfect over here either. And, sometimes that's what makes the season even more special." -Julie Lefebure
While you are there, make sure to give her some #MomentsofHope love! I know that will spread some Christmas joy!?
Library of Hope
I've added a printable set of my 5 favorite hope-filled Bible verses to the Library of Hope! Sign up to join this month and in turn you will get my 5 favorite hope-filled Bible verses as printable cards! (And of course the giveaway updates!) You can do that here or using the photo link below.
As writers, your words of hope are multiplying in the hearts of many. No matter what, the hope of God is alive. And your words point to it and remind others to never give up. Thank you ?
Finally, I love how many inspiring hope-filled posts are here each week. As this link-up community grows and I get the chance to make new friendships and build older ones, I am touched by the gift of each of you. You encourage me, challenge me, and make me smile. You are each one of my Christmas Joys this year!
My top 10 #ChristmasJoys! Enter to win!Join us today at #MomentsofHope #linkup #giveaway #hope Click To Tweet
Note: You can now link 2 posts that resonate with HOPE each week. My heart desires to visit each of you every week, however I pray you will extend grace and still know how much you matter even when I run short on time! 
What I ask of you:
1. Share up to 2 URLs  (to a blog post, not the actual blog) that resonates with the topic of HOPE. Anything that gives us hope for tomorrow. Hope for victory. The little things and the big. Anything that inspires us to lean into Jesus and let Him carry us through.
2. Important: If you don't have a blog post or podcast that resonates with HOPE, join in other ways as you pray and encourage others with a comment or a prayer.
3. Please leave a comment on the link just before each of your links. Would you love on them well? Encourage them in their efforts to share the hope of Jesus. If you have time, stop by more than one sweet writer's little corner of the blog world!
4. Of course, I would love it if you would follow me via my blog and/or social media channels! Signing up to join the Searching for Moments Community gets you access to the Library of Hope along with post updates and freebies!
5. If this gives you hope, would you consider sharing it with others to give them hope, too?
6. Please either grab the #MomentsofHope button found here or link back to me to encourage new linkers.
[inlinkz_linkup id=682686 mode=1]