Discovering the Power of Prayer for Emotional Healing
Prayer for emotional healing is possible when you trust God with your pain and grief. This week I welcome Lyli Dunbar to our series, "Satan Thought He had Me: Stories of Redemption That Will Give You Hope," as she shares how God brought hope and healing through prayer to her as she faced deep pain. Lylie is a beautiful sister in Christ, a powerful prayer warrior, and a gifted writer. I am deeply honored to have her join us!
Discovering the Power of Prayer for Emotional Healing
I opened the box of Christmas decorations and gasped in despair. Nestled on the top was an elfish stocking I'd purchased just two years before. I'd filled it with tiny toy cars and dinosaur coloring books. 
This year, the stocking stayed in the box. We'd have one less tiny person at our Christmas table, and the grief hung heavy on our hearts. Instead of baking cookies and building a gingerbread house, I was trying to figure out how to survive the long hours of my day. What did I use to do with my time before I became a parent? My weary mind failed to remember. The continual Hot Wheels races around the coffee table had ceased. No one was asking me to roar like a dinosaur, but I confess I growled anyway.  
Emotional Trauma
I moaned about the injustice of it all. I vented to my best friend on the phone. I cried in my husband's arms. I argued with God as I lay in bed and sleep escaped me.
The emotions raged on, and bitterness started to fill up my empty spaces. The truth is I didn't want to celebrate Christmas that year. I wasn't feeling "merry and bright" not one bit, but I knew I needed to "fall on my knees" if I ever hoped to notice the stars brightly shining again. My weary heart would never learn to rejoice anew unless I cried out to God for help.
Finding the Words to Pray in the Book of Psalms
I lacked the words to even voice a prayer, so I decided to borrow them. I know this sounds a little like cheating, but I really needed a prayer mentor.  So, I sat down at my kitchen counter and opened up my Bible to the book of Psalms.  
I like to view Psalms like my personal prayer book, and I truly appreciate that the prayers I find there aren't "neat and tidy" and emotionally in control. The Psalmist pours out his heart like rushing water and lets his tears flow like a torrent. Just like me, the Psalmist voices his complaint and holds nothing back.
I'm thankful that my jumbled emotions are welcomed by a Heavenly Father who is full of mercy and compassion. If I take my emotions to Him, He has promised to fill up my empty spaces with Himself. He pours His steadfast love, unshakeable peace, and overcoming strength into my weary heart.  
Emotional Healing Through Prayer
One tear-filled prayer at a time, the God of all comfort began to emotionally heal me from bitterness and despair. He reminded me that I am always welcome at His table, and He began to restore my soul. His goodness and mercy had never left me. I just needed to remember He has already delivered me from bondage and despair, and He will continue to deliver me no matter what I am up against.  
Maybe like me, you have wasted way too much energy venting about your problems and working yourself up into an emotional frenzy. We growl our frustration, and we wish we could fix it. Our healing begins when we fall on our knees in surrender.  
The reparation process can't start until we take all of our broken pieces and present them to the Lord for His consideration and care. If you take a peek at Psalm 13, you'll notice that the Psalmist isn't shy about asking God to help him understand what makes no sense in his life. No less than four times does he ask, "How long, O Lord?"
We may not know how long our suffering will last, but one thing we can know for certain: The Lord God who reigns over all of the earth will bring redemption in the end. He stands completely in control of whatever chaos we are experiencing. He holds us and everything that concerns us in His mighty hands. We may have unanswered questions, but God Himself remains the answer. 
A Prayer for Emotional Healing in Psalm 13:3
Our solution comes as we seek God Almighty for our salvation. When we don't know what to say, we can borrow three simple sentence prayers for emotional healing from Psalm 13:3:  
Lord, look on me. Whenever we feel alone and desperate, we can ask for His presence.
Lord, answer me. If we feel overwhelmed and weak, we can cry out for His power.
Lord, give light to my eyes. As we struggle with confusion and doubt, we can seek His perspective.
Our whole world may be topsy-turvy right now, but we triumph over despair and doubt as we  choose to trust Him:  
As we fall on our knees, God will remind us that He holds all of our erratic emotions in His healing hands, and He has not yet finished writing our redemption story. 
About the Author: Lyli Dunbar
Lyli Dunbar's burning passion as a writer, speaker, and Biblical life coach is to fuel a wildfire faith in the weary-hearted. She starts every weekday by digging into the Word verse by verse with thousands of women as a writer for Proverbs 31 Ministries' First 5 App and Love God Greatly. A fireball at heart, Lyli is energized by singing karaoke in the car with her husband, reading 12 books at a time, and cooking Cuban food for a full house. Stop by lylidunbar.com to grab faith fuel for your day or connect with her on Facebook, Instagram, YouTube, TikTok, or Twitter. You'll love her free downloadable resources including a 30-day Pray Big Calendar.
If you have a heart to "Pray Big" in community, you're invited to join her private "Pray Big" Facebook group. It's a safe place to find like-minded sisters and share your story as we cry out in surrender to our mountain-moving God.
---
More Stories of Redemption?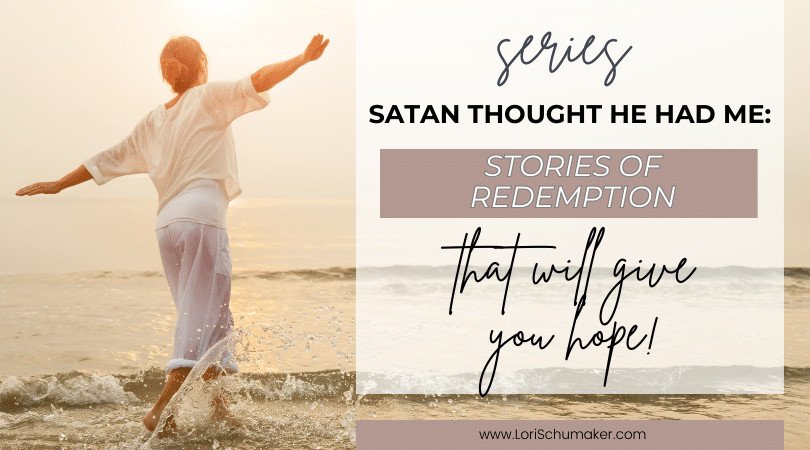 Want to Read All the Posts in This Series?
Wait! Before You Go!
Friend, if you are human, you either have, are, or will face trials. As Christians, we are not promised lives free of pain. But we are promised to never go through the pain alone. God is with us and if we hold tight to Him, we can make it through whatever we face.
It helps to have resources at your fingertips to keep you focused on Jesus and the hope we have in Him! I'd love to have you join me and thousands of others so that you can receive consistent hope-filled content. It's simple, just fill out the form below and hope-filled content will arrive in your inbox.
Plus, as a subscriber, you will get full access to all the freebies in the resource-packed Library of Hope!
---
---
Books That Will Help You Hold Tightly to Hope in Jesus