Learning to Pray Like Mary
If you have spent any time here at all, you know I battle busyness way too often. I know I'm not alone, though. I don't know if I could get even one Momma out there to tell me she just has too much time on her hands! So, when Jim Wolstenholm of Jim the Follower offered to write a guest post for me about just that topic, I knew it was something we needed here in this space!
It just so happens that this week as I was enjoying myself on a Spring Break vacation with my family in Florida, God affirmed the message one more time. Our family went to the Holy Land Experience (if ever in Orlando, you will want to take a day to attend!) One of the reenactments was the story of Martha and Mary. As I watched, I felt the conviction …
Stay focused on the One who matters. 
Welcome, Jim!
---
---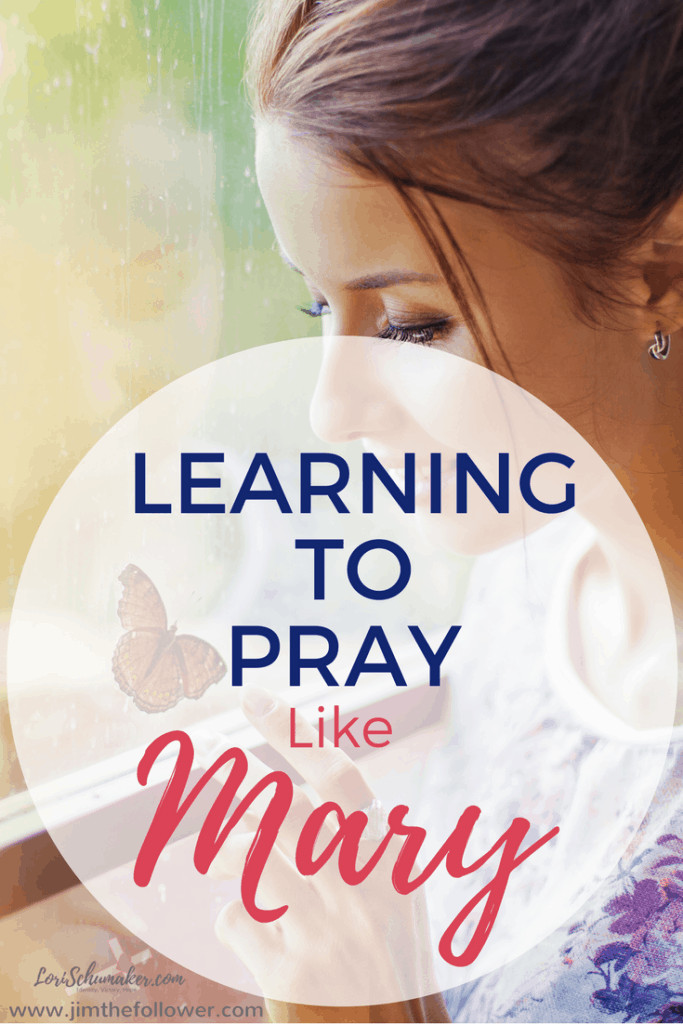 Life is full of urgent demands pressing in on us. There are more than enough things that must be done each day! How often do days go by without time to take care of the important things you know need to be done?
Frustration comes when we know that we haven't done what is important because of what is urgent. We know our relationships have suffered, our emotions have been damaged and our will has withered.
When we haven't done what is important because of what we felt was urgent, frustration mounts. Our relationships suffer, our emotions are damaged, and our will withers #prayer #marthaormary #hope #momentsofhope #linkup
Click To Tweet
Is there some way out?
Entertaining guests can be one of those urgent and sometimes important events. It can be a great privilege but also a heavy burden.
Let's step back in time and imagine for a moment how Mary and Martha must have felt when they found out Jesus was coming to their house. This was going to be a very special event!
The problem was he was coming with an entourage! Jesus didn't go anywhere without his disciples and a big crowd coming with him.
Poor Martha. Jesus showed up, his disciples showed up and he was still focused on ministry. Yet, dinner had to be prepared. There was food to consider along with drink and the table. This was important work. Martha was busy working but it was too much work to do on her own.
Naturally, she thought of her sister, Mary.
They lived under the same roof and mostly shared the everyday responsibilities. But on this day Mary was not being very helpful. In fact, she had deserted the preparations and was lounging at the feet of Jesus.
Martha's response to this situation was predictable. She appealed to Jesus to have Mary help her. Jesus' words to Martha must have been quite frustrating:
"Martha, Martha, you are worried and upset about many things, but few things are needed—or indeed only one.  Mary has chosen what is better, and it will not be taken away from her."  -Luke 10:41-42
What was truly needed on that day? A clean house? A well-prepared meal? A pleasing table? According to Jesus, none of these. What was needed was a time of sitting at Jesus' feet in humility and submission. Mary was captivated by his words. They gripped her heart as she listened to him.
What was needed was a time of sitting at Jesus' feet in humility and submission. Mary was captivated by his words. They gripped her heart as she listened to him #prayer #marthaormary #hope #momentsofhope #linkup
Click To Tweet
Many of us tend to live like Martha. Our daily lives and even our spiritual lives are a picture of busyness! We even pray like Martha – rushed and measurable results oriented. But Jesus said we need to make better choices. So how do we choose the better? And what does it look like?
Learning to pray like Mary
If we are going to pray like Mary, we must find a way to get to the feet of Jesus in a quiet place without interruption. Maybe that means 5 a.m. for you! I know one mom who does just that.
Spending time at the feet of Jesus means we shut out the urgent things around us that are far less important. Maybe some of those things that must be done today don't need to be done at all!
It also means that we will have to change the way we approach prayer.
I use a list to pray from. However, that's not always good. It helps me remember what to pray for but it doesn't help me to listen. So, I must place attention on listening time.
I listen for the voice of Jesus in two ways during my prayer time.
First, I listen to him as I read the Bible. I try to imagine Jesus reading the words to me. It can be hard to focus on this and my mind still wanders from time to time but when I put effort into listening I receive fresh insights into the ways of the kingdom of God.
Then, I listen to him as I pray, pausing every time I ask him a question. I have received some very profound direction from him when I do this, although it is not quite as often as I would like.
In order to enjoy time at the feet of Jesus, you must make it the priority of your life. Remember what Jesus said to Martha – only one thing was necessary! It seems a little extreme in our world of activities, obligations and busyness. But, since Jesus said it, we should take it very seriously.
I would truly love to hear how this goes for you, so leave a comment!
---
---
Jim Wolstenholm, aka Jim the Follower, is a retired Navy veteran and pastor. He helps people follow Jesus so they can live the abundant life and change their world. You can visit his blog here.
---
---
The How Do You See Yourself Free Online Quiz!
I have created an interactive 5-minute quiz that will tell you how well you see yourself as a reflection of Christ versus a reflection of an ever-changing and often angry world. What is your Identity Factor (IF) and how does it effect all of your relationships? Do you long for more than the world's reflection?
And then be on the look-out for a soon releasing email course titled Longing for More than the World's Reflection. It will walk you through the steps to seeing yourself in the reflection of an unwavering and loving God rather than in the unsteady and often angry reflection of the world. Stay tuned for more information!
---
---
Featured #MomentsofHope Post
Busyness isn't the only thing that gets in the way of a Mary kind of prayer life. Along with having a to-do list a mile long, we also are spurred on by instantaneous answers. And not just any answers. We want answers that we contrive. Answers that resemble our vision – our dream – our desires.
When those kinds of answers don't come our way, we find ourselves losing interest. We lose motivation and find prayer as one more thing on our to-do list.
In today's #MomentsofHope featured post, Laura Rath from Journey in Faith gets real with us about her own frustrations. But she doesn't stop there. She digs in and reveals to us why learning to pray is about more than answers.
"I'm tired of praying and seeing no change, but praying enables me to keep hoping. And without hope, what is there?" -Laura Rath
Welcome @LauraJRath as the #MomentsofHope featured writer with Called to Pray #dontgiveup #prayer #hope
Click To Tweet
While you are there, please don't forget to share some #MomentsofHope comment love ♥ And, Laura, please feel free to grab the Happily Featured Here button below!
---
---
#MomentsofHope Thursday Link-Up
Join us for the #MomentsofHope Link-Up! Hope-filled encouragement every THURSDAY! #MomentsofHope #hope #christianencouragement #givemeJesus
Click To Tweet
I just ask 3 things …
Share up to 2 blog post URLs resonating with the topic of HOPE. That which gives us hope for tomorrow and hope for victory. The little things and the big that inspire us to lean into Jesus and let Him carry us through.

#MomentsofHope is a place to give and get hope, so let's encourage others in their efforts to share the hope of Jesus. If you have time, stop by more than one sweet writer's little corner of the blog world!
[inlinkz_linkup id=770959 mode=1]