When Our Friendships Need a Reconnection
Authenticity.
It's a word we hear a lot these days. I think it's something our souls long for. Yet, in the world in which we live, it is not something easily found. Rather, it's something well hidden – from ourselves and from others.
It's an age where media and those on large platforms shout out to us to be yourself. Be you. Be true.
More and more people decide to live in ways contrary to what has been the social norm. Living loudly, many speak of the necessity of living true to who we are.
But I wonder … Is all the loudness really who we are? Does rebellion mark our identity? Are our authentic selves found in radical behaviors, beliefs, or lifestyles?
I'm not convinced.
I believe ironically, many of us are using a claim of authenticity as one more wall to put distance between ourselves and vulnerability.
I believe ironically, many of us are using a claim of authenticity as one more wall to put distance between ourselves and vulnerability. #atruefriend #reconnectingrelationships #momentsofhope #ultimatelove
Click To Tweet
Because when we are loud, we are distracted. And when we are distracted, we don't have to look truth in the eye. We can avoid vulnerability and replace it with boldness. Taking offense, debating endlessly, and arguing with anyone willing to fight gives us a sense of control over our environment. We call it authenticity. But I believe it's a mask.
However, loud isn't our only methodology for distance-making.
There are others. Many others. Because it's a battle within every single one of us. You see, authenticity takes vulnerability. And vulnerability takes courage. Immense courage.
Authenticity takes vulnerability. And vulnerability takes courage. Immense courage. Are you willing to go there? #atruefriend #reconnectingrelationships #momentsofhope #ultimatelove #godslove
Click To Tweet
So, if I'm not using rebellion as my primary distance-maker, my go-to method may be seclusion. Maybe I keep life a bit isolated and only peek out into the world from behind my computer screen. Social media is my go-to when eye contact feels like too much.
I look down and away from the eyes that may make me connect too deeply.
Or, maybe it's the finesse of small talk. Chitchat that never goes below the surface where the only ones who witness my tears are the walls of my well-kept home.
And still, my method may fall into other categories. Maybe it is busyness. The more I fill my every moment, the less time I have for vulnerability with others.
Perfectionism is another one. Making everything look perfect is a great wall between ourselves and vulnerability.
Friend, can you look inward and discover your method?
What holds you back from authentic relationship with others — from experiencing the fullness of deep connection?
Yesterday I sat around the table with a group of women who said, "I want more than small talk. I want depth. Meaning. Connection. Relationship."
These ladies get it. They know if we are authentic with each other, we reveal what's below the surface. We reveal the tender places within our souls. Our faults, strengths, fears, and hopes. It opens the door to rejection. It's where others tell us with their words or actions that we are not good enough.
And that is terrifying.
So how do we do it? How do we live authentically in a very confusing world? How do we reconnect our friendships? What does a true friend really look like?
It all starts right where I began this series last week – with connecting to the ultimate Love.
Let's Review
7 Reasons Why Connecting to the Ultimate Love Helps Us Have Successful Relationships
When God's love defines us we do not allow fear to control our relationships. His love leaves us free to face each new opportunity head-on. We comfortably set appropriate boundaries, without building unhealthy walls barring relationship.
God's love enables us to extend forgiveness far beyond what the world tells us is possible. That forgiveness sets bitterness free and ignites hope.
When pride is not involved and irritation doesn't live near the surface, taking offense to minor or non-relationship-impacting incidences becomes less tempting.
Living with holy confidence gives us the courage to communicate truth in love. Without judgment and only with the other's best interest in mind, we effectively speak.
Rejoicing without jealousy alongside a loved one stems from a heart filled with God's love. Comparison no longer holds its power over us.
Without expecting a return, we sacrifice for another. Whether it's risking hurt feelings or not, successful relationships need encouragement and a willingness to sacrifice.
Successful relationships take commitment. When we are connected to the ultimate Love, staying is part of who we are. Instead of running out the door at the first disagreement or disappointment, we tap into the grace God has placed in our hearts. We find the courage and we work through the problems with our loved one.
But don't forget these things as you make a reconnection and become a true friend.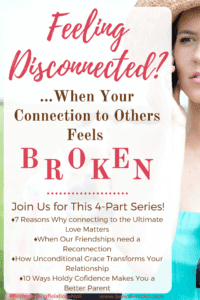 Get connected with Jesus. Know His Word. If you've never opened the Bible, start now. If only have 5 minutes, start with that. God will take your offerings and multiply them. Give Him what you have and watch what He does! Pray, asking Him to make His Word come alive for you. Ask Him to fill you with an insatiable craving for Him and His Word.
Learn the art of replacing lies with Truth. Remind yourself again and again that you are marvelously created by the God of the Universe and not defined by the instability and sin of this world.
Tune into your weaknesses. Realize the walls you place between yourself and vulnerability. Find ways to combat them. Pray for wisdom and courage.
Find safe people. Ask God to bring them into your life and give you eyes of discernment so that you may recognize both safe and unsafe people.
Be you with healthy boundaries. Recognize that rejection may occur. However, also recognize that without failure, we never taste the sweetness of success.
---
---
Coaching Question:
We can't improve what we do not recognize as a weakness. If your friendships need a reconnect, find your disconnect so you can get started on the next chapter. Contemplation and self-awareness isn't easy. Calling ourselves out on our behaviors is extremely tough when we already feel lonely, but it's the next step to your something better!
Scripture:
If you find any comfort from being in the Anointed, if His love brings you some encouragement, if you experience true companionship with the Spirit, if His tenderness and mercy fill your heart; then, brothers and sisters, here is one thing that would complete my joy—come together as one in mind and spirit and purpose, sharing in the same love. Don't let selfishness and prideful agendas take over. Embrace true humility, and lift your heads to extend love to others. Get beyond yourselves and protecting your own interests; be sincere, and secure your neighbors' interests first. In other words, adopt the mind-set of Jesus the Anointed. Live with His attitude in your hearts. -Philippians 2:1-5 VOICE
Next Step Challenge:
I shared my new quiz with you last week as your challenge. If you didn't start there then, I encourage you to do so today. And then be on the look-out because ext month I am releasing an email course titled Longing for More than the World's Reflection. It will walk you through the steps to seeing yourself in the reflection of an unwavering and loving God rather than in the unsteady and often angry reflection of the world. Stay tuned for more information!
7 Reasons Why Connecting to the Ultimate Love Helps Us Have Successful Relationships #atruefriend #reconnectingrelationships #hope #Godslove #takethequiz
Click To Tweet
I also challenge you to subscribe to our community so that you can receive member-only access to the Library of Hope. That's where I house all the printable resources to encourage and equip you to face the challenges of life with the hope of Christ. Just sign-up below. It's free and easy!
---
---