7 Reasons Why Connecting to the Ultimate Love Matters
I remember when I met Jesus in a different way. A way that opened my eyes to the mystery of His all-encompassing love and a way that taught me about successful relationships.  It was when I began learning the hurt inflicted by others couldn't measure up to the love and healing offered by Christ.
It was also when I began loving others fully because connecting to the ultimate Love empowers us to love others well. And it is key to all successful relationships.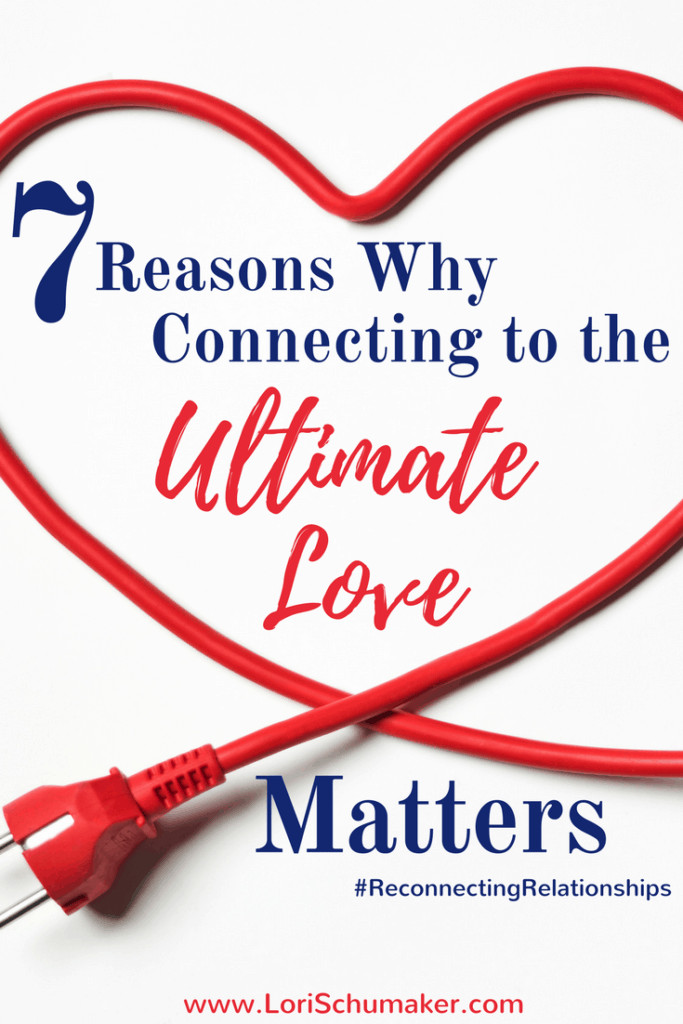 Let me explain …
The world is an angry place. It's filled with pain, hurt, and rejection. Friends, it's filled with sin. I wish I could tell you there is a way to walk this life unscathed, but I can't. We can't do it for ourselves and we can't do it for our loved ones.
But what we can do is give the ugliness of this world its proper value and place it far below the power and truth of God.
In order to do this, we must know God. Not just know about Him, but know Him. Then we can know ourselves as His. As vessels of Christ who live in His reflection rather than in the reflection of an unsteady world.
When we are authentically connected to God we inherit holy confidence. It's a confidence that enables us to face the brokenness of the world with courage. Courage necessary for having authentic relationships.
If we want to live with purpose

… with depth of character and worth of self.

And that is what we can share with the world. That is what we bring to our relationships. We bring authentic connections.

The depth of our connection with God determines the depth to which we can authentically connect with others.
7 Reasons Why Connecting to the Ultimate Love Helps Us Have Successful Relationships
When God's love defines us we do not allow fear to control our relationships. His love leaves us free to face each new opportunity head-on. We comfortably set appropriate boundaries, without building unhealthy walls barring relationships.
God's love enables us to extend forgiveness far beyond what the world tells us is possible. That forgiveness sets bitterness free and ignites hope.
When pride is not involved and irritation doesn't live near the surface, taking offense to minor or non-relationship-impacting incidents becomes less tempting.
Living with holy confidence gives us the courage to communicate truth in love. Without judgment and only with the other's best interest in mind, we effectively speak.
Rejoicing without jealousy alongside a loved one stems from a heart filled with God's love. Comparison no longer holds its power over us.
Without expecting a return, we sacrifice for another. Whether it's risking hurt feelings or not, successful relationships need encouragement and a willingness to sacrifice.
Successful relationships take commitment. When we are connected to the ultimate Love, staying is part of who we are. Instead of running out the door at the first disagreement or disappointment, we tap into the grace God placed in our hearts. We find the courage and we work through the problems with our loved ones.
Friends, these 7 reasons are only the very beginning. God's love equips us in innumerable ways to have successful relationships. How about you? Is this a self-check time? Do you know Him? Have you embraced His love for you? Are you connected? What are other ways you see God's love equipping us to have successful relationships?
---
Coaching Question:
Remember that you are never stuck. We are always given choices. The choices may not be as big and life-changing as we would like. However, little steps lead to big things. So, if today you are not where you want to be. If your relationship with Jesus isn't where it needs to be and your relationships with others are hurting because of it. Don't settle for stuck. Believe in your next right step.
Scripture:
I pray that out of his glorious riches, He may strengthen you with power through his Spirit in your inner being, so that Christ may dwell in your hearts through faith. And I pray that you, being rooted and established in love, may have power, together with all the Lord's holy people, to grasp how wide and long and high and deep is the love of Christ, and to know this love that surpasses knowledge—that you may be filled to the measure of all the fullness of God. -Ephesians 3:16-19
Next Step Challenge:
I have created an interactive 5-minute quiz that will tell you how well you see yourself as a reflection of Christ versus a reflection of an ever-changing and often angry world. What is your Identity Factor (IF) and how does it affect all of your relationships? Do you long for more than the world's reflection?
I also challenge you to subscribe to our community to receive member-only access to the Library of Hope. That's where I house all the printable resources to encourage and equip you to face the challenges of life with the hope of Christ. Just sign up below. It's free and easy!
---
It's a New Series!
In a time when communication is at our fingertips 24/7, we are feeling more disconnected than ever before. Managing the world of social media and the fast pace with which our world moves is complicated. That's why it's even more important to be firmly rooted in the love of Christ. It's our only hope for successful relationships in all aspects of our lives.
---
Books That Will Help You Have Successful Relationships