Sometimes I think we have way too much in common with confused little ducks.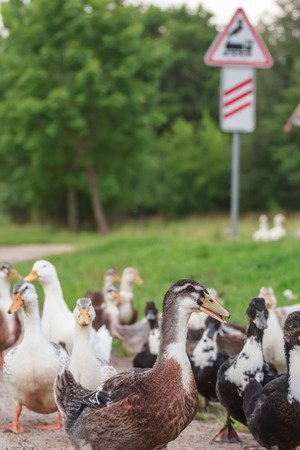 The streets gently curve around a little man-made lake. The lake and grassy greenbelts are on one side of the street while the housing developments and larger busier streets lie on the other side of the street.  It was the drive I would take every morning to bring my boys to school. It was a beautiful drive. Who could ask for more?
There was one problem. Several times a year, I would have to haul on my brakes to save the life of a wandering and confused duck or two! They were drawn by the lure of what may lie on the other side of the road. Sadly, for the ducks, one of two unfavorable conclusions would inevitably meet them. A permanent end to their journey, or, if they managed to find their way unscathed across the road, a world of sidewalks, homes, and no water. Not ideal for a duck. Especially in the desert of Arizona!
If only the confused little guys could see the big picture!
I hated seeing the little creatures on their trek, inevitably witnessing some sad endings. I tried jumping out of my car a couple of times over the years to shoo them back towards the water, but those stinkers were bound and determined to plow forward into their demise.
One day I laughed though as I thought about my own life choices. I've been drawn by the lure of what seemed better than what I already had. What about you? Are you and I, in a funny but real kind of way,  just like those meandering, oblivious, and confused little ducks?
I think of how my heart felt heavy with concern as I watched their journey. They just didn't seem to realize what they had in their very own home. They were missing the beauty of their blessings in order to gaze at what seemed to be better.
I can only imagine the concern, and even grief our Heavenly Father feels as He watches us.  Just like I could see the big picture for those ducks, God sees the big picture for us. I'm sure He probably shakes His head and says, "Oh sweet child of Mine, you are only
adding grey hairs to your head by going in that direction. Be still. Look up! Use what I've given you in your soul to discern My will. It will direct your paths."
Trust in the Lord with all your heart;
do not depend on your own understanding.
Seek his will in all you do,
and he will show you which path to take.
Proverbs 3:5-6 (NLT)
But, we plow eyes down full steam ahead into situations that make us reel after it is too late.
The signs were probably there. God's Will was evident, but we missed it because … well, just maybe because we didn't stop long enough to be still and discern where God's direction lay. Maybe we never even bothered to look up.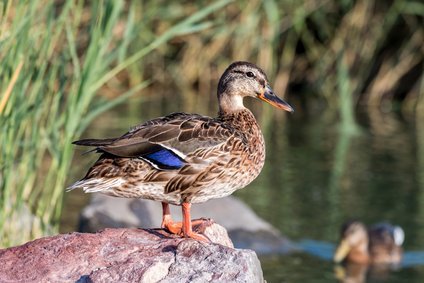 Pursuing dreams is important. Please dream BIG as it is critical to living out the call on our lives!
However, as with every good thing, there must be a balance for it to be healthy. Here the balance lies between pursuing new adventures and enjoying the blessings we already have.
Balance is not easy. The world pushes us to extremes.
The enemy rejoices in our extremes because he diminishes the power of our Kingdom dreams and goals. That balance is found when we seek God's Word and thus His heart in the matter.
"This is God's Message, the God who made earth, made it livable and lasting,
known everywhere as God: 'Call to me and I will answer you.
I'll tell you marvelous and wondrous things that you could never figure out on your own.'
Jeremiah 33:3 (MSG)
"Keep on asking, and you will receive what you ask for.
Keep on seeking, and you will find.
Keep on knocking, and the door will be opened to you. 
For everyone who asks, receives.
Everyone who seeks, finds.
And to everyone who knocks, the door will be opened.
Matthew 7:7-8 (NLT)
I'm convinced God does have big plans for you. His plans. So, discover the call on your life. dream BIG! Look Up! See all that He has already given you. And most importantly, seek His Word and heart in the matter. Then, by all means, cross that road to what lies beyond!
Be more than a confused little duck 🙂
Blessings and smiles,
Lori