Good Enough or Not Enough?
That struggle between working toward a goal, but accepting good enough as good enough.
There's a delicate line with which we tend to do one of two things.
We stop short. Viewing it in the distance and writing it off as unattainable.
Or we get so lost in the pushing that we find ourselves having crossed it long ago.
I know I often find myself in both of those places.
Right now, I'm searching for that delicate line of good enough. The one where I do my best and leave the rest to God. But it's a constant battle of wondering,
"Have I done my best or could I do better?
Good enough? Or not enough?
For me, the often too consuming area is the healing and adapting of my daughter's special needs, and the healing of my son and I from the toxic mold we discovered. Just when I think I can step back and stop the striving, we suffer a setback and it sends the questions circling through my mind once again. Because when it's your children, it's hard to stop.
It's hard to give yourself grace or accept "good enough" when there might be one more place to look for answers. When there might be one more plan that fixes everything.
For you, the struggle may be your career. Or it might be how you organize or decorate your home. It could be about your ministry at church or your role as classroom or team Mom. Or, for my blogging friends, it may just be your place right here in the blogosphere.
So where is the line of "good enough"?
At what point do I peacefully say, "I have done my best and the rest is up to God?"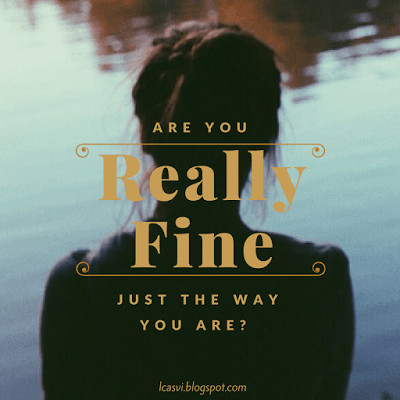 Little did she know, but as I was struggling this week with exhaustion, my friend Carlie who writes at From Dust Towards the Heavens, encouraged me by sharing her post inspired by an incident with her daughter. Are You Really Fine Just the Way You Are? came from the heart of a wise little 11-year-old.
"We had been in the middle of a math lesson and she had been dawdling a bit more than I liked, and so I had started in, yet again, reminding her that she can do better. It was a familiar tirade. One that I had repeated more times than I care to remember. Not only to her… but also to myself. We can always do better.
Don't you just love the deep truth Carlie's daughter spoke without even realizing it?
It's still a tough line to find, friends, but I am reminded that because the Savior loves me and lavishes me with His grace, I can rest. And when I do, I can feel peace and know that He will fill my gaps and mark my steps. Even though tomorrow sometimes seems too long to wait, God still controls all the tomorrows.
Are you struggling in finding that delicate line of good enough? Friends, I'm praying we stop long enough to hear Him. To sense His direction. To embrace His strength and feel His peace.
If I can pray for you in this area, I would be honored.
Readers, I pray your hearts are encouraged and that as you walk into this week you are reminded that you matter, you are loved, and that there is always hope.
And, just so you know …
I'm so glad you're here.