Learning to Trust God {Guarded by Christ Book Review}
I remember watching the movie, "The Body Guard." As a teen I dreamed of having a voice like Whitney Houston's and a Knight in Shining Armor like Kevin Costner. So, when this movie came along? I mean, in 1992, what girl didn't feel the pitter-patter of her heart as she leaned in close watching these two icons come together? The mystery, the self-sacrifice, the guarded love story …
An epic tale of a Knight in Shining Armor!
This movie, like many others before and after it, resonated with the world because indifferent to our background, independence, or tough-guy mentality, at our core, God created us with vulnerability and a yearning to trust.
It's a part of our human condition reminding us we are small and the world big. That there is much we cannot control. It draws us toward safety and toward those Knights in Shining Armor.
But the draw is not toward just any Knight. It's the one that pledges to protect our all – body, mind, heart, soul, and spirit.
Trust
We search for the ultimate guard. The ultimate protector and trustworthy one. Why? Because we are wired with a yearning for it. A yearning to let go of pretense and of the walls we have firmly planted around ourselves.
As each person comes into our lives, we begin the dance. The opening of our hearts and the sharing of what's underneath the surface. Then, as we get more comfortable, we place upon their not-so-wide shoulders, the role, and responsibility of protector. Guard.
It's a role for which they've never asked nor for which they are equipped. What we yearn for is an unrealistic expectation they can never fulfill.
Parents do the best with what they have, yet they fail somehow to protect us. Their failure leaves us thinking, "I am not valuable."
A friend lacking experience in making tough choices chooses ease over loyalty. The betrayal stings and our hearts grieve. Rejection finds its place within us and we wonder, "Do I even matter?"
Our spouse falls into sin or simply doesn't step up the way we think they should. The hurt overwhelms turning our world upside down. We wonder, "Why wasn't I enough?"
You see, in all the world there is not a person capable of wholly filling that hole in our heart. The role of protector.
We are each uniquely broken, falling short of perfection. And imperfect people do not make perfect protectors.
Imperfect people do not make perfect protectors #guardedbyChrist #MomentsofHope #identity #ChosenandWorthy
Click To Tweet
Here's the truth.
That vulnerability and yearning for a safe place into which we can lean and trust? It's our souls cry for the God who created us. And He alone is the only One who can fulfill it.
By Him alone, we are guarded.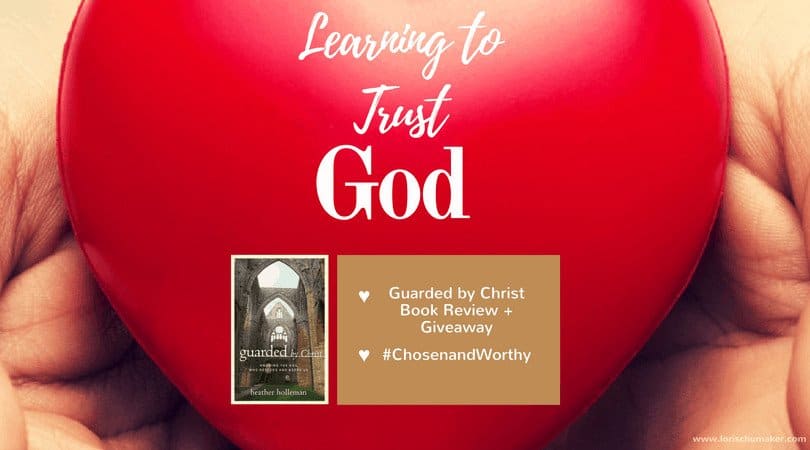 Knowing, embracing, and living out this truth gives us the security to live free and allows us to be in healthy relationship with others. It frees us from the burden of unrealistic expectations.
I have had the opportunity to read and review a copy of Heather Holleman's, Guarded by Christ: Knowing the God Who Rescues and Keeps Us. In it, she says, "The first and arguably most important facet of His guarding care is that we're protected by Christ's righteousness at all times. We're clothed in it. We're completely covered by it."
When we realize that not only are our physical selves protected by God, but the deepest place within our souls is protected as well, we change how we live. It brings peace not only to our relationships but in how we function in the world. We find freedom from things like fear, anxiety, bitterness, anger, self-condemnation, self-affliction, insecurity, and hopelessness.
God doesn't just guard my physical self. He guards everything within me #GuardedbyChrist #identity #ChosenandWorthy @MoodyPublishers
Click To Tweet
If you long to trust God and live free, Guarded by Christ is a book you need to read. (Find out more here!) It is a study that will help you live by:
Righteousness instead of condemnation
Peace instead of anxiety
Hope instead of despair
The Holy Spirit's power instead of self-effort
A crucified life instead of a self-important one
As I read this study, I went wild with my pen! Underlining, starring, and highlighting paragraph after paragraph. As you know, I've done a lot of work on identity. It's at the heart of the message of hope I share #ChosenandWorthy.
here in this space and the heart of my new series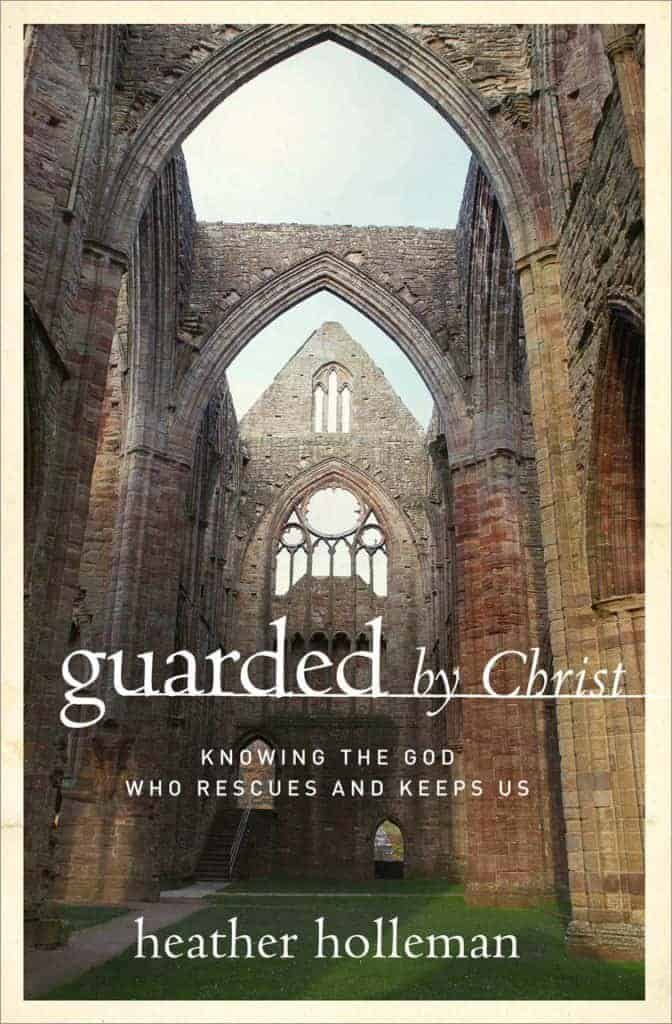 But this book brought with it something new. A fresh way of looking at living in our true identity.
At living free and victorious.
A tool for escaping condemnation, guilt, and shame. The very things that hold us back from living out of our full worth. It was in these words I caught my breath and felt the guarding. I felt the hedge of protection not just around my physical self, but around my soul.
"I'm dragging myself out of bed, and before my toes hit the worn carpet, I feel the weight of the day on my soul. I feel the creeping power of shame and guilt begin their encircling strangle. But I remember the words that parade in alliterative beauty across the landscape of my mind.
I'm confident before God and not condemned.
Also, I'm catapulting into the presence of a God who is captivated by me.
Additionally, I'm not conforming to rules. I'm covered by righteousness.
I recall the words and then Jesus. Immediately, He encloses my heart and soul in a guarding embrace. I've generated the soul fortress anew with the first piece of critical data: I'm not condemned. I'm confident. I'm catapulting myself into His arms. You can say this, too.
And we can begin the day as a new person."
You all know how much I like giving things away. Especially things that point to Jesus and change lives. So I am excited to tell you that Moody Publishers is graciously offering to send one of my readers a copy of Guarded by Christ! To enter to win, simply use the Rafflecopter below ?
a Rafflecopter giveaway

This Week's Featured Hope
Cassidy's story is one of a debilitating unknown chronic illness. Many of you can relate to chronic illness. And others of you can relate to the endless pummeling of pain in this life. Each of us bears the scars of our unique stories. In this week's featured post, Cassidy gives us 6 Things I've Learned in 6 Years of Illness. In it, she gifts us with insight into the grasping of His guarding. Into an identity not defined by circumstances, but an identity reflected in the image of Christ. May her words offer you hope … (And when you visit Cassidy, make sure to give her some #MomentsofHope love!)
Trusting God #GuardedbyChrist #Giveaway Join us at #MomentsofHope #LinkUp #ChosenandWorthy Click To Tweet
Want more of #ChosenandWorthy? Find it here! Don't miss any posts and get access to the Library of Hope here!
Also, you can find me linking up with
these
encouraging places!
#MomentsofHope Link-Up
NEW NEW NEW – Featured here at #MomentsofHope?Grab the new Happily Featured button! Just stop by the #MomentsofHope page in the menu above or here to find it!
Thank you so much for joining me each week in this place where we share and soak HOPE! Your hearts are a gift to me.?
What I ask of you:
1. Share up to 2 URLs (to a blog post, not the actual blog) that resonates with the topic of HOPE. Anything that gives us hope for tomorrow. Hope for victory. The little things and the big. Anything that inspires us to lean into Jesus and let Him carry us through.
2. Important: If you don't have a blog post or podcast that resonates with HOPE, join in other ways as you pray and encourage others with a comment or a prayer.
3. Please leave a comment on the link just before each of your links. Would you love them well? Encourage them in their efforts to share the hope of Jesus. If you have time, stop by more than one sweet writer's little corner of the blog world!
4. Of course, I would love it if you would follow me via my blog and/or social media channels! Signing up to join the Searching for Moments Community gets you access to the Library of Hope along with post updates and freebies!
5. If this gives you hope, would you consider sharing it with others to give them hope, too?
6. Please either grab the #MomentsofHope button found here or link back to me to encourage new linkers.
[inlinkz_linkup id=699995 mode=1]