More Than a Victim #ChosenandWorthy
When we live as #ChosenandWorthy children of God, we can no longer live as victims. Today, I share with you a woman I deeply admire. I still remember the first day I read her work. Her message spoke directly to my heart and I couldn't get enough. She's inspiring, smart as can be, authentic, and fueled by a passion to share the freedom and hope found in Jesus. 
Today, Gretchen Fleming is sharing her story of walking away from a broken identity. The enemy tried desperately to make her believe she wasn't worthy … But God.
---
---
I am MORE than a victim.
Although my first two memories in life are sexual abuse and a vicious dog bite to my face,
I am MORE than a victim.
Although I continued to grow up around my extended relative who abused me, never knowing until a young adult that I was believed or worthy of intervention…..
I am MORE than a victim.
Although I improved after 7 plastic surgeries on my face from the dog bite as a 4 year old, I am left scarred for life. But that does NOT define me.
Throw in my parents' divorce and later their financial loss as I was in high school, along with a generational tendency for victimization, and I am ripe for the final verdict of "victim" as my label.
Even with the miscarriage of my daughter's twin, the struggle with a child in rebellion and one with learning disabilities, I am MORE than that…….
I am MORE than my suffering, my injustices, my baggage.
And so was Jesus.
"He was in the world, and though the world was made through him, the world did not recognize him. He came to that which was his own, but his own did not receive him." John 1:10-11 (NIV)
I am MORE than my suffering, my injustices, my baggage #ChosenandWorthy #identity #worth #notavictim #victory @followinghard
Click To Tweet
As Jesus began His ministry suffering the rejection from His own family and people, He did not live His life as a victim. He refused the identity the world gave Him and instead, persevered with the identity and purpose the Father had given Him. Undaunted that others did not validate Him, He moved forward without needing their recognition, much less their labels.
I love how He overcame the identity and shame of it all, to ultimately bear the burden of it later on the cross. Persevering would be a necessity if He were going to fulfill His purpose.
He did not let what had happened to Him define Him. He refused to allow the world to label Him,  knowing that if He did, His future would be compromised.
How could He save others if He gave way to the "victim" mentality? How could He persevere to Calvary, bearing the weight of ALL our sin and shame, if He Himself lived as a victim.
He was MORE than that.
And because of Him, so am I.
I am a NEW CREATION.
No longer defined by my past, but rather by my Savior.
"So from now on we regard no one from a worldly point of view. Though we once regarded Christ in this way, we do so no longer. Therefore, if anyone is in Christ, the new creation has come: The old has gone, the new is here!" -2 Corinthians 5:16-17
My identity has been redeemed by Jesus Christ. Therefore, I am no longer JUST a victim.
It is my choice not to allow any excuses from my past to dictate my present or my future. I choose daily to shirk the shame and insecurity as a victim, and instead put on my new identity in Christ.
I am His!
Chosen!
Perfect!
Acceptable!
More Than a Victim #ChosenandWorthy
Click To Tweet
My enemy would love to see me allow what has happened to me, become what defines me. He tempts me to live continuously as the "victim", instead of the VICTOR Christ claimed me to be. By choosing to reject the thoughts or images that pop into my head, refusing the devil a foothold into my identity and God-given purpose in this world, I overcome.
Otherwise, how could I move forward with the future God has planned for ME, if I remain living in the past? How could I be of any value to His Kingdom, if I give way to living as a victim?
Is it easy? No
Is it simple? No
But is there any other worthwhile option? NO!
It can be all too tempting to keep "picking at" the trauma from our past. Even if our history is littered with injuries from others or unavoidable circumstances, it is our choice to continue living with that "wounded" mentality.
Jesus tells it to us straight in John 16:33,
"I have told you these things, so that in me you may have peace. In this world you will have trouble. But take heart! I have overcome the world." -John 16:33
I don't know about you, but I want that peace.
I want it more than the right to blame others or  allow circumstances to validate my "issues".
Finding fault with others for the excuses of our own behavior can become almost addictive, as much as it is self-destructive. In the end, I am allowing my enemy to take advantage of my past to commandeer my future. The devil wants God's children to lose sight of the Way to victory.
But in Christ, I am MORE than a victim. I am a CONQUEROR!
When we live as #ChosenandWorthy children of God, we can no longer live as victims. #identity #notavictim #victory @followinghard
Click To Tweet
Here is a ready-made resource for you the next time you feel in need of a little more strength to fight for your identity in Christ. The Word of God is our best weapon to counter the lies we are prone to believe. Use it for all it's worth!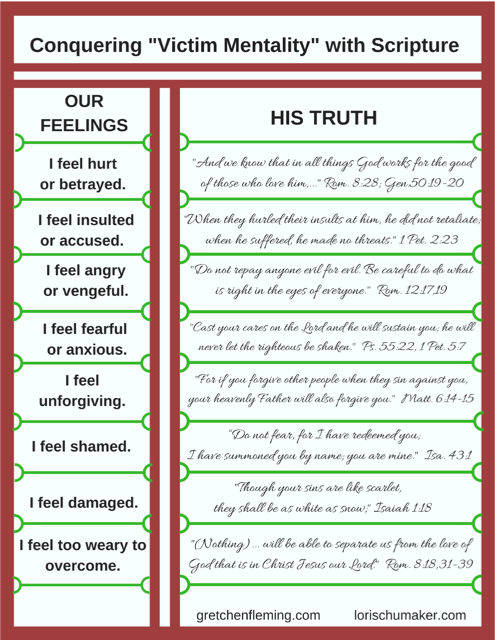 ---
---
Gretchen's passion is to follow hard after Jesus, knowing He is the treasure of a lifetime and worth every minute she commits to Him. God's Word has been life-giving to her through the most trying times—a great source of strength, wisdom, and truth. She's a speaker, writer, and Bible teacher who loves to see Jesus change lives as He's changed hers. Gretchen is also a wife of 28 years and mother of 3 young adult children, in this season of full time ministry. She would love the opportunity to come speak at your next retreat or conference! Join her on her blog for more info and her community at Facebook, Instagram, Twitter, Pinterest.
---
In case this is your first visit here, but want more of #ChosenandWorthy, check out the posts below!
---
---
If you haven't already started receiving regular updates and accessing the Library of Hope, why don't you start today?
I've created the 5-Day Hope Toolkit: Claiming the Victory of a Hope-filled Life just for you!
(Get it here) I've designed it so that it breaks these 5 strategies down into manageable pieces.
In it, you will receive a 5-day series of Scripture prayers giving you a solid foundation in how to pray God's Will through praying His Word. You will also receive:
A checklist to determine whether you have a hopeful or hopeless attitude.
A beautiful printable image with positive "I am …." statements of truth.
A list of my go-to books, blogs, and websites when I am in need of encouragement.
To get to your 5-Day Hope Toolkit, click HERE!