The Kind of Love That Heals What Is Broken
What is better – to continue to love but risk the ache from the bitter slashes of hurt and betrayal or build a wall of steel and never love deeply again?
Early in my life, like so many of us, I learned about the sting of rejection and careless words. That sting took a toll on my heart and affected me emotionally for many years. Eventually I built a wall, placing it between myself and meaningful relationships.  
Turning my back when things got rough seemed to be my safest option … or so I thought.
But then I met Jesus – or I guess I can say I experienced the fullness of His love. You see, I'd always been a believer. I revered a powerful God, never doubting His existence.
However, I didn't walk with Him. Instead, I admired Him from afar. That didn't help me know how deep the love of Christ runs.
This time around, though, I met Him in a different way. A way that allowed me to walk with Him and believe in the power of healing through His name. I believed in His desire to see me live a life of wholeness and love. Learning that the hurt didn't need to be filled by the people who disappointed me, I grasped that I could only be filled by the One who would or could never betray me. I discovered that through each and every rejection – every betrayal – every careless word and selfish action, Jesus had been working on my heart. He was refining the work He started so long ago. The work He would not let go unfinished.
And I am certain that God, who began the good work within you, will continue his work until it is finally finished on the day when Christ Jesus returns. Philippians 1:6 NLT
Today I walk in the ultimate battle of love versus steel walls. It's a battle for my daughter's heart.
Long before she was my daughter, I loved the little girl I knew we would someday adopt. I prayed for years that God would bring adoption into our family. That my husband's heart would have the same desire and that God would prepare our boys' hearts to love beyond measure. I prayed for the little girl somewhere in the world that was or would be orphaned … and for a mother struggling with a life-changing decision to make.
When the decision to adopt became unanimous for our family, the love in my heart grew even more. We jumped in wholeheartedly in order to bring our little girl home as soon as possible. Nearly a year after we signed our original paperwork, I saw her face for the first time. As my heart burst, I knew I'd seen the face of my daughter. A daughter born in my heart.
"I instantly knew that God grows a child in our heart as unmistakably as He does in our womb."

-Lori Schumaker In Surrendered Hearts
The adoption battle continued
Over the next 18 months, we faced intense challenges. We loved, we lost, and we learned to trust. We learned that surrendering doesn't come easy, but that it's the place where God calls us into the middle of His miracles.
There is no room in love for fear. Well-formed love banishes fear. Since fear is crippling, a fearful life – fear of death, fear of judgment – is one not yet fully formed in love. -1 John 4:18 MSG
After a long and mighty battle, our little one finally came home to us. This weary mama was ready to rest in the love for her baby. I was ready to wrap my arms around my little girl and feel peace. But that was not our story. Our Selah wasn't about resting in anyone's arms. Instead of cuddles, she was up for the fight of her life. So injured by rejection of the most catastrophic kind, she had built walls of steel so high only a miracle could bring them down.
I am honored to share more of our story over on Michelle Madrid-Branch's blog. She is a powerhouse defender of the orphan and the adoptee. Her wisdom is filled with fact, empathy, and passion. If you are an adoptive parent or an adoptee, you want to make sure you add her to your resources!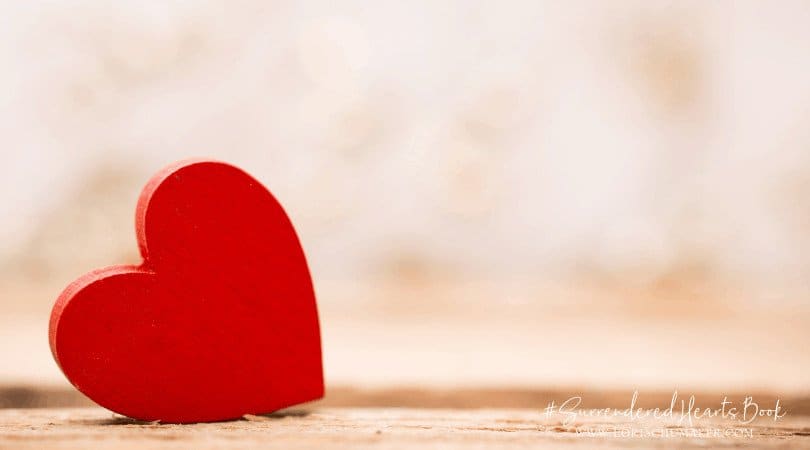 ---
Surrendered Hearts: An Adoption Story of Love, Loss, and Learning to Trust is our family's adoption story. But it's so much more. It's how we've learned to surrender our will for God's will and how we've experienced miracles because of it. My prayer is that as each persona steps out into the unknown, they lean into the strength of Christ and discover something far beyond what they have ever imagined.
Surrendered Hearts: An Adoption Story of Love, Loss, and Learning to Trust
Want more information? The Surrendered Hearts website is HERE! You'll find the Book Video Trailer and other goodies like shareable images, tweets, and a set of FREE Bonus Resources for the adoptive parent or for anyone needing a little extra encouragement in life!
Want to go straight to Amazon? Then you can click HERE!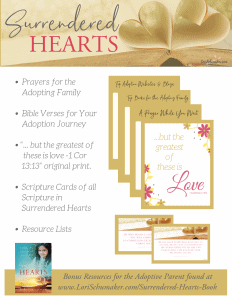 ---
Don't Miss Out!
Are you ready to let go and surrender in trust to God? If so, I want to support you along your faith journey. Subscribers get access to all my resources in the Library of Hope which include beautifully illustrated prayers, Scripture cards, journals, lists, and more. Living surrendered helps us break free of insecurity and it fills our life with more hope and joy!
---