A Prayer for Hope and Gratitude in the Midst of Suffering
Hope and gratitude.
I don't know how often we think of them as resting one within the other, but I believe it is a truth we should all embrace. I don't know that one can exist without the other. Actually, I am pretty sure that it is quite impossible!
Over the last couple of weeks as Marva and I, through our #GratefulHeart Series, have explored what gratitude means, we learned that our message wasn't just for our readers. It was for us, too.
Gratitude is a weapon.
It makes room for hope. It fans the fire of hope and it keeps joy and laughter alive.
So this week, for my #MomentsofHope, I'm grateful for a God Who never lets go. A God who offers hope when hope is doesn't seem possible.
If you are in a place of hurt right now, where life feels unjust and you have unanswered questions, I promise you there is hope. There is hope in the Savior. Jesus.
Lean in. Hold on. Embrace His love. And pray.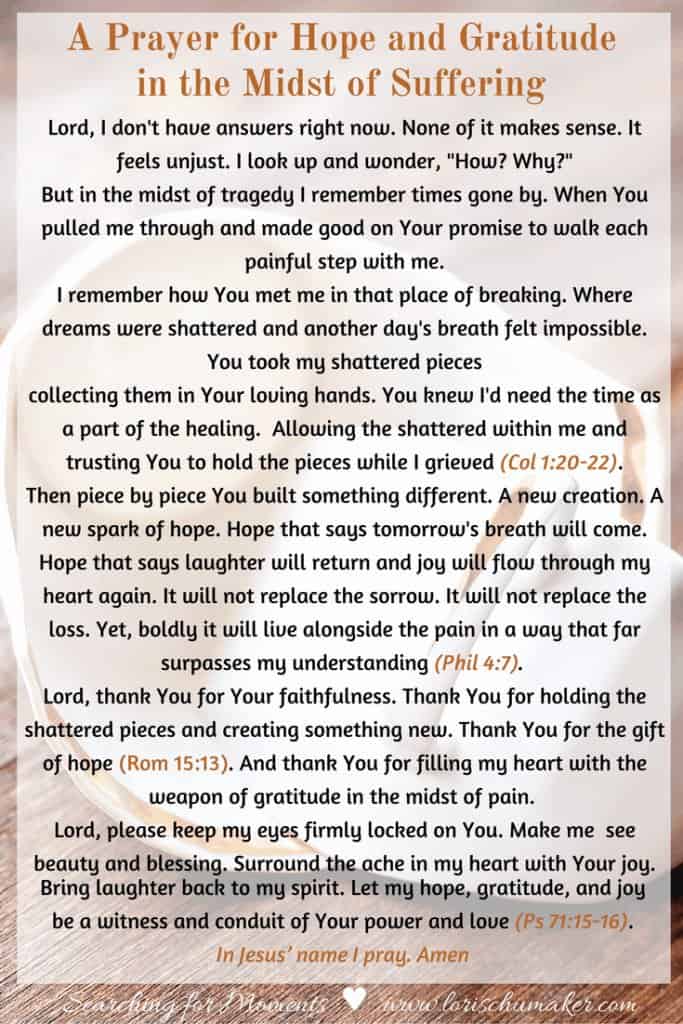 And friends, as I read the posts from last week's #MomentsofHope, I found there was one that left struck with emotion. Not too long ago you had the opportunity to read the hope-filled words from my friend, Carlie at From Dust Toward the Heavens. Today, I share her words again as this week's feature.
I believe your heart will be moved. Encouraged. Inspired.
You will look at hope and gratitude in a different way.
…"But in my loneliness, way down deep in the depths of me, I meet Hope. 
Not the hope of this world that disappoints. 
A Hope that picks me up and carries me at the very lowest and saddest times of my life. A Hope that promises never to leave me or forsake me. 
A promise I can rely upon… even in my darkest moments.
"I have told you all this so that you may have peace in me. Here on earth you will have many trials and sorrows. But take heart, because I have overcome the world." John 16:33
My heart breaks. I think of my loss. 
And then I think of those who have no Hope… who suffer alone. And I pray that they would know that it doesn't have to be that way. 
My heart swells and aches with raw emotion. Pain.. Suffering… but in the midst… Hope… and Gratitude."
Follow Carlie here to read the rest of her post. Make sure to bring your Kleenex! 
If you still want to join in and receive all the goodies available through the #GratefulHeart Series, you aren't too late! Marva is bringing you one last post tomorrow and friends, she has a couple of amazing treats for you! Just
click here
or on the image below to sign up! When you do, you get all the benefits of both the SunSparkleShine and Searching for Moments communities!
Want to catch up on the Grateful Heart Mini-Series?
♥ Series introductions from Marva and me.
♥ Post #1: Gratitude – 3 Doors that a Grateful Heart will Open
♥ Prayers: A Prayer for a Grateful Heart and A Prayer for Hope When All Seems Lost
♥ Practical Advice: 10 Ways to Cultivate Gratitude in Your Home 
♥ Scriptural Resource: 10 Memorable Bible Verses for the Grateful Heart
♥ Scripture, prayer, encouragement, and your free gift: Thanks in all Circumstances: Are You Sure, God?
As writers, your words of hope are multiplying in the hearts of many. No matter what, the hope of God is alive. And your words point to it and remind others to never give up. Thank you ♥
And, just so you know …
I'm so glad you're here. ♥
[bctt tweet="A Prayer for Hope & Gratitude in the Midst of Suffering…Join us today at #MomentsofHope #printable #linkup #GratefulHeart" username="lori_schumaker"]
Note: You can now link 2 posts that resonate with HOPE each week. However, as much as it grieves my heart, I won't be able to stop by each and every post anymore. I found that after the link-up began growing (a definite praise, of course!) it was too difficult to keep up and still be Mama! So, friends, I am praying you will have grace for me and know my heart is with you and I will stop by to visit as many of you as I possibly can because I absolutely LOVE  doing it! And I absolutely love you all!
What I ask of you:
1. Share up to 2 URLs  (to a blog post, not the actual blog) that resonates with the topic of HOPE. Anything that gives us hope for tomorrow. Hope for victory. The little things and the big. Anything that inspires us to lean into Jesus and let Him carry us through.
2. Important: If you don't have a blog post or podcast that resonates with HOPE, join in other ways as you pray and encourage others with a comment or a prayer.
3. Please leave a comment on the link just before each of your links. Would you love on them well? Encourage them in their efforts to share the hope of Jesus. If you have time, stop by more than one sweet writer's little corner of the blog world!
4. Of course, I would love it if you would follow me via my blog and/or social media channels! Signing up to join the Searching for Moments Community gets you access to the Library of Hope along with post updates and freebies!
5. If this gives you hope, would you consider sharing it with others to give them hope, too?
6. Please either grab the #MomentsofHope button found here or link back to me to encourage new linkers.
[inlinkz_linkup id=679107 mode=1]