How Prayer Unlocks Our Spiritual Eyes
I am a part of the Amazon Influencer Program so, by clicking on my link I will earn a small fee but you won't pay a higher price than usual. To see all some of my favorite items, stop by my Amazon Influencer page HERE ♥ I've just started putting it together, but am looking forward to adding more of the resources and products I love! 
Prayer Life
I remember long before I truly grasped the depth of God's love for me, I somehow knew the power of prayer. It was before I knew His Word well and before I understood things like grace and redemption. But every night my mom sat with me and together we said the Now I Lay Me Down to Sleep prayer. I didn't really get what the words meant but as I pulled my stuffed bear close, I knew we were praying to a powerful and loving God. We closed our prayer asking for Him to protect and bless all our loved ones.
As I grew, I replaced that prayer with The Lord's Prayer. I always ended my prayer with the same request for protection and blessing of my loved ones and all those in the world who were hurting.
But, at one point that day changed (which is a story for another time!). Not only did my prayer life transform, but my relationship with Christ changed. I changed. I began to understand God in a whole new way.
As a regular reader, I think you know that about me. That prayer means everything. That I believe in it and want you to have it in your life, too.
So, I am very excited to share with you a series my friend and prayer warrior, Carmen Brown of Married by His Grace and I are hosting!
But that's not all. As a part of this series and because Carmen and I are blessed to live near each other, we are hosting our first LIVE event together! If you are a Christian writer, blogger, or digital influencer and need some revival in your life, we would love to have you join us for this free evening of prayer and worship! If you personally cannot join us, would you share this information with others?
We know it can be lonely and we know that all the pouring out can leave us running on empty. So, we want to join together and feed your soul with a message of hope from the Word of God.
[bctt tweet="Local Christian writers, bloggers, and digital influencers!!!Join myself and @marriedbygrace for a FREE LIVE prayer and worship event in the Phoenix area! See details on graphic #nighttorevive #powerofprayer #sharehope #ontheblog" username="lori_schumaker"]
But now for Carmen's powerful post on unlocking your spiritual eyes ♥ …
---
---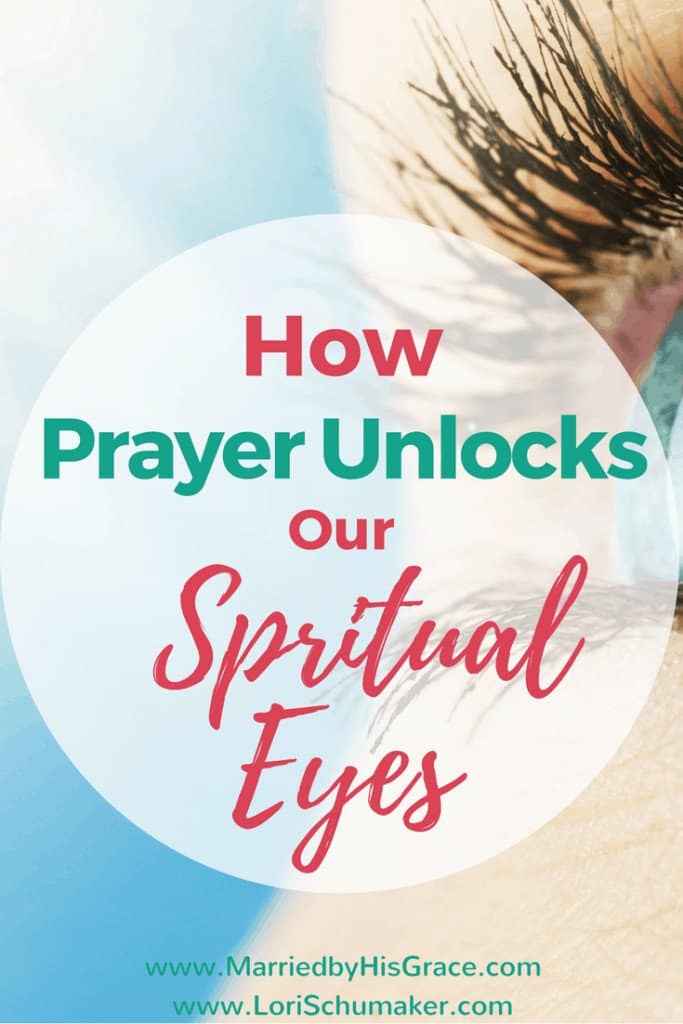 Recently I began to read a book that my husband recommended. He knows I have been digging deep into how to build a prayer life in an intimate way. His helpful advice was to learn about disciples who loved prayer and spoke about prayer. He offered a book titled: The Fight of Faith. Studies in the Pastoral Letters of Paul: 1 and 2 Timothy and Titus.
The author; Ray C Stedman opens Chapter 6,

'

The

First thing: Prayer'

with this:
A church elder once had a disagreement with his pastor. He went around to various people and complained about the pastor. Finally, word reached the pastor that this elder was spreading gossip about him.
So, the pastor went to the elder and said, "Would you please tell me my faults to my face? This way, I can profit by your candor, and you can help me correct my faults."
The elder was caught off guard. He hadn't expected his complaints to reach the pastor's ears. "Well, yes," he said. "Let's talk."
So they went to the pastors office. The pastor said, "Before we begin, would you kneel with me and pray? I especially need you to pray for me that my eyes would be open to see my faults as you tell them to me. Please pray that God will enable me to correct those errors in my life."
The two men prayed together. Then the pastor said, "Now, I'm ready to hear any complaint you have for me."
The elder shook his head. "Pastor," he said, "please forgive me. After praying with you, I can see that my complaints were not worth talking about. By gossiping to others, I've been serving satan's cause, not the Lord's. Thank you for praying with me. It was the prayer I needed all along."
I open with this story for two reasons:
I found this story as something I believe most of us have either partaken in or at least witnessed in the church. Even amongst our brothers and sisters in Christ, conflict arises, but through prayer and the Spirit; much is accomplished and this is a focus we ought to see.

This story is also fitting for the point I am hoping to bring forth to you in this post. Which is that prayer not only brings intimacy with God, but it also opens our eyes spiritually. It exposes and recovers us in areas we probably wouldn't have been able to see without building ourselves spiritually through prayer.
In this specific story, the pastor brought forth wisdom to approach a congregant in a peaceful manner. Through the trusting of God and the attitude of grace, the man was corrected in love and truth through the leading of the Holy Spirit in prayer. Not by man but by the Spirit. This part is vital to understanding the totality of this story.
Through prayer and intercession of the Holy Spirit, truth is revealed to man.
When the Spirit of truth comes, he will guide you into all the truth, for he will not speak on his own authority, but whatever he hears he will speak, and he will declare to you the things that are to come.  John 16:13 ESV
When we pray in the Spirit, truth is revealed to us due to the Holy Spirit being one with God. Which is then transpired to us through the Spirit as we allow ourselves to be led in prayer.
Anyone can pray. Anyone can even make prayer sound and look good, but is it being led by the Spirit?
Is it truly what the Spirit is having you speak through the connection of God leading it?
[bctt tweet="Anyone can pray. Anyone can even make prayer sound and look good, but is it being led by the Spirit? #anighttorevive #prayerlife #hope #prayerseries @Marriedbygrace" username="lori_schumaker"]
Becoming more intimate in prayer means opening ourselves and allowing the Spirit to dwell and lead us.
Likewise the Spirit helps us in our weakness. For we do not know what to pray for as we ought, but the Spirit himself intercedes for us with groanings too deep for words. Romans 8:26 ESV
Eyes are opened while hearing is heightened to a new level.
If I were not so highly in favor of living in the Spirit, I would post a disclosure here to say, "Beware, you may see and hear things that you may not be ready for". Because truth is, being able to see more, leads you into a place of more accountability.
But I say, walk by the Spirit, and you will not gratify the desires of the flesh. For the desires of the flesh are against the Spirit, and the desires of the Spirit are against the flesh, for these are opposed to each other, to keep you from doing the things you want to do.   Galatians 5:16-18 ESV
Every word spoken, sentence written, and conversation partaken in now has a heightened responsibility level for how you participate.
As a writer, I am encouraged by this.
Hearing God's voice and having the Spirit leading me in prayer for everyone who reads my writings, is a level I didn't think I would experience. I had little confidence in my walk, but for 10 years I persevered through prayer. Because of it, I've heard the still voice of God. He has spoken to me in the most intimate manner about how to write, what to write, and how to encourage others in writing.
There is no greater work than fulfilling your purpose in God.
[bctt tweet="There is no greater work than fulfilling your purpose in God. #prayerlife #anighttorevive #powerofprayer #hope #momentsofhope @Marriedbygrace" username="lori_schumaker"]
If you are a writer, I encourage you to dwell in your secret place, dig deeper into your word. Build an intimate relationship with God. Allow the Holy Spirit to intercede for you and lead you into a new level of understanding. This will increase your foundation as a Christian writer. It will lead you to the place God has specifically called you. We have accountability in reaching with words where He calls us to reach with large print writings we are to write. (Galatians 6:11)
---
---
Carmen Brown is the creator of Married by His Grace blog. She actively writes to women who are desiring to build their home with the word of God. Her passions involve staying connected with her family, drinking an immense amount of coffee daily, and developing content that will help and encourage new Christian Bloggers. You can connect with Carmen on her blog, Instagram, and Pinterest.
---