A Morning Prayer
It's in those first sacred moments between the alarm clock's announcement of a new day and the moment when our feet touch the floor, that we have a remarkable but often missed opportunity to change our lives.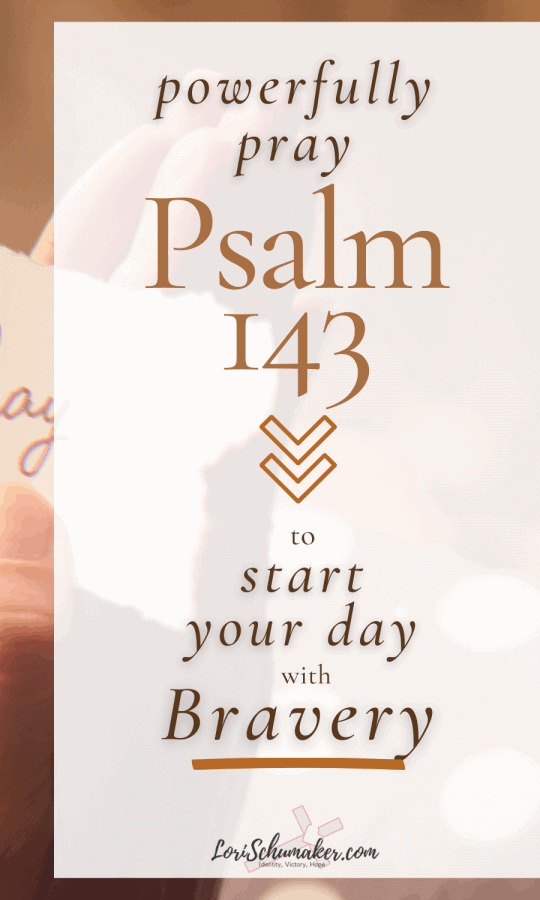 Psalm 143
Make me hear of Your faithful love in the morning,
    for I trust in You.
Teach me how I should walk,
    for I offer my soul up to You.
9 Rescue me from my enemies, Eternal One,
    for You are my shelter from them.
10 Teach me how to do Your will,
    for You are my God.
Allow Your good Spirit to guide me
    on level ground, to guide me along Your path.
11 For the sake of Your name and the good of Your reputation,
    preserve me, O Eternal One.
    In Your righteousness, save my life from burden and misery.
12 In Your loyal love, silence my enemies for good;
    destroy all those who take pleasure in my suffering,
    for I am Your faithful servant! -Psalm 143:8-12 VOICE
I am a terrible morning person. I'd be ecstatic if days didn't start until after 9:00 am. But because the world doesn't function that way, I've had to find a way to do mornings better than my natural inclination.
Thankfully, I discovered something that helped change not only my mornings but my life, for the better. It's tucked away in those first sacred moments of the day right before my feet hit the floor. Don't worry, it isn't something that demands much time or training. Truthfully, it's so simple, we overlook its power.
A morning prayer to start your day.
When we use those first few moments of the day to pray, we walk into our day conquering negativity and disappointment. Prayer starts our day in gratitude and infuses our hearts with hope and bravery.
There isn't one right way to pray. What matters is tuning into Jesus, giving Him our first, and deepening our relationship with Him.  However, if you are the kind of person who craves some structure and guidance, I am honored to share with you my personal strategy.
Most frequently, I use the ACTS Model of prayer. It resonated with me years ago and is now ingrained to the point of habit. (For more information, I share the ACTS Prayer Model HERE on my website)  I also always pray using Scripture because God tells us in Ephesians 6 that His Word is the sword of the Spirit. By praying God's Word, we wield the most powerful weapon we have!
Psalm 143 is a hope-filled Word from the Lord. It fuels our spirits with bravery and prepares us for our day. The Bible is filled with hundreds, if not thousands, of verses we can turn into our morning prayers. This example is only a starting point for you.
A Morning Prayer of Psalm 143 (In ACTS format)
Join me at the Empowered Women Faith Club for the complete morning prayer, a life application, and our recommendations for strengthening your prayer muscle today!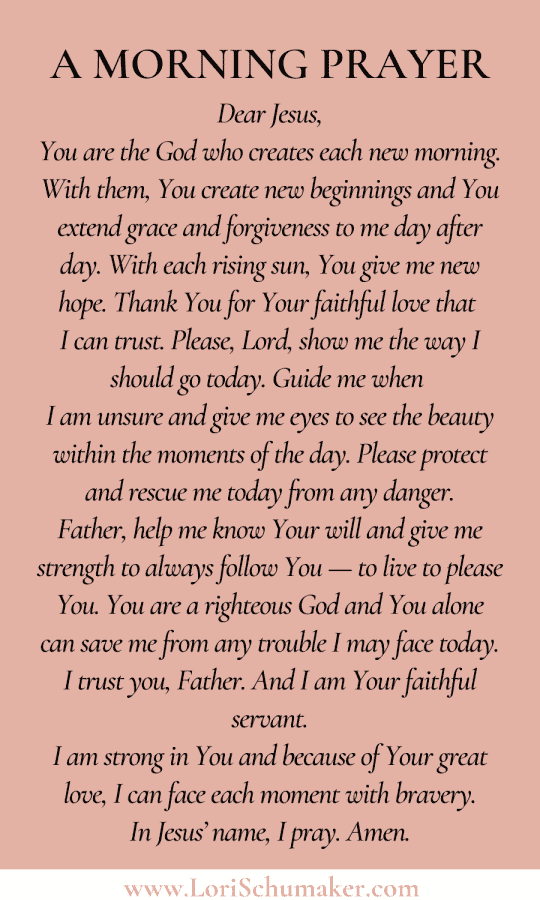 May today's message lead you forward in your faith life. We are all witness to an unprecedented time in our history. Unfathomable and messy, we need our faith more than ever. We need the steadiness of a dependable Christ because we've learned nothing in this world is dependable.
The thought of serving as a bridge to God's love for you gives me goosebumps and nearly makes my heart burst! If I can encourage you beyond these posts, do not hesitate to email me.
---
Wait! Before you go!
The Lord's Prayer is a great place to start strengthening your prayer muscle. The words of this prayer come from when Jesus taught His disciples how to pray. If we dig into the meaning, we find so much more than a memorized set of words.
What we actually find are words that step in the gap as though they were written not a couple thousand years ago, but today. And as though they were written specifically to each of us and the unique lives we lead.
All the details are in this free kit I created for you. Just fill in the requested information and you will receive an email with your free copy.
---
***Disclosure: Some of the links in this post are affiliate links. This means at no additional cost to you, I will earn a commission if you click through and make a purchase.