6 Ways to Trade Defeat for Triumph Even When You Are Sick
There's something about the elevated heart, the pounding feet, the sweat, and the tired muscles. There's something about the burst of power. It's an unmatched awareness of our bodies. An unbridled freedom. Shedding of all encumbrances with no room for defeat. Only triumph.
Therefore, since we are surrounded by such a huge crowd of witnesses to the life of faith, let us strip off every weight that slows us down, especially the sin that so easily trips us up. And let us run with endurance the race God has set before us. –Hebrews 12:1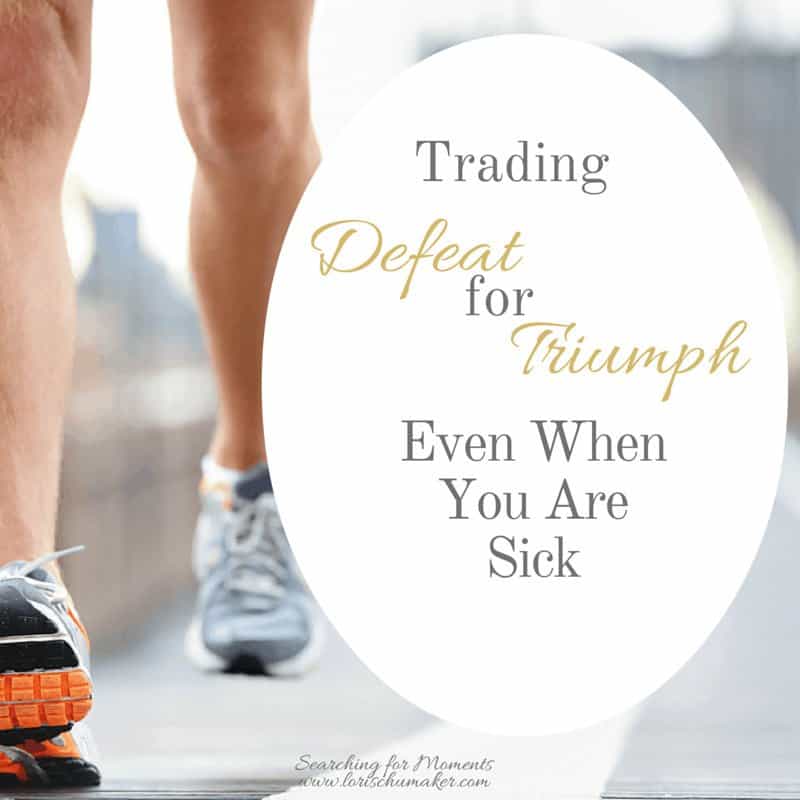 I love to exercise. I was wired to love intensity. Pushing. Exertion. Energy. Feeling alive.
But then I got sick. Unable to exercise for months, it has been a struggle for me. It's not one I'm unfamiliar with, but it is one I'd hoped I'd not experience again.
Time and time again injury or illness has forced me to give up my love for sports and exercise. Now, once again, some difficult-to-diagnose illnesses have kept me sedentary as we search for answers.
Instead of out for a run or keeping up with our family's schedule and needs, I have been in doctor's offices in an attempt to figure out the reason behind a great deal of pain, fatigue, and food intolerance.
I've been frustrated, exhausted, and sad. And at times, I have surrendered to defeat.
Succumbing to thoughts of never finding a diagnosis. Never improving my quality of life. Never finding relief from the incessant migraines.
Never.
But "never" can't be found in the land of triumph. It only lives alongside defeat.
[bctt tweet="Finding yourself using the word #never? Be careful -never only lives alongside defeat! #hope #chronicillness" username="lori_schumaker"]
Friends, my faith is strong. I believe in a God who saves, who heals, who redeems, and who brings hope. A God who, through Him, gives us victory and triumph.  And I believe that to the very core of my soul.
But have you been there with me before? When the thoughts of "never" seem to find their way into your mind? Has illness or another situation taken its toll on your quality of life? Does it whisper threats of defeat?
[bctt tweet="Has illness taken its toll on your quality of life?Does it whisper threats of #defeat? #hope #triumph "]
Do you have days where you ask,
"Why?"
And even other days of asking,
"Where are You, God?"
Every day I call to you, my God, but you do not answer. Every night you hear my voice, but I find no relief. –Psalm 22:2 NLT
I do. I have those days. I'm a follower of Jesus, but I still have those days. And Jesus gets it. He's feeling my frustration along with me. The fact that I am a follower will never make me perfect. I will still have those days. But I won't stay stuck in them.
You keep track of all my sorrows. You have collected all my tears in your bottle. You have recorded each one in your book. –Psalm 56:8
Because shortly after I land in that pit of "never", clips of the past run through my mind. I remember the times I could only crumble in a heap of tears – defeat written all over my heart. Then God would take those illnesses and injuries and make good on His promise. He would teach me to trust Him.
And we know that God causes everything to work together for the good of those who love God and are called according to his purpose for them. – Romans 8:28 NLT
He made me stronger. More compassionate.  Smarter. Resilient.
And He designated each moment its proper placement as a preparation for the blessings of today.
Friends, the land of "never" is filled with defeat. That is not where any of us want to live. Ever. It is exactly where the enemy would like to place us, though. It is where he can keep us miserable and ineffective. Instead, with Christ, we can live in the land of triumph.
Here are 6 ways I have traded my defeat for triumph.
Believe God is bigger than any circumstance, including our disease. This will keep hope alive.
Pray without ceasing. Thank Him in advance and believe in the good work God is and will continue to do.
Embrace the season of life for what it is. When we accept it, we can find the fruit still within it.
Find the good in the moment (Yes! There is always some good to be found!)  Focusing on good lifts our spirits and keeps our joy alive.
Love others. It keeps our minds off ourselves and allows God to work through our pain.
Refuse thoughts of guilt or condemnation. Fill your heart with grace for yourself and replace those thoughts with God's Word of Truth.
I'm not sure if I'll ever be back to hearing the pounding of my feet on the sidewalk. I'm not sure at all what tomorrow brings. But what I am sure of is that I can trust God.
Somehow … someway … I know He will work all these things together for good. And I know He will do the same for you.
[bctt tweet="Don't stay stuck in defeat.Live triumphantly! #hope #help #prayer #faith #Christ"]
Friends, I would love it if you would chime in on the comments with ways you live triumphantly even in the midst of illness. Your experiences can serve to be just the word that another needs to begin the journey to victory!
If you are new here, I'd love for you to sign up to receive my email updates and access to my Library of Hope filled with all kinds of resources to encourage you and give you hope! I love knowing who's in this with me and I love getting to know my readers better so I can serve them in the best way possible.
I often link up with these encouraging bloggers! Stop by and visit! And don't forget to come back on Mondays for #MomentsofHope right here!