Making Scary Decisions: 6 Steps to Peace
You know that place in the middle of important and often scary decisions? That place where you have to do your part and then surrender the rest to God?
I get that. I really do.
I trust God and I know there is an end to me and a point where He does all the rest.
But I get stuck. Stuck wondering where I stop to say, "I've done all that I need to do. Jesus has the rest."
The soul of the sluggard craves and gets nothing, while the soul of the diligent is richly supplied. -Proverbs 13:4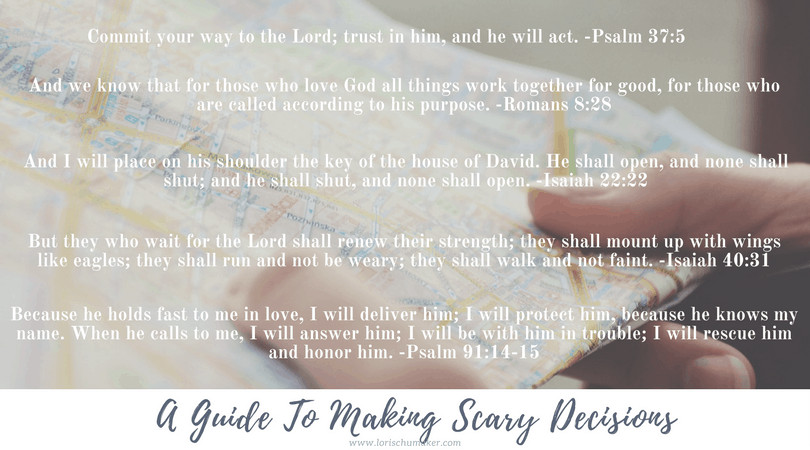 Friends, I almost feel foolish admitting it! Like I should have this stuff down by now! Right? But I don't! I mean, sometimes I do, but sometimes I don't. And usually that level of uncertainty happens when the decisions are many.
Just like right now. We are in the midst of several huge decisions that effect one or more of us in significant ways. I'm at peace with only one of those decisions.
But the others? They are keeping me up at night. Insomnia is ruining my nights and, in turn, wreaking havoc with my days.
So here I stand at the intersection of Working Harder and Letting Go. Which do I take?
Is this the stop where God takes over? Have I weighed the pros and cons thoroughly and researched our options fully? Am I seeing the situations through a balanced and healthy lens?
"God, is this the decision You want me to make?"
I surely do not have all the answers. However I do know there is something I have given room to grow. It's something we don't intentionally allow. Yet, it still happens.
It's a power of the wrong sort.  
I've allowed the enemy too much power in my life. Too much doubt-stirring in my soul.
Because when it comes down to it, no matter how difficult or large the decision may be, there is only one way to handle it. And it really is quite simple.
Pray.

Read the Word of God which will cast light upon good and bad. Right and wrong. Righteous and unrighteous.

Consult with someone you know is Biblically and morally righteous and trustworthy. 

Step forward with actions that align with His Word.

Weigh your pros and cons thoroughly.

Repeat the process until the decision is finalized. 
Commit your way to the Lord; trust in him, and he will act. -Psalm 37:5
We must believe that no matter the decision. No matter the possible miscommunication our biased thoughts or interpretations of a situation may have created. And no matter the mistakes that come with our humanity. God will work things together for our good.
And we know that for those who love God all things work together for good, for those who are called according to his purpose. -Romans 8:28
In fact, He will open and close doors in our lives redirecting us where we need to go.
And I will place on his shoulder the key of the house of David. He shall open, and none shall shut; and he shall shut, and none shall open. -Isaiah 22:22

And when the decisions get heavy and the road long causing weariness to weigh in, He will lift us up and give us strength.
But they who wait for the Lord shall renew their strength; they shall mount up with wings like eagles; they shall run and not be weary; they shall walk and not faint. -Isaiah 40:31
Finally, when the enemy prods our heart with thoughts of fear, we can be assured we are fiercely protected.
Because he holds fast to me in love, I will deliver him; I will protect him, because he knows my name. When he calls to me, I will answer him; I will be with him in trouble; I will rescue him and honor him. -Psalm 91:14-15
Today, friends, when decisions loom big and heavy and you can't find peace, know that peace is there. Know that it's time to claim God's truth over this process and cancel out the lies the enemy desperately wants us to believe. I'll be there with you. I promise. I need this just as much as you so we are in this together!
This Week's Featured Hope
It's not only when the decisions are scary, but it's when there are no answers. It's when life itself is terrifying and we are broken, hurt, confused, alone, or misunderstood. That's when pressing in and grabbing onto the Jesus who saves is our only lasting hope. But how often do we really reach out for Him? Or do we tend to reach into ourselves, digging deep and relying on our strength instead of His? Dawn of Journeys in Grace tells the story of a woman who pressed in for just a touch of Jesus.
She  was longing for hope, so she went looking for Jesus.  She interrupted Jesus and He stepped into her story.
Come with me to Journeys in Grace to read more about hope. Hope when life hurt. When leaning into Jesus made all the difference.
Find peace when making decisions! Join us at #MomentsofHope #LinkUp #hope #decisionmaking Click To Tweet
You can find me linking up with
these
encouraging places!
#MomentsofHope Link-Up
Thank you so much for joining me each week in this place where we share and soak HOPE! Your hearts are a gift to me. A gift that encourages me tremendously. My husband often teases me about the smile I wear when I am behind this computer screen either writing to you or reading what you have written to me or for others. Never forget the importance of your words. There are so many in our world today and sadly, many of those do not lift up. Rather, they tear apart and divide. And they cause angst with no resolve. But you, my friends, are not doing that! You are reminding the world of the HOPE that cancels out all darkness. Thank you ♥
(I'm sorry about the link-up glitch last week that caused it to close after the first full day! The link-up will always be live through Saturday so if it ever happens again, don't hesitate to message me! A huge thank you to those that did! ♥)
What I ask of you:
1. Share up to 2 URLs  (to a blog post, not the actual blog) that resonates with the topic of HOPE. Anything that gives us hope for tomorrow. Hope for victory. The little things and the big. Anything that inspires us to lean into Jesus and let Him carry us through.
2. Important: If you don't have a blog post or podcast that resonates with HOPE, join in other ways as you pray and encourage others with a comment or a prayer.
3. Please leave a comment on the link just before each of your links. Would you love on them well? Encourage them in their efforts to share the hope of Jesus. If you have time, stop by more than one sweet writer's little corner of the blog world!
4. Of course, I would love it if you would follow me via my blog and/or social media channels! Signing up to join the Searching for Moments Community gets you access to the Library of Hope along with post updates and freebies!
5. If this gives you hope, would you consider sharing it with others to give them hope, too?
6. Please either grab the #MomentsofHope button found here or link back to me to encourage new linkers.
[inlinkz_linkup id=695766 mode=1]