10 Helpful Bible Verses About the Love of God to Be Grateful For
The love of God changes lives. It reaches in and heals what is broken and fuels us to live with purpose. It gives us the ability to love better and see the world through the eyes of compassion and truth.
The Love of God
This is the 7th of a seven-post series about the love of God that hopefully has deepened your faith and knowledge of how much you are loved. I hope you downloaded the free coordinating Journal to keep you on track every day for seven full weeks.
Over the past 6 weeks, we have dug into the character of God, what makes His love completely different from any love we can find here on earth, how His love changes us and how we live, why it matters to our identity as His child, and the resources and actions steps we need to take next.
Today I'm sharing with you 10 more helpful Bible verses about the love of God. These verses are ones some of my dearest friends and respected women of faith are deeply grateful for. They are ones I know you will want to hold onto for those days you need extra encouragement.
Write them down, memorize them, and hold them deep in your heart and mind.
10 Helpful Bible Verses and Books from 10 Top Christian Bloggers, Authors, and Writers I highly respect!
Click To Tweet
10 Helpful Bible Verses and Books from 10 Top Christian Bloggers, Authors, and Writers
"The Lord appeared to us in the past, saying: "I have loved you with an everlasting love; I have drawn you with unfailing kindness." -Jeremiah 31:3 NIV
Book: The Bible (and a favorite book for God's love is the book of John)
"Trust in the Lord with all your heart and lean not on your own understanding; in all your ways submit to him, and he will make your paths straight." -Proverbs 3:-6 NIV
Book: Trusting God by Jerry Bridges
3. Nicki Schroeder, radio personality and blogger at Showered In Grace
"And we know that in all things God works for the good of those who love him, who have been called according to his purpose." -Romans 8:28 NIV
Book: It's Not Supposed To Be This Way by Lysa Terkeurst
4. Horace Williams, Jr., author and blogger of Pleasing to the Potter
"Because of the Lord's great love we are not consumed, for his compassions never fail. They are new every morning; great is your faithfulness. I say to myself, "The Lord is my portion; therefore I will wait for him." -Lamentations 3:22-24
Book: Finding God's Blessings In Brokenness: How Pain Reveals His Deepest Love by Dr. Charles Stanley
5. Leigh Mackenzie, writer, speaker, trainer, and blogger at Jesus in Everything
"The Lord himself goes before you and will be with you; he will never leave you nor forsake you. Do not be afraid; do not be discouraged." -Deuteronomy 31:8 NIV
Book: The Bondage Breaker by Neil T. Anderson
"For you created my inmost being; you knit me together in my mother's womb. I praise you because I am fearfully and wonderfully made; your works are wonderful, I know that full well." -Psalms 139:13-14 NIV
Book: Fearfully and Wonderfully Made by Phillip Yancey and Paul Brand
"Therefore we do not lose heart. Though outwardly we are wasting away, yet inwardly we are being renewed day by day." -2 Corinthians 4:16 NIV
Book: Search for Significance
"My flesh and my heart may fail, but God is the strength of my heart and my portion forever." -Psalms 73:26 NIV
Book: The Ragamuffin Gospel by Brennan Manning
"For I am convinced that neither death nor life, neither angels nor demons, neither the present nor the future, nor any powers, neither height nor depth, nor anything else in all creation, will be able to separate us from the love of God that is in Christ Jesus our Lord." -Romans 8:38-39 NIV
Book: Nothing to Prove by Jennie Allen
"The Lord is my shepherd, I lack nothing. He makes me lie down in green pastures, he leads me beside quiet waters, he refreshes my soul. He guides me along the right paths for his name's sake. Even though I walk through the darkest valley, I will fear no evil, for you are with me; your rod and your staff, they comfort me.
You prepare a table before me in the presence of my enemies. You anoint my head with oil; my cup overflows. Surely your goodness and love will follow me all the days of my life, and I will dwell in the house of the Lord forever." -Psalm 23 NIV
Book: Morning by Charles Spurgeon
In the Journal This Week
These verses can be found in your journal this week. As always, I pray the Word of God sinks deep — as in all the way down to your toes. And I pray you continue our journey to deepening your faith and knowing the love of God far beyond this series. I pray you continue it all the days of your lives.
A Prayer to Know the Love of God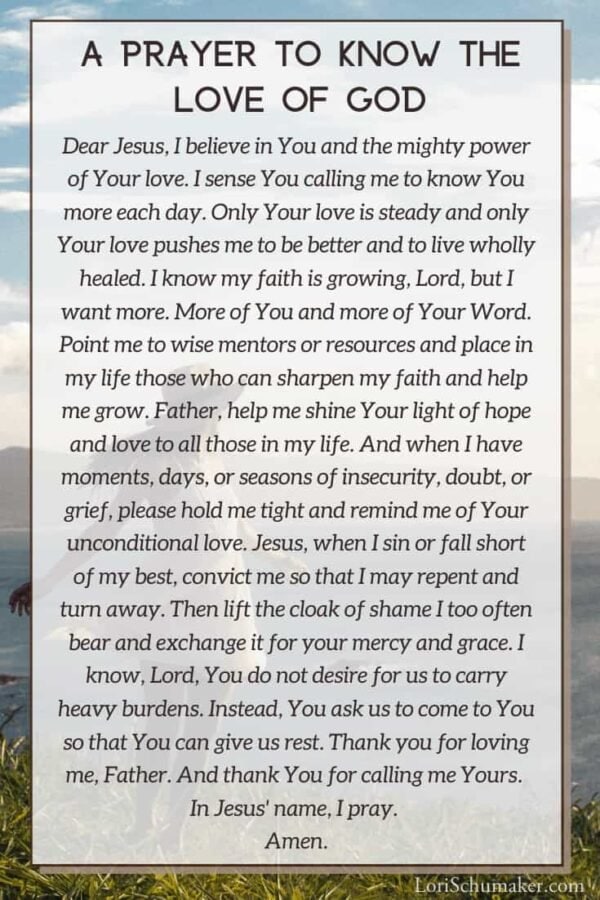 Dear Jesus, I believe in You and the mighty power of Your love. I sense You calling me to know You more each day. Only Your love is steady and only Your love pushes me to be better and to live wholly healed. I know my faith is growing, Lord, but I want more. More of You and more of Your Word. Point me to wise mentors or resources and place in my life those who can sharpen my faith and help me grow.
Father, help me shine Your light of hope and love to all those in my life. And when I have moments, days, or seasons of insecurity, doubt, or grief, please hold me tight and remind me of Your unconditional love. Jesus, when I sin or fall short of my best, convict me so that I may repent and turn away. Then lift the cloak of shame I too often bear and exchange it for your mercy and grace. I know, Lord, You do not desire for us to carry heavy burdens. Instead, You ask us to come to You so that You can give us rest.
Thank you for loving me, Father. And thank You for calling me Yours. In Jesus' name, I pray. Amen.
A Prayer to Know the Love of God: Post 7 of our 7-week series. Deepen your faith and know God's love more!
Click To Tweet
A Time to Reflect: Week 7 Focus Questions
As you have read, prayed, and explored the intersection of God's love and your life, where do you believe there is room to grow? If so, in what way?
If you were to create a wish-list of resources, what would it contain? A new Bible? Reading a new translation of the Bible? A daily devotional? Counseling? Life-coaching? An audible Bible? An online Bible Study or blog? Make a list!
I pray your time here has brought you closer to Christ and revealed to you in an intimate way the unconditional love of God.
---
The Series: For When You Want to Know God's Unconditional Love
If this topic resonates with you and you want to start from the beginning … Just click on the title below.
For When You Long to Know God's Unconditional Love: An overview of the study, its components, and why God's love.
This Is Why You Need to Know the Character of God: Discovering the character of God and what implication that has on His love for us.
7 Ways God's Love for Us is the Best Kind of Love: How is God's love different from all other kinds of love? And why that's better?
7 Ways to Change Your Life With God's Unconditional Love: How does God's love change us and change how we live?
I Am a Child of God: Why Is Now the Most Important Time to Know This?: How does God's love hold us steady in an incredibly unsteady world?
Please God, Help Me Know Your Unconditional Love: We learn that both asking God for help and taking intentional steps deepen our faith. An in-depth list of steps and resources.
10 Helpful Bible Verses About the Love of God to Be Grateful For: Inspiring top Christian authors, bloggers, and speakers share both the Bible verse they hold onto as a reminder of how much God loves them as well as their favorite book!
---
Finally, here are all the resources you get with the series.
Each week, I will give you Bible verses, a prayer, questions to ponder, and extra resources.
I've also created a printable journal to help you walk through the series. Each page will have scripture at the top and an area for you to journal your thoughts and answers to the challenge questions found in each post. The journal is available free to all subscribers.
---
***Disclosure: Some of the links in this post are affiliate links. This means at no additional cost to you, I will earn a commission if you click through and make a purchase.
---