11 More Places to Help You Learn to Love Yourself
By now, you have probably caught onto the fact that I am pretty obsessed with this identity thing. You know it's the message that burns deeper than any other in my heart.
And that's because learning to love yourself is foundational to everything else that matters.
When you fully love yourself, two things must be true.
You are in relationship with Christ and have fully grasped His unsurpassing love.

You walk in freedom pursuing purpose and joyfully living in healthy relationship with others.
But whenever someone turns to the Lord, the veil is taken away. For the Lord is the Spirit, and wherever the Spirit of the Lord is, there is freedom. So all of us who have had that veil removed can see and reflect the glory of the Lord. And the Lord—who is the Spirit—makes us more and more like him as we are changed into his glorious image. -2 Corinthians 3:16-18 NLT
That's why it matters to me.
I want these two statements to be truth in your life! The enemy desires destruction in place of victory. He craves defeat. And he happily deceives you into believing God's love isn't that big or that powerful. 
[bctt tweet="Are these two statements true about your life? #identity #deception #roundup #resources #linkup" username="lori_schumaker"]
So, friends, if those two statements are not truth in your life, there is some work to be done. I've been sharing the stories of others and how, as a chosen and worthy child of God, their lives were changed. I've equipped you with Scripture, prayers, and charts. And little did you know, behind the scenes I was completing my classes to obtain a Christian Life Coaching certificate.
It is something I've been doing for awhile in ministry, but I wanted to be official and I wanted to be as best equipped as possible for you!
As we continue along the path to #ChosenandWorthy, the content will dig deeper. I will still share the stories because stories connect us to humanity and remind us we are not alone. However, both now and in the future months, I'm adding deeper content, quizzes, and worksheets.
If this is your first time visiting or you haven't subscribed yet, I urge you to do so now. I want to walk with you as you learn to love yourself. As you learn to fully grasp the unsurpassing love of Christ!
But, friends, I'm not the only one sharing this message of hope.
This week I'm sharing with you a wealth of encouragement and resources from some of my other favorite hope-givers! Their messages about the life-changing power of Christ's love will propel you toward loving yourself and living in freedom!
A Roundup of 11 More Places to Help You Learn to Love Yourself
"I have a heart and passion for encouraging women to claim their God-given identity as a Positively Lovely daughter of the King. Together we can discover our true identity and purpose, experience an abundant, joy-filled life, and change the world!"
Ifeoma Samuel is your down-to-earth girl sitting at your conversation table. With each chapter, she brings on the spark of hope savouring through biblical truths that shatter the shackles of failure and help you see goodness in your life challenges and find inspiration to move ahead.
Embracing Who You Are, Becoming All God Created You to Be. "Pssst . . . pull up a chair and I'll tell you a secret. You'd better lean in close for this one. Ready? You don't have to do more, be more, have more."
"Are you a perfectionist, too?  Do you wonder if you might be a perfectionist? Are you looking for answers to help you overcome your perfectionism? If so, then this blog is for you, and for me, because overcoming perfectionism is a long, hard road to walk and who would want to take that journey alone?"
"My world seemed to be falling apart. It was at this moment that God met me. He rescued me and comforted me. Pressing into His Word, I began learning about who I was in Him. I was blown away by the love He has for me. I began to realize what it meant to flourish."
"Unmasking the Mess is a place where I hope you can come, unmask,  and refresh through God's Words as He lays them on my heart. I don't have it all together. Many times I feel like I take one step forward and two steps back.  This Christian walk is hard and messy, therefore we need others encouraging and cheering us on this path."
"Because I've learned how our stories bring hope and healing, I'd share my story of how fear rattled me deep and kept me caged for too many
years, unable to see hope or a future. How this fear instilled in me as a child nearly broke me and became a pivotal moment of intentional choices that gave me a front row seat to God's wild and uncontainable love."
"This blog is about gaining a new spiritual wardrobe and putting on shimmering garments of splendor and strength. I pray that in this blog you will discover:
•    How to find true freedom and embrace your identity in Christ
•    How to live confidently and securely in the truth of God's love
•    Understand the truth of your inner beauty and feel great from the inside out"
"I grew up craving the tangible love and affirmation of my biological dad.  As a child of divorced parents, I know the damaging impact growing up without a father can have on a girl and a woman.  I wrote this blog for you (and me) to be a source of encouragement, healing, and practical wisdom for women whose fathers were physically or emotionally absent."
"If you are looking for encouragement, this is the place to be!  Whether you are struggling with your faith, in your marriage, with loss, anxiety or loneliness, here you can find posts that will encourage you and guide you through the trials."
"I believe one of the root issues of fear is doubting God's immense love for us in our hearts. Until we truly accept His love, our fears are just going to shoot up from the ground and spread."
---
---
#MomentsofHope Featured Post
Do you see what God sees when you look in the mirror? Or is what you see something far less?  Horace's story of faith and redemption has long been a favorite of mine. Living life in the fast lane and basking in the benefits of worldly success, he suffered a stroke in the prime of his life. That's when everything changed …
Ultimately, Horace points out that a spirit of fear and a spirit of doubt are two tools the enemy uses against us in his quest to destroy our faith and purpose.  However, when we are firmly rooted in Christ and grasp the depth of His love for us, realizing we are His treasured child, doubt and fear are conquered!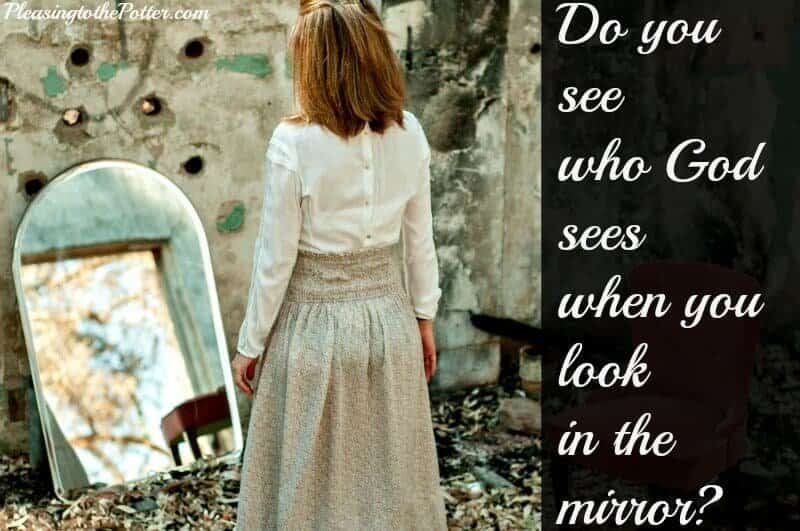 When you stop by Pleasing to the Potter, make sure to show Horace some #MomentsofHope love! He is a prayer warrior, my friends, and right now he could really use our prayers. Would you lift him up in prayer and encourage him today?
---
---
[bctt tweet="11 More resources to help you learn to love yourself #MomentsofHope #linkup #hope #identity" username="lori_schumaker"]
Find all the #ChosenandWorthy posts right  HERE !
---
---
#MomentsofHope Link-Up
Thank you for joining me here each week to share the hope given to us through Christ. Whether your words come from a story that points to the full healing you have experienced in Christ, or its a story of the journey along the road to the healing you know He is working in you, it is giving hope to others. Your words matter and I am honored to have you share them here in this space!
Featured here at #MomentsofHope?Grab the new Happily Featured button! Just stop by the #MomentsofHope page in the menu above or here to find it!
Thank you so much for joining me each week in this place where we share and soak HOPE! Your hearts are a gift to me.?
What I ask of you:
Share up to 2 URLs  (to a blog post, not the actual blog) that resonates with the topic of HOPE. Anything that gives us hope for tomorrow. Hope for victory. The little things and the big. Anything that inspires us to lean into Jesus and let Him carry us through.

Important: If you don't have a blog post or podcast that resonates with HOPE, join in other ways as you pray and encourage others with a comment or a prayer.

*Please leave a comment on the link just before each of your links. Would you love them well? Encourage them in their efforts to share the hope of Jesus. If you have time, stop by more than one sweet writer's little corner of the blog world!

Of course, I would love it if you would follow me via my blog and/or social media channels! Signing up to join the Searching for Moments Community gets you access to all of the resources available in the Library of Hope along with post updates and the inside scoop! (Linking up here does give me access to your email which I will utilize only to alert you to details regarding the link-up such as vacations or technical issues!)

Please either grab the #MomentsofHope button found here or link back to me to encourage new linkers.
Finally, find me linking up with these encouraging places!
[inlinkz_linkup id=715746 mode=1]