When Our God-Given Identity is Under Attack
A God-given identity.
It's always been my personal struggle. And I know it is a struggle for many.
Because the attacks against our identity begin even before we are born.
The baby growing within the womb of a woman unprepared and unwanting of the pregnancy. Studies show that even in this stage of life, the ability for a child to attach and connect with love is significantly impacted.
The baby born into a home of addiction, detachment, abuse, or neglect soon internalizes the belief that somehow they were never enough. It was their fault the abuse happened.
Loss of life. A parent, a caregiver, a sibling, or a significant other person from within life leaves a gaping hole to even a small child.
School, sports, dance, and other activities bring celebration and grief. Teachers, coaches, leaders and parents sadly use their platform to attack the identity of children. Failure is breeding ground for self-condemnation without an adult speaking truth and encouragement.
Relationships are life-giving, yet betrayal inevitably happens. The sting can leave our worth in devastation.
So, as the enemy prowls and finds his way into the words and lives of the many within our midst, he seeks to destroy our identity. Because he knows something very powerful.
The depth with which we pursue our God-given purpose depends upon the depth with which we grasp our God-given identity.
[bctt tweet="The depth to which we pursue our God-given purpose depends upon the depth to which we grasp our God-given #identity #hope " username="lori_schumaker"]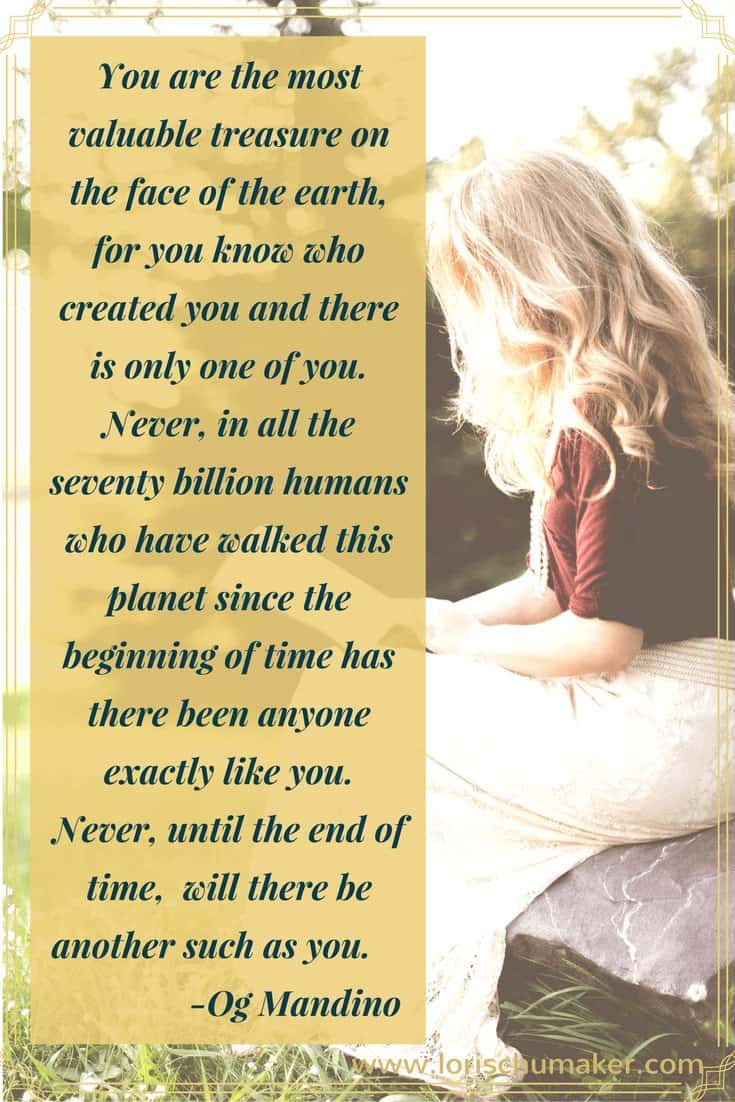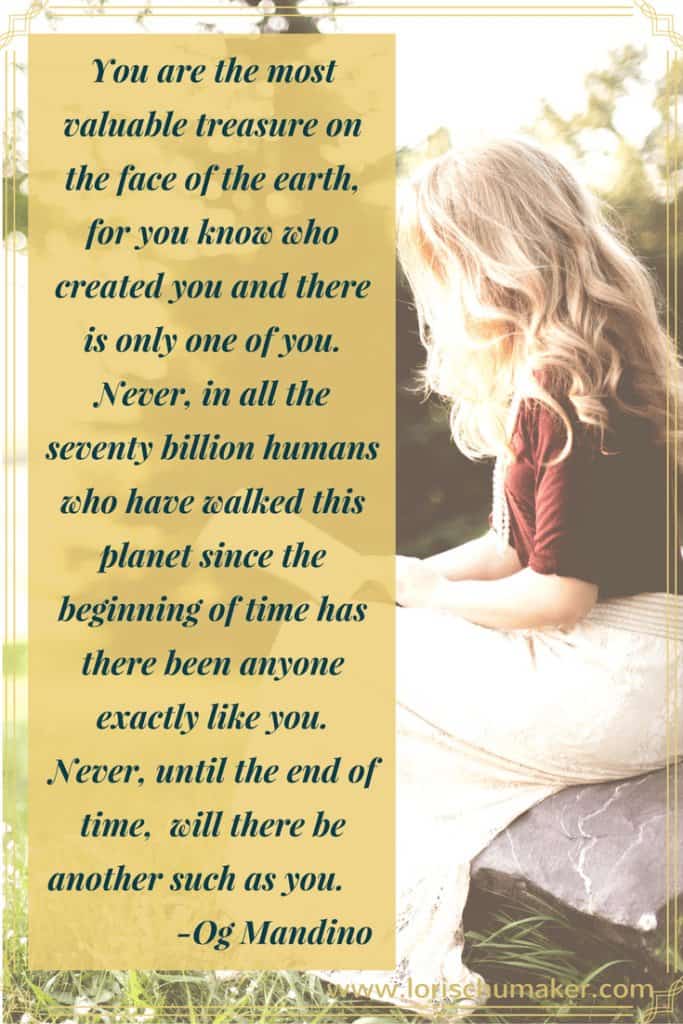 Friends, today I pray for you. I pray you grasp your God-given identity and leave behind the identity the world placed upon you. You've carried it much to long.
Additionally, I want to share with you a powerful post and resource about identity. I know that I and many others can tell you how wonderful you are in the eyes of God. We can tell you to walk away from the labels of 'not enough' that have been stuck to you in the darkest moments of life. But you will ask,
"HOW?"
Here in this place, I offer several posts that serve to encourage and equip you, but  today Nicole Kaufmann of Courage.Love.Hope. gives us this:
"The lie of shame settles deep within the hearts of those affected by trauma. It is a belief that the events must be kept secret or else seldom talked about. It is the belief that because of the trauma there is something inherently wrong with the very essence of who you are.
This shame is a lie.
And this lie can only be overcome when brought into the light."
To read more from her post, Fighting the Lies of Trauma, follow me over there. When you do, would you love on her in true #MomentsofHope fashion? And would you remember that you, my friend are a child of God? Chosen. Loved. Planned with purpose. And able to live victoriously with hope and freedom knowing that your identity is one created by the God of the Universe!
[bctt tweet="Shame is a lie that can only be overcome when brought into the light #hope #identity #trauma #featured @NicoleAKauffman" username="lori_schumaker"]
[bctt tweet="Choose victory.Claim your God-given identity! Join us for #MomentsofHope #linkup #hope #resources " username="lori_schumaker"]
In case this is the kind of hope you want to build this year, sign up to join us here in the Searching for Moments Community. You will receive content updates, behind the scenes information, and access to the resource filled Library of Hope.
You can find me linking up with
these
encouraging places!
Now to Link Up
What I ask of you:
1. Share up to 2 URLs  (to a blog post, not the actual blog) that resonates with the topic of HOPE. Anything that gives us hope for tomorrow. Hope for victory. The little things and the big. Anything that inspires us to lean into Jesus and let Him carry us through.
2. Important: If you don't have a blog post or podcast that resonates with HOPE, join in other ways as you pray and encourage others with a comment or a prayer.
3. Please leave a comment on the link just before each of your links. Would you love on them well? Encourage them in their efforts to share the hope of Jesus. If you have time, stop by more than one sweet writer's little corner of the blog world!
4. Of course, I would love it if you would follow me via my blog and/or social media channels! Signing up to join the Searching for Moments Community gets you access to the Library of Hope along with post updates and freebies!
5. If this gives you hope, would you consider sharing it with others to give them hope, too?
6. Please either grab the #MomentsofHope button found here or link back to me to encourage new linkers.
[inlinkz_linkup id=692413 mode=1]