Today's #ChosenandWorthy post is one that gives me goosebumps. It's a story of race. Of ugly words, thought processes drenched in deception, and the enemy's evil ploy to convince a force for good that she had nothing meaningful to offer. As a beautiful young black woman, Christin sat across the table from those placed there to guard and protect her. As part of her college study abroad program, she had ventured far away from home and from the safety of her family.
Ultimately, what lay forever etched upon her heart was far beyond the study's syllabus. Careless cruel words not only broke her heart in the moment, but they triggered painful memories and buried labels.
As you read Christin's story, I pray it not only ministers to your heart, but that it gives you eyes to see that which you may never have noticed before. Imagine this young beautiful girl as yours. As you, your daughter, your friend or your niece. Imagine her sitting across the table, eyes spilling over with tears. Her heart sinking with every word.
But before you leave today, friends, would you please share your words of encouragement with Christin? Sharing this story took bravery so let's cheer her on and together fight the enemy! 
Welcome, sweet Christin! I adore you ?
---
"Christin, you are pretty, but it's too bad that you're black."
Her words pierced my soul like a razor-sharp dagger. I was in Honduras, thousands of miles from my home on a college study abroad program. The beauty of the tropical trees, vibrant flowers and sights of the city were so inviting. But at that moment I felt unwelcome. Unwanted. Utterly despised and rejected.
At first I thought I misheard her words.
I was sitting at the kitchen table of my host family one afternoon working on homework. My Spanish was improving, so I thought maybe my host sister meant to say something else. But by the response of the others in the room, I knew I had heard correctly.
I quietly excused myself from the table and burst into a puddle of tears.
Alone in my bedroom, I cried out to the Lord.
"Why am I not accepted for who I am?"
Memories of that terrible day came flooding back to me recently as I sat with my kids in the story hour of our local library. The featured children's book was a story of a king sheep who rejected all others in his flock who were not the sleek, cream-colored hue of his prized wool coat. He drove out of the pasture all the tan and brown sheep, leaving them forsaken and forlorn.
"That's me." I thought to myself.
"I feel like a little brown sheep."
Growing up I believed the lie that I was not good enough because of the color of my skin.
Growing up I believed the lie that I was not good enough because of the color of my skin #ChosenandWorthy #identity #hope @ChristinBaker12
Click To Tweet
I remember feeling left out in school, ostracized and driven from a flock of people who did not accept me as their own.
Maybe you have felt like the "black sheep" of your family. Perhaps you never quite fit in with your high school group, or colleagues from work.
Maybe someone has told you that you're…
Fat.
Ugly.
Stupid.
Unwanted.
The wounds of such vicious words sear our souls like a hot iron, branding us with labels God never intended us to bear.
The wounds of vicious words sear our souls,branding us with labels God never intended #ChosenandWorthy #identity #hope @christinbaker12
Click To Tweet
But we serve a God who is greater than our deepest hurts. A God who quietly soothes our pain with the healing balm of his abundant love.
That day as I sat on the library floor, Jesus met me with such comfort and peace.
I sensed him softly whispering,
"Christin, I made you a brown sheep as part of my divine plan for your life. You are beautiful. You are lovely. You are my precious sheep. And I am your Good Shepherd."
We as the body of Christ are all sheep in God's flock. We come in different shapes, sizes, and colors–and we are all treasured by the Good Shepherd.
The enemy and thief of this world attempts to steal our God-given identities.
But Jesus reassures us in John 10:10-11,
"The thief comes only to steal and kill and destroy; I have come that they may have life, and have it to the full. I am the good shepherd. The good shepherd lays down his life for the sheep." 
Our Good Shepherd, the ruler and Creator of us all, humbled himself and became a sheep like us. Not only is he the Good Shepherd, but he is the sovereign Lamb of God, who takes away the sins of the world (John 1:29).
He laid down his life so that we can experience…
Salvation.
Joy.
Hope.
And freedom from the labels others have placed over us.
I learned a powerful lesson in the library that day. I do not have to live in shame or inherit the hurtful words of others. The only words that matter are the words of the Good Shepherd.
"…he goes on ahead of them, and his sheep follow him because they know his voice. But they will never follow a stranger…" -John 10:4b-5
Dear sister, whatever dark past you have endured, remember who you are in Christ.
You are beautiful. Lovely. Chosen. Worthy.
When you look into the mirror each morning, remember to see yourself through the eyes of the Good Shepherd.
Because he is the Good Shepherd, you are part of his chosen flock. (John 10:14-16)
Because he is the Living Water, your cup overflows with love and grace. (John 7:38, Psalm 23:5)
Because he is the Bread of Life, you are fully satisfied and lack no good thing. (John 6:35, Psalm 34:9)
Because he is the Vine, you are fully grafted in him. (John 15:1-4, Romans 11:17)
Because he is Abba Father, you are his royal daughter. (Romans 8:15)
Because he is Creator, you are his treasured masterpiece. (Ephesians 2:10)
You are, because He is!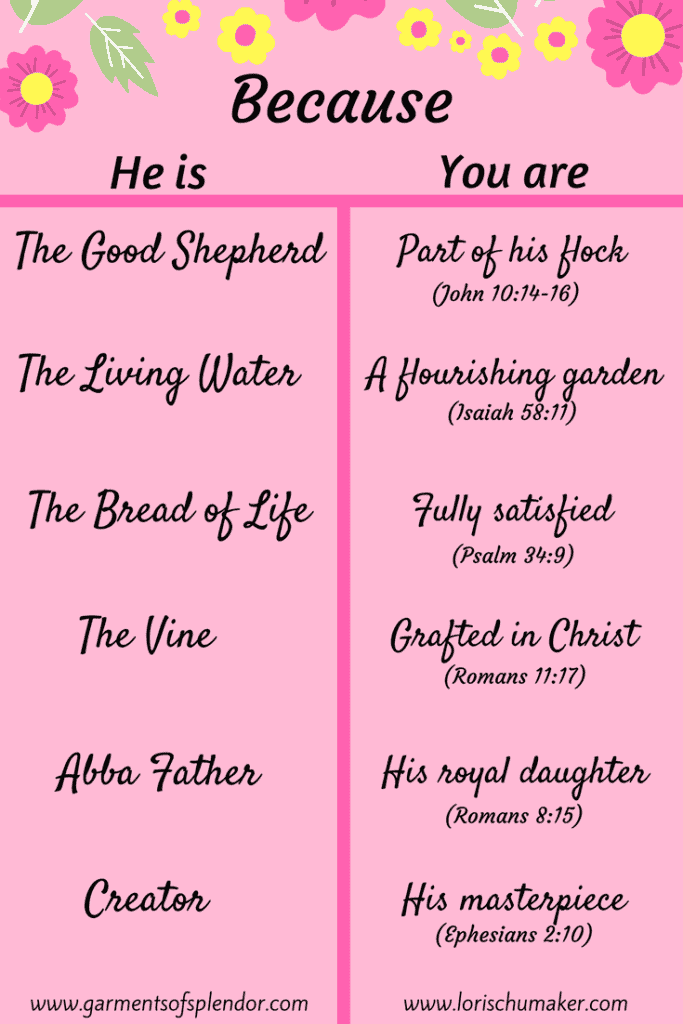 Let's collectively refuse to listen to the voices of roaming strangers. Only the calm, comforting voice of our loving Shepherd saying,
"Follow me."
He will lead you to calm, quiet waters. He will restore and revive your soul.
The Lord is my shepherd, I lack nothing. He makes me lie down in green pastures,
he leads me beside quiet waters, he refreshes my soul.  –Psalm 23:1-2
Christin Baker is a wife, homeschool mom, blogger, and passionate lover of Jesus. As a former elementary school teacher and curriculum developer, she worked for years in children's ministry, and writes children's articles for a Christian magazine called The Banner. Her desire is to help women discover their true beauty, purpose, and identity through the spiritual clothing we have in Christ. She writes at
Garments of Splendor
. You can also find her on
FaceBook
,
Twitter
, and
Pinterest
!
---
---
Just in case this is your first visit here and you want more #ChosenandWorthy, check out the posts below and then subscribe so you don't miss any of what's to come!
Don't forget, when you subscribe you also get full access to the resource-filled Library of Hope!
---
---
In fact, here's an example of one of the resources waiting for you in the Library of Hope!
I've created the 5-Day Hope Toolkit: Claiming the Victory of a Hope-filled Life just for you!
(Get it here) I've designed it so that it breaks these 5 strategies down into manageable pieces.
In it, you will receive a 5-day series of Scripture prayers giving you a solid foundation in how to pray God's Will through praying His Word. You will also receive:
A checklist to determine whether you have a hopeful or hopeless attitude.
A beautiful printable image with positive "I am …." statements of truth.
A list of my go-to books, blogs, and websites when I am in need of encouragement.
To get to your 5-Day Hope Toolkit, click HERE!