5 Things Adoption Taught Me about Fighting Fiercely
Fighting Fiercely
I remember the day I first saw her face. The big brown eyes, the curly black ringlets of hair around her head, and the smile sprawling across her tiny face. Something about her spoke straight to my heart.
In that moment I knew she was ours.  The Holy Spirit moved as I'd never before experienced. This was the child God had hand-picked for us halfway around the world.
You see, long ago, God had created a special place in my heart that laid empty. As I looked at the little girl in that picture, that empty place was empty no more.
It was a beautiful conviction. One for which I will forever be thankful because along the difficult journey ahead of us, I would find myself holding onto that moment again and again. I believe God made my conviction that strong so that over the next several years, I would never doubt whether this child was meant to be ours. I would never doubt His hand in our lives.
Adoption Requirements
Our journey was marked by the customary adoptive requirements including massive amounts of adoption paperwork and red tape. However, paperwork and red tape were only the beginning. Although our wait had already been one year, we fought another 15 months to bring our daughter home.
Courts, files, and clearances were mysteriously lost or unapproved. Judges, social workers, caregivers, and agencies seemed to have lost sight of the fact that a precious life was in their hands.
Not a number on a paper, but a precious life. One suffering neglect and abuse as she awaited rescuing.
It was a brutal time in our lives as it is for most who choose adoption. But the brutal isn't more than God can handle. As a matter of fact, it's a brutal God profoundly redeems.
For me, a piece of that buy nolvadex canada no prescription redemption was what He taught me about fighting fiercely. Fighting fiercely for the things that break His heart.
Adoption taught me much about fighting fiercely. #fiercelyHis #hope #adoption #amamasheart @lori_schumaker
Click To Tweet
If you are an adoptive Mama, you recognize my story. You've lived a version of it. But even if you are not, I know you have a story that holds the brutal, too. A story that hurt. That was hard. But that taught you to fight fiercely.
My 5 things I learned about fighting fiercely through adoption will help the adopting Mama for sure, but I think these 5 things are ones that can help us be stronger in any of our stories.
Would you follow me over to my friend, Shannon's, blog as I tell you the rest of my fighting fiercely story and explain the 5 things I learned when it comes to that fight?
You are going to love Shannon. She is a fierce lady! One with spunk and joy and hope. She hosted a series called #FiercelyHis. The series resonated in the hearts of women so she decided to create a place to share more fierce stories. She calls it #FierceFriday! Today, my story is there.
---
My New Book!
Surrendered Hearts: An Adoption Story of Love, Loss, and Learning to Trust is our family's adoption story. But it's so much more. It's how we've learned to surrender our will for God's and how we've experienced miracles because of it. My prayer is that as each persona steps out into the unknown, they lean into the strength of Christ and discover something far beyond what they have ever imagined.
Did you know it's National Adoption Month? Surrendered Hearts: An Adoption Story of Love, Loss, and Learning to Trust just released! @RedemptionPress #nationaladoptionmonth #adoption
Click To Tweet
Surrendered Hearts: An Adoption Story of Love, Loss, and Learning to Trust
Want more information? The Surrendered Hearts website is HERE! You'll find the Book Video Trailer and other goodies like shareable images, tweets, and a set of FREE Bonus Resources for the adoptive parent or for anyone needing a little extra encouragement in life!
Surrendered Hearts - An Adoption Story of Love, Loss, and Learning to Trust is available NOW on @Amazon @BNBuzz @ChristianBook @RedemptionPress #SurrenderedHeartsBook #nationaladoptionmonth
Click To Tweet
Want to go straight to Amazon? Then you can click HERE!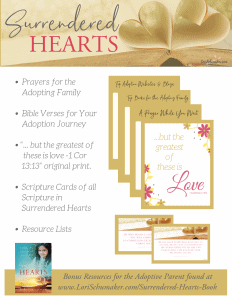 Get your absolutely FREE set of Bonus Resources for the adoptive parent or for anyone needing a little extra encouragement in life! #SurrenderedHeartsBook #adoption #NationalAdoptionMonth
Click To Tweet
The Surrendered Hearts Bracelet
In conjunction with the book, I have partnered with Theresa of  Tees Cherished Finds to create a Surrendered Hearts Bracelet! The message to Live Surrendered means that you are choosing to lay down your fears and live surrendered to the One who makes the impossible possible.  When you choose to Live Surrendered, you are committing to following Jesus where He calls. You are choosing to let go of your way and take hold of His way.  And when you purchase a bracelet for just $15 (look in the right margin), just as when you purchase the book, a portion of the proceeds will go to Lori's chosen adoption ministries. Just click on the image below. It will take you to the Surrendered Hearts page where you can find out more and make your purchase!
Check out the Surrendered Hearts Bracelet and make a statement to LIVE SURRENDERED! #SurrenderedHeartsBook #NationalAdoptionMonth
Click To Tweet
---
Don't Miss Out!
If you haven't signed up yet to receive updates, you can do so right HERE (or fill out the form below).  Subscribing will get you my occasional updates. It also gets you full access to my resource-filled Library of Hope! It has a ton of stuff in it to help you meet life's challenges head on with the best tool we have – the hope of Christ!