Lord, Give Me Strength to Parent Without Fear
Lord, give me strength was the prayer of my mama heart.
I remember the day I walked out of the church nursery without the sounds of my little guy crying. For months I'd had to put on my brave face, walk away, and believe he would soon realize Mommy would always come back. But brave face or not, those cries undoubtedly felt like the undoing of my heart piece by piece.
Zach was not only my first child (and therefore my learning curve), but he had come into the world with health problems. He had a disease called Hirschprungs which necessitated surgery in those first few weeks of life followed by months of healing. I think it set the new insecure Mama in me into hyper vigilance mode right from the start.
This little boy was my heart on the outside. As I'd sat hours upon hours in the NICU holding him as closely as all the wires and tubes would permit, I'd tuned into every detail. Never before had I felt such love and never before had I felt so helpless to control a situation.
[bctt tweet="Parenting awakes your soul to both a love and a fear that surpasses anything you've ever felt before. #fear #parenting" username="lori_schumaker"]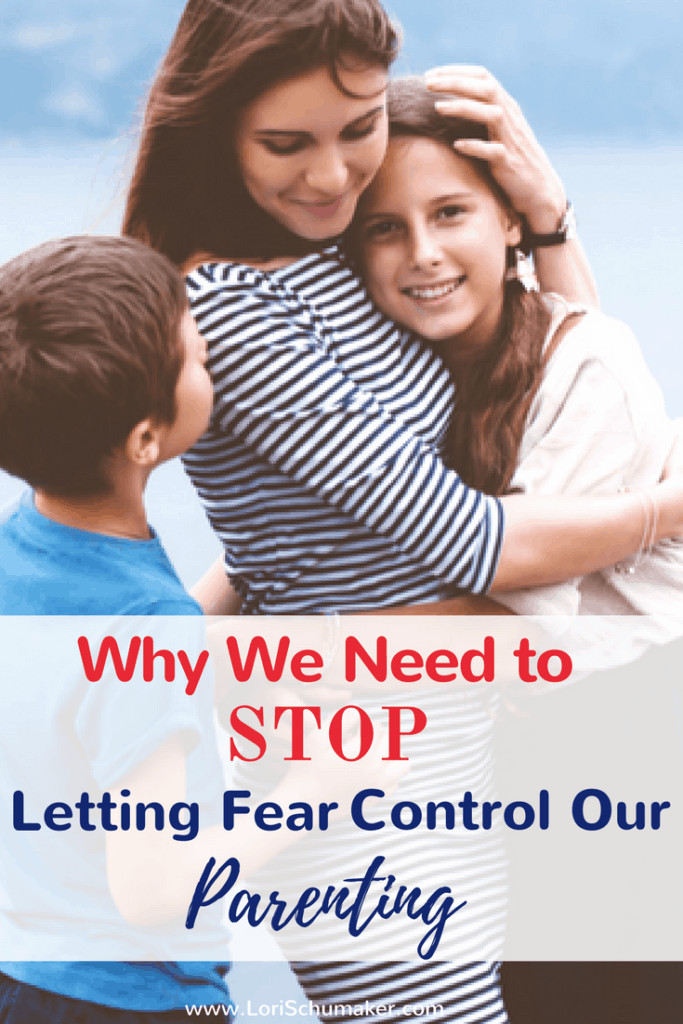 The First of a Thousand Steps
But I think he was about 2 when it happened. I walked into the church nursery, set him down, gave him a kiss, and away he walked. He stopped to look back, but this time he didn't cry. This time he turned toward all the fun awaiting him and jumped in.
[bctt tweet="Let go and give him wings to grow #parenting #nomorefear #momentsofhope" username="lori_schumaker"]
It was one of the first of thousands of steps he will take in his lifetime toward independence. Toward fully living out his purpose. Toward following the plan God set for him long before time.
For we are God's masterpiece. He has created us anew in Christ Jesus, so we can do the good things he planned for us long ago. -Ephesians 2:10 NLT
And it was the first of a thousand times I would open my hands in trust so that I could serve as a lighthouse for him. As Mama, I'd been given the privilege to guide and warn this precious life here on earth. I had the opportunity to empower him to live out the purpose for which he was created.
But it was one of the first of many battles I would face as fear would try it's best to settle in. The fear that rises up in all of us igniting an alarming need to control.
… And to hover.
I call it the dance of
Protecting
and
preparing.
[bctt tweet="As your child grows, how are you doing in the dance of protecting and preparing? #lighthouseparent #helicopterparent #MomentsofHope" username="lori_schumaker"]
Parenting is a combination of both, but as we battle fear, the dance often becomes one-sided. We get so caught up in the protecting, we forget about the preparing. We fall into the trap of what society has coined the "Helicopter Parent".
[bctt tweet="We often get so caught up in the protecting of our children, we forget the important part of preparing! #fear #parenting #MomentsofHope" username="lori_schumaker"]
Children are an inheritance from the Lord. They are a reward from him. The children born to a man when he is young are like arrows in the hand of a warrior. -Psalm 127:3-4 GW
Why did God describe children as He did in this verse? I think it has something to do with the battles they will inevitably face, the purpose they will have, and the work they are to do.
A purpose that took the time, effort, and intentionality of the warrior who prepared them.
When arrows were created at that time, factories were not the creators. The arrows were hand-made with detail and precision. Prepared. Sharpened.
Not kept protected in bubble wrap where the sharpening couldn't happen and where the hard work didn't take place.
Friends, as Mamas, we have to ask ourselves the hard questions.
Are we putting our children in bubble wrap? Are we protecting them so much we aren't allowing them the sharpening they need to go forth into the battlefield of life?
Do we clean their every mess stealing away from them the opportunity to be responsible and learn cause and effect?
Do we steal their voices leaving them incapable of addressing issues in their lives because we step in fixing the problems for them before they even have a chance?
Do we rob them of their desires to pursue achievement because we make their school projects our projects, ultimately communicating to them their efforts are not sufficient?
Do we block, stop, and protect so much they never cultivate the courage to become risk takers who change the world for the better?
Or, do we make them so comfortable, they develop fears of the unknown?
[bctt tweet="As parents, we have to ask ourselves the hard questions about our parenting! #fear #helicopterparent #lighthouseparent" username="lori_schumaker"]

Becoming a Lighthouse
You guys, I WANT to be a Lighthouse Parent. I really do! But it's not easy! There are days I rock at shining that light out there and letting my babies strengthen their wings to fly solo someday. But then there are other days I completely blow it by stealing where can i buy nolvadex in the uk their wings and replacing them with the ones belonging to my helicopter.
I'm with you in this, Mamas. I know it's hard to let go. To slowly relinquish the tight grip of control we adapted to so easily when handed the gift of Motherhood. That little being that once demanded our help for every single thing – the one who became our heart living on the outside – now needs us to begin the long journey of letting go.
It almost seems impossible at times, doesn't it?
Yet it's not. Friend, if this is a battle you are fighting. Stay aware of the fear the enemy loves to plant. Keep your eyes on the Truth. Don't say you trust in God, but then live in a manner that says you do not.
On the days you slip up, have grace for yourself. It will happen because we all are just works in progress. But get back up and get to the work of letting go bit by bit.
Remember you are building up warriors. Train them. Remind them the Almighty is fighting with them and their lighthouse will never dim. When they fall, Mama can't rewind the time and stop what happened. But she will always be there to wipe away the tears, provide a refuge in the moment, and give them counsel so they can bravely step back out into the world with purpose like the arrow they were created to be.
Lord, Give Me Strength: A Prayer to Parent without Fear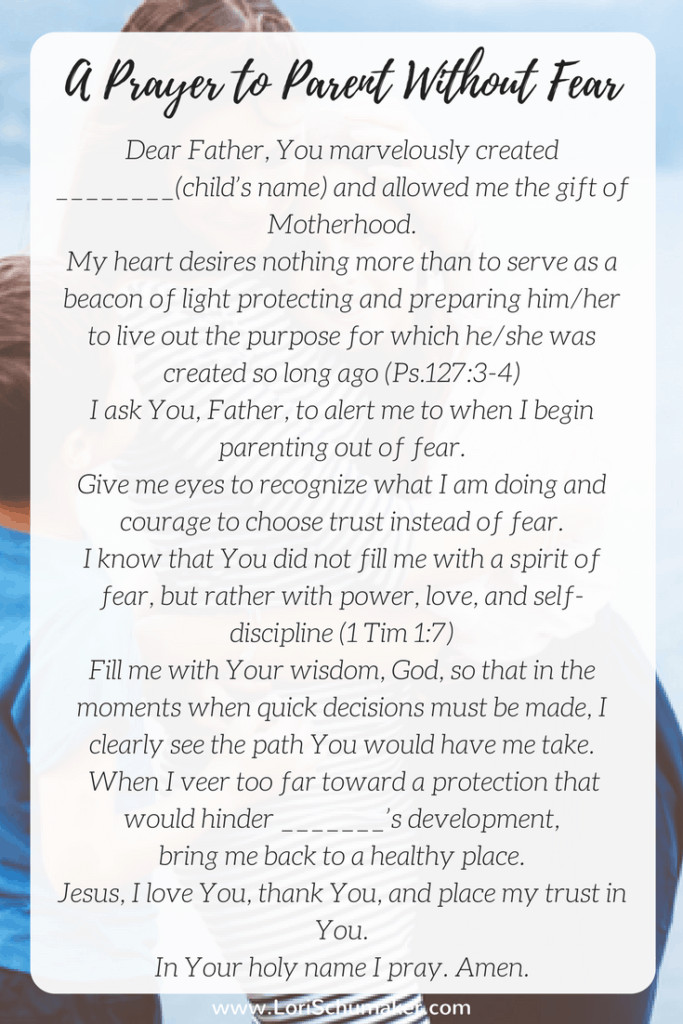 [bctt tweet="A Prayer to Parent Without Fear #printable #nomorefear #MomentsofHope #linkup #lighthouseparent" username="lori_schumaker"]
---
---
Hope for the Back-to-School Mom Series
Missed part of the  Series? Get caught up HERE! Or by clicking on each image below!
And when you subscribe to Searching for Moments and commit to filling your mind and heart with positive hope-filled content on a consistent basis, you get full access to the Library of Hope. From this series alone, you not only get the prayer image in this post, but you get the set of 7 Scripture Cards to pray for your child! Click HERE to subscribe!
---
---
Featured #MomentsofHope Post
Do you have a child who seems to feel things a LOT more deeply than the average kid? The kind of empathy that goes above and beyond while bringing with it emotions that simply aren't healthy?
So, what IS a Mom to do in that situation?
Jamie, from The Mom Gene, writes, "As great as empathy can be, sometimes you need to turn down the volume on the emotive remote, but how do I teach my kid to be a little less empathetic without toughening her too much? Like Goldilocks, what state is "just right" in the softening of a heart without it bleeding out or turning to stone?"
I think you will be just as intrigued as I was and see just why a Lighthouse Mama needs to have this part of her game developed, as well! Jump on over to "How to Protect Your Empathetic Kid From all the Feels" and while you are there, would you give Jamie some great big #MomentsofHope love!
---
---
#MomentsofHope Link-Up
Friends, let's make sure we continue sharing hope with each other. I know we get so busy and quite exhausted at times. But when you link up and then take the time to stop by another blog to leave some comment love and hopefully share their post on social media, you are paying HOPE forward. Let's do this the right way for each other, okay??
[bctt tweet="Join us for the #MomentsofHope Link-Up! Share hope and be encouraged every Monday! #hope" username="lori_schumaker"]
Each week I'll be visiting as many posts as possible, sharing them to my Moments of Hope Group Board on Pinterest as well as my other social media platforms when applicable, and choosing one post each week to feature.
Thank you for joining me here each week to share the hope given to us through Christ. Whether your words come from a story that points to the full healing you have experienced in Christ, or its a story of the journey along the road to the healing you know He is working in you, it is giving hope to others. Your words matter and it honors me to have you share them here in this space!
What I ask of you:
Share up to 2 blog post URLs resonating with the topic of HOPE. That which gives us hope for tomorrow and hope for victory. The little things and the big that inspire us to lean into Jesus and let Him carry us through.
2.#MomentsofHope is a place to give and get hope, so let's encourage others in their efforts to share the hope of Jesus. If you have time, stop by more than one sweet writer's little corner of the blog world!
Finally, find me linking up with these encouraging places!
[inlinkz_linkup id=734383 mode=1]