Strength from the Vantage Point of Today
I'm coming down to the final posts in this betrayal series. I must admit, it has been difficult to coral in this rambling brain of mine! I've realized how much I like to dart off onto the next interesting thing. God has been doing some remolding of me as I stick to the series and listen for His direction! But I'm feeling the fruit of the follow-through and honored that God is touching hearts through the words I write here in this space. Thank you for being a part of it.
If this is your first visit here and you would like to get caught up, these links will help you do that! Did you know there is a Companion Journal e-book that goes hand-in-hand with this series in the Library of Hope? When you join the Searching for Moments Community, you get access to the library where you not only get the e-book, but you get every hope-filled resource I have ever created here!
Week 1 – An overview. What are the 7 truths?
Week 4 – Unconditional Acceptance
This week's topic is "Betrayal and Lessons Learned". Learning lessons from betrayal is nothing we stand in line for, but the learning and growth we can make from these seasons can bring us a strength we never knew we possessed.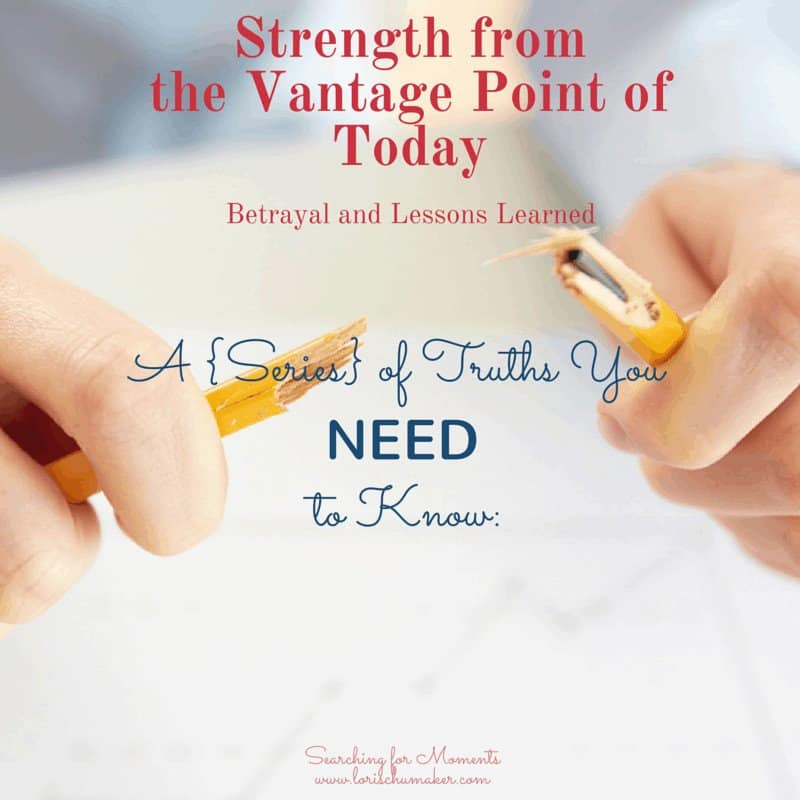 "When a woman gives birth, she has a hard time, there's no getting around it. But when the baby is born, there is joy in the birth. This new life in the world wipes out memory of the pain. The sadness you have right now is similar to that pain, but the coming joy is also similar. When I see you again, you'll be full of joy, and it will be a joy no one can rob from you. You'll no longer be so full of questions. John 16:21-23 MSG
Betrayal stinks. However, as much as it stinks, if we do the work, God will use that pain to create a good. It is a good that we most likely won't recognize in the midst of the hurt, but a good that will someday amount to more than we can ever imagine.
"Good people are good because they've come to wisdom through failure. We get very little wisdom from success." – William Saroyan
From the vantage point of today, I have a clearer view of the pain of my yesterdays.
Once upon a time that pain felt like a death to my soul. But today, that pain has become the glue that holds the soul of my story together.
Without that pain I would never have experienced the all-encompassing love and redemption of God. If I hadn't needed Him, I wouldn't have called out to Him.
At my lowest, when it felt like the world was saying I was a mess and unworthy of accomplishing the dreams of my heart, I met Jesus in a way I never had before. He stepped in and pulled me out.
And He began to teach me who I am –  in Him.
He began to peel back the layers of pain that
instead of working on,
I had stuffed in for years.
He lifted me out of the slimy pit, out of the mud and mire; he set my feet on a rock and gave me a firm place to stand. Psalm 40:2
But the problem is that when betrayal strikes, we are filled with the kinds of emotions that the enemy desires for us to follow into a pit of hopelessness. The same pit that leaves us stuck and unable to grow.
In his book, Sometimes You Win Sometimes You Learn, John Maxwell says "Everyone experiences loss, but not everyone learns from it." (I loved this book and highly recommend it!)
Learning is not something that just happens. It is something that happens when we make the intentional and disciplined effort to evaluate our losses.
Coach John Wooden is a favorite of mine. He is a basketball legend and basketball is a BIG deal in the Schumaker Sometimes You Win Sometimes You Learn which made it an even better book for me! In the foreword he wrote, "There is a marked difference between the people who learn from their losses and the people who do not. Do you want your spirit stuck in the infirmary, too battle weary for another try? Or do you want to seize the opportunity to study, evaluate, and reconsider what happened – and use that knowledge to arm yourself for another charge at life?"
house! He wrote the foreword in
When we are able to make that effort and look betrayal in the eye while saying, "I will grow from this," we are disarming the powers of darkness and defeating the intent of the betrayer. We become victors. We keep hope alive. We believe that on the other side of this betrayal lies a healed heart and new found joy beyond what we can imagine.
When we look betrayal in the eye to say,'I will grow from this',we disarm the powers of darkness & defeat the intent of the betrayer Click To Tweet
So what does that effort look like? For me, it took diligence. Intentionality. Engaging deeply in His word. Reading. Counseling. Support. And lots of tears.
But I made it to the other side where the view is clear. And I wouldn't change a day of it.
I believe you can make it there, too.
You can make it to where the view is clear. Where you can see the other side of betrayal and find what you learned.
Your story is unique and your learning equally unique. However, I believe there are some powerful lessons that may just be common to us all.
Lessons like …
I can't run from, hide from, or bully the betrayal.

I don't have to work for my worthiness.

I don't have to remain stuck in shame.

I am stronger and more resilient than I ever realized.

I can seize my own power.

I can recognize a healthy relationship.

I must work the root of bitterness out of my heart.

I must set boundaries.

I must acknowledge warning signs.

I must allow others responsibility for themselves and their actions.

I have the courage to respond outside of my default response.

I have a new sense of compassion and empathy for others.

I have a new set of guidelines and parameters to guide the choices of my life.

I am victorious in Christ!
Think of these statements. Say them out loud for a moment! Really! Go in another room if you have to, but do it!
…
Did you?
Didn't those statements sound STRONG? Empowering? Filled with HOPE?
This list is small. And I know you are warriors and have walked through the deep waters of betrayal gathering lessons and insights way beyond this list!  I would be honored to have you share those in the comments. Your story – your particular insight may be just the one God uses to speak into the life of another.
Your story may be just the one God uses to speak into the life of another. #statementsofstrength #tellyourstory #betrayal #hope Click To Tweet
Dear Jesus, Your promises are numerous and they are never unfulfilled. You love us beyond measure and promise to work all things together for the good of those who love You. Therefore we know that You will take our pain, our hurt, the betrayals that have threatened to stop us in our tracks, and work them together for a good. Lord, we ask You to be our strength and our wisdom as we walk through to the other side of this situation. Walk us through until we see the other side of the hurt. Until we see things clearly and learn the lessons You will use to make us who You want us to be.In Your Precious Name I pray. Amen.
Next week I'm talking about leaving the past in its place and looking to the future!  I'd love it if you joined me!
You can find my linking up to these encouraging blogs.